Sliding can be fun. In winter kids love to mount their sleds and go sliding down hills shrieking with glee. Sliding can also be dangerous. People with some mobility challenges find winter conditions to sometime to be tough-going. Sliding on ice-glazed wooden decks or concrete sidewalks can often result in injury. Sometimes a hesitation to even attempt to move on slick surfaces arises from the subconscious, fear whispering "'don't do it." Sliding can be fun or dangerous; it all depends on the perspective.
Hurricanes sliding into Big D
The Carolina Hurricanes kick off a five-game road trip against the Dallas Stars. Unfortunately, they have been sliding of late, losing their last three games, each in remarkable fashion. After defeating the Calgary Flames 4-1 on November 10th, the 'Canes lost to the Winnipeg Jets 3-1. It was a game where the Jets played an up-tempo, fast and furious game. The Hurricanes seemed not ready to play, a sentiment that was echoed in the locker room after the game. Unfortunately, the sliding for Carolina had begun.
The sliding continued on November 15th in the TD Garden arena as the Hurricanes faced the Boston Bruins. The previously sluggish play against the Jets was discarded, replaced by an energetic, aggressive start. The 'Canes scored the coveted first goal and were seemingly on their way to heeding Coach Peters' exhortations for a complete effort for the entire game. They were firing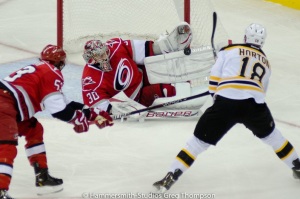 at Tuukka Rask, at one point early owning a 12-2 shot advantage. Cam Ward was in-goal, and played well. He stopped 23 of 25 shots, one of which was a horrendous gaffe made by the 'Canes defense which left him hanging for Patrice Bergeron to net the game-winner. He stated the obvious after the game:
"We just have to emphasize that we need to play a full 60 minutes. We can't afford to have lapses in the game."
Ward was not throwing anyone under the bus. He was however stating a simple fact that while the team had gone from little noticeable effort to some effort, it was not enough. Coach Bill Peters concurred:
"We started on time for sure. But for whatever reason, we didn't have 60…"
The sliding was now two games long, with an opportunity to stop it on Sunday. The San Jose Sharks, a team that the Hurricanes have had relative success against over the recent past, were coming to Raleigh's PNC Arena. To sweeten the prospect of the sliding being curtailed was the announcement of the Sharks' starting goalie – a guy who had never started an NHL game. Certainly the sliding would cease.
Troy Grosenick stood on his head
The sliding did not cease. It got worse. Not from the Hurricanes' "effort" perspective, but from the "what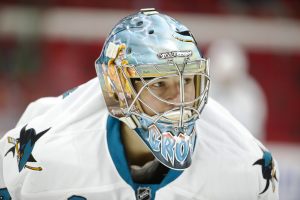 else can we do" perspective. Carolina started strong, played strong in the middle, and finished strong, everything a coach could stress they did. Except score. Troy Grosenick stood on his head, his skates, and his arms – every imaginable configuration of body part contortion to stop all 45 Hurricanes shots he faced. It was a performance for the ages. And one which left Captain Eric Staal with this analysis:
"We had some chances to put some behind him, and we didn't. The kid played good, and they did a good job of blocking some shots. Overall, we were the better team. We dictated most of the night and just didn't get the job done."
Well said Captain Staal. Your teammates brought the intensity and effort you as a leader and your coach have been expecting. Only to find the goal you attacked so repeatedly closed tight, and a young man's family very happy as a result:
How would your family react to you making a 45-save shutout in your NHL debut? Here's how Troy Grosenick's did: http://t.co/2KxHxGHkbX

— NHL (@NHL) November 17, 2014
Troy Grosenick but a huge dent in the 'Canes efforts to curtail the sliding and they were left empty-handed for the third straight game.
And very much the conundrum for the sliding Hurricanes.
If there is a full 60-minute effort, and the result is a loss, where does the team go? As goalie Anton Khudobin said, "We just have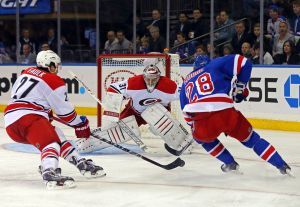 to do our job and try to score." Unfortunately Doby can't often score from his own goal mouth, or I'm sure the 'Canes would have set him up for a shot. Perhaps in Dallas the team can do whatever it takes, even if it means, as Coach Peters said, "maybe a greasy one, a deflection or something." There is no doubt that the team wants to score goals, and if they keep playing the way they started in Boston, and fought for 60 minutes against San Jose, the goals will come. The task ahead for Coach Peters will be to keep his team focused on the game ahead, and not get discouraged if they are sliding.
The Hurricanes started the month of November with a nice stretch of earning points in six straight games. They were sliding horribly out of the gate at the start of the season, and many had them leading the chase for Connor McDavid or Jack Eichel. But they were laden with injuries and such a prognostication was premature.
November's start showed that this team can play
Cam Ward has looked good in each of his outings as has Anton Khudobin. The team has started to show more energy – at least in the past couple of outings. Yet some have taken this recent round of sliding over the past three games to opine that the Hurricanes could need to set their sights on the draft. Scott Burnside of ESPN explored the notion of the 'Canes considering "Tankville" as a place to reside this season. A well-written piece, but a bit premature in my opinion. The state of the team is certainly something that is constantly in front of 'Canes Executive VP/GM Ron Francis. If and who to keep or trade or send down or call up are ongoing questions he must answer. But "Tankville" is not currently his destination for the Hurricanes.
It's only November. The 'Canes could go into Dallas and blow the Stars off the ice. Then what do we think? Are they playoff bound? It's too early to pronounce this team's season as over and it is equally as early to pronounce them playoff contenders. It's one game at a time. Starting in the Big D. A solid effort will be what Coach Peters is looking for, and as he has often said, "If you put in the work, you'll be rewarded." For 'Canes fans, putting in the work on a continual basis would be a significant improvement for their beloved Hurricanes.
Mark lives in the Raleigh, NC area and covers the Carolina Hurricanes.