Quit the Laziness and Excuses… Start Playing Good Hockey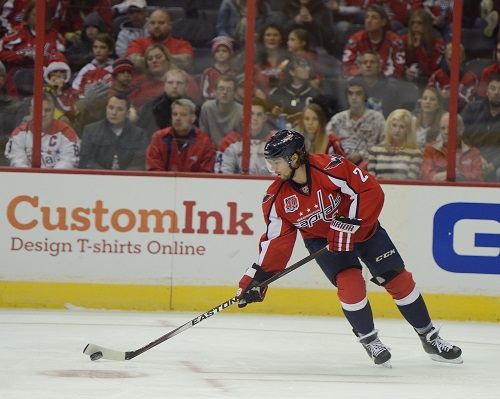 The Washington Capitals have had a rocky start in the 2014-15 NHL season.  Through 17 games, they sit with a 7-7-3 record which is good for 17 points.  Through November 18, they are fifth in the Metropolitan Division and twelfth in the Eastern Conference.
The Capitals are one of the best mediocre teams in the NHL.  On some nights, they have excelled and have played very good games.  But in a majority of the games, laziness and mental lapses have cost them several points.
Whether it is a goaltender misplaying the puck or multiple failures to clear the puck out of the defensive zone, the Capitals mistakes always cost them in some way.
Mistakes and Miscues
Common Errors
If the Capitals play a flawless game for 60 minutes, they are very hard to beat.  In a lot of games this year, something bad always happens. When that bad thing happens, the Capitals tend to get down on themselves and they start to wait for something to happen.  The Capitals tend to shut down after the bad things happen in games.
Bad giveaways by the Capitals forwards, defensemen, and even the goaltenders end with negative results for the club.  The Washington Capitals need to learn that bad things will happen in almost every game.  It is very rare to ever have a "flawless" or "perfect" game.  There will be bad penalty calls, there will be bad turnovers, there will be goals that go in the Capitals net.
When and if the Capitals can give effort for a full 60 minutes, the common errors that they make can become a minimum instead of a maximum number.  If the players refuse or do not buy in to what Barry Trotz wants them to do, they are useless to the organization.  Barry Trotz has been around the game of hockey a long time and has a ton of experience.  He knows what he wants and he knows what he is doing.  His blueprint is not full of mistakes and common errors.
Capitals Enigmas
There are some players that make fans wonder if they fit in the Trotz blueprint.  Some of the players have been in and out of the Capitals lineup in various games for different reasons.
Some of the Capitals who have been in and out of the lineup include Eric Fehr, Evgeny Kuznetsov, Michael Latta, Chris Brown, and Jay Beagle.  Some of these players have not been productive enough or they are used for various matchups and different situations.  For example, Evgeny Kuznetsov has played both centre and wing this season and he has bounced from the second line to the fourth line.
Do the Capitals have too many enigmas?  Is Barry Trotz still trying to figure out who plays best in what roles?  Possibly.  Does Trotz already have certain players in his "doghouse?"  I do not believe it is that extreme, but I do feel he has certain players who he favors over others because they can play in more roles.
Are the Washington Capitals Fixable?
The Washington Capitals have had a mediocre start to the 2014-15 season and the club is not getting the desired results.  The time is ticking for the Capitals to buckle down and to start playing hockey.
Every point is important in the NHL.  Every win is crucial because the league is very competitive.  There are not many "easy" victories on the schedule for any club.
In order for the Capitals to get back to their desired winning ways, they need to grow up.  They have to become mentally stronger and tougher as a group.  The Capitals need to expect the bad things to happen in games, and they need to learn to overcome those bad things when they occur.  Instead of shutting down and tuning out in the game, they need to keep playing and they need to keep their foot on the gas.
The Capitals need to continue to grow their "gang" mentality and they need to play for each other.  Each player needs to show a little more self-pride and pride for the club they play for.  If they can improve their pride level, this will help grow their identity as a club.
Yes, the Capitals are fixable.  But if the players do not fix their mentality and image, then some players will get shipped out and changes will happen.  The NHL has a business side – players are dictated on their performance too.  The Capitals have had this bad reputation of having a "country club" atmosphere for the past several years.  The organization has fallen a bit behind because of this.
The Washington Capitals need to begin playing good hockey and they need to limit the excuses and miscues.  The days of excuses are over.  This team is too good on paper to be an underachiever.
Thanks for tuning in!