I had originally intended for my first post on TheHockeywriters.com to be about the Bruins and Leafs game on November 13th. My expectation was a Leafs loss that would highlight the difference between just how good Boston was and just how bad the Leafs were. For those of you that watched the game, everything went surprisingly well. Randy Carlyle's game plan to take it to the Bruins right away worked – I'm going to give him the benefit of the doubt and assume that was actually his game plan and not just some freak bit of luck. It was a solid Leafs performance, and a deserved 2 points.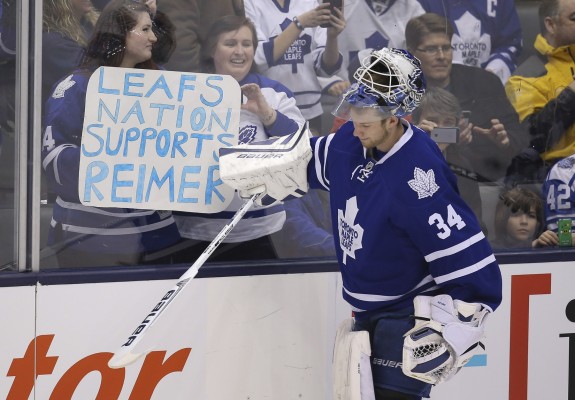 Then Friday night the Leafs have to play the Penguins, absolutely a tough game to play. They allowed too many shots against too good a team and, unsurprisingly, lost (). Certainly no fault to Bernier who allowed 2 goals on 40 shots on net. He kept the Leafs close and, if you feel the need to place blame (as most Leafs fans do), the real blame could probably be placed on the Leafs power play unit who went 0-7. I do find it shocking that over the course of 7 powerplays, the Leafs still only mustered 31 shots on goal, and only 11 on the powerplay. Doing some fancy math, that's a whopping 1.5 shots per powerplay. Not good enough. Leafs lose, 2-1.
And then Buffalo. Like I said, a win versus Pittsburgh is always a bit of an ask. So after a decent performance, rolling into Buffalo should have been a piece of cake. Buffalo, in addition to be in the basement of the league, also gets the nod for the lowest face-off win percentage, and the fewest 'shots for'per game in the entire NHL. In short, they are my nightmare team. The only funny thing about the Sabres, is that when they do outshoot their opponent, their win percentage is 100% (i.e. perfect). When they're outshot, which they usually are, they're win percentage is a massive 13.3% (not massive). Those are good things to know if you're a coach (or a player). It basically says, 'if you go at them, you'll probably win'. This could be maybe the simplest strategy ever to implement as a coach. Well, you'd think.
So what happened? Well, the Leafs put in a pretty terrible performance; I don't think anyone would argue that. The nicest thing to say is that they looked 'flat'. Leafs fan might be used to this, but what I found annoying is the ridiculous backlash against James Reimer.
I watched the game, I watched highlights, then I re-watched the highlights. Then I watched them again because I couldn't figure out why people would blame Reimer (solely). So the only thing I could think to do is break everything down, goal by goal, so here we go:
Tor 0 – Buf 1 
Reimer makes the initial save. Then another. Then on the 3rd shot, he drifts across the net. There are 3 Leafs just slapping at the puck with their sticks. The only Leaf that remotely tries to take a body is Robidas. Buffalo goal.
Tor 0 – Buf 2
This is probably about when the hate started. Reimer dives out to intercept the puck to stop a breakaway (as Phaneuf coasts into his own zone). Had Phaneuf turned and skated hard, Reimer might not have had to do it. Also, if Franson or Phaneuf actually were familiar with how to block a shot (I can teach you guys, it isn't not all that hard), it probably wouldn't have been a goal. Phaneuf actually looked like he was taking leaning on the net taking a break while Girgensons took his shot. In all honesty, despite him messing it up, I actually liked the aggressiveness of Reimer on this one. If he hadn't come out, it still would've been a Buffalo breakaway, so why not take a crack at it.
Tor 0 – Buf 3
Stafford is stick handling in the middle of the ice with 3 Leafs skating backward and collapsing, and just  watching as Stafford takes the shot. The shot isn't that hard, and Reimer probably should've had it, but there really shouldn't have been a shot at all. The game is getting away.
Tor 1 – Buf 4
This one I actually wouldn't fault anyone for. Polak made a decent play to try and intercept the pass, the pass had be a virtually perfect saucer pass to work…. and it was… Moulson taps it in. My one problem with this one is that Gardiner does a pretty good job getting back in the play after a miss in the neutral zone, but then at last second coast. If he'd take one or two more hard strides he could've quite easily tied Moulson up.
Tor 2 – Buf 5
Phaneuf gives the puck away. He doesn't seem too fussed about it. He then lets Myers hold him against the boards. Myers seizes the opportunity. Again, Phaneuf seems indifferent, then dives, Myers scores.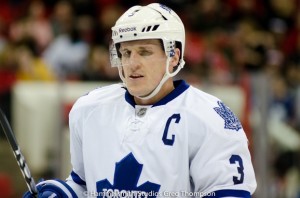 Tor 2 – Buf 6
Sure, at this point, this game is pretty far gone. So maybe whatever. For the 6th goal, it's good ol' Dion again. It's a bouncing puck, so Phaneuf appears to decide to take the body… no problem there…except for the execution. It looks like he's trying to a body check an infant. He realizes he's missed it, makes a turn that took, literally, 2.5 minutes (not literally), and then starts to skate. Buffalo breakaway: goal.
I won't sit here and pretend that James Reimer put in a stellar performance, that's not the point. The point is, the Leafs, and mostly the Leafs defense, was incredibly poor. Phaneuf and Franson were, well, they were terrible. Despite both being -2 and -3 (respectively) on the night, Phaneuf was fairly responsible for 3 goals against, and Franson was on the ice for 4/6.
Positive notes
For his part, Neuvirth made some pretty great saves, particularly in the 1st period. Full marks to him. Kessel had a goal and 5 shots on net – that's pretty much exactly where he ought to be.  Kadri didn't play a ton of minutes (TOI: 14:05) but he was 71% in the FO circle and had 5 shots on net.
Wrapping it all up
Allowing a lot of shots on goal is a recipe for losing for most teams (the Kings tend to be an exception). If the Leafs want to allow this many shots on goal (4th worst at 33.3 per game), and want to be successful (like the Kings), they need a goalie like Quick. No offense to Bernier or Reimer, neither one is close to Quick (no pun intended). So the Leafs have to learn to allow fewer shots, or at least learn how to block shots. For example, versus Buffalo, the Sabres blocked 15 shots (Strachan had 4 blocks himself), the Leafs only blocked 6, total. No Leaf had more than 1.
So Reimer wasn't great. But barring the Leafs having a top 5 goalie, I don't think things would've been all that different. The team has to be better and if they want to make the play-offs (yeah, I know its early), and they need to get points out of these "easy" games. That said, if they want to play like this, there isn't much point in making the play-offs. To me, the culprit looks like a general attitude or motivation problem. This doesn't look like a team that comes out and competes. They often look lazy and indifferent. No wonder Phil was so cranky after the game.
Economist/epidemiologist interested in the intersection between sports analytics (advanced stats) and intuition.