With the fantasy hockey season a little over a month old, fantasy managers have undoubtedly tweaked their lineups by now. While some may have fiddled with their rosters more than others, there are usually more than a handful of players that one can consider picking up from their league's free agent/waiver wire pool at many points of the season.
Despite the fact that it is still quite early in the fantasy season for some to be hitting the panic button, there are several options that managers can consider in the early going. Tinkering with a lineup might not be a top priority for a fantasy manager right now, but there are certainly a good amount of dual-position forwards under 25% owned (in Yahoo! leagues) to make a manager change their mind.
Bargain Basement
Craig Smith (C/W – Nashville Predators)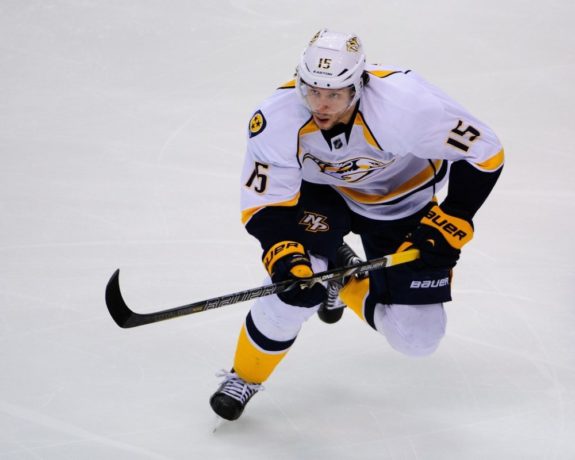 For a player that registered career highs in goals, assists, points, and shots on goal last season, it's fairly surprising to see that Smith is only 18% owned in Yahoo! leagues. Last year, Smith tallied 52 points (24 Goals, 28 Assists) in 79 games played for the Predators, and if he keeps producing at his current pace, then there is no reason to believe that the forward will not come close to his totals from his '13-'14 campaign.
Smith currently has six goals and three assists in 17 games played this season, but he has amassed those statistics while averaging less than 15 minutes (14:55) of ice-time per game. Even though Smith has been receiving third line duties alongside Taylor Beck and Calle Jarnkrok, the dual-position forward could definitely rack up enough points to reward fantasy managers for adding him to their rosters.
Ryan Strome (C/W – New York Islanders)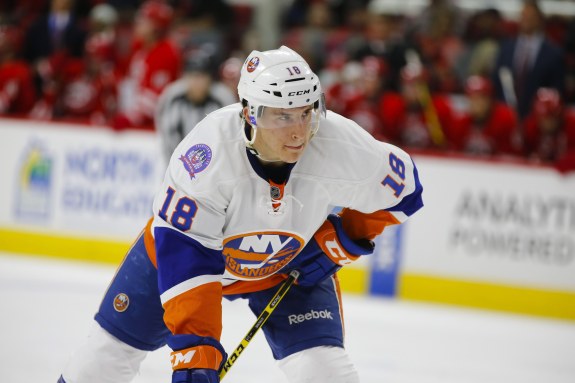 Ryan Strome might not be a household name in fantasy circles just yet, but the young forward has a great upside that fantasy managers might discover sooner rather than later. Registering 11 points (2 Goals, 9 Assists) in 17 games played for the Isles this season, Strome is on pace to heftily eclipse his numbers from his '13-'14 NHL season (37 GP, 7G, 11A).
Much like Craig Smith, Strome is playing on his team's third line and is averaging slightly more than 14 minutes of ice-time per game. However, receiving ice-time alongside gifted and versatile players such as Anders Lee and Brock Nelson – players that Strome has at least some familiarity with from his AHL days – the forward will be in a position where his line can create a fair amount of scoring opportunities. Strome is only 9% owned in Yahoo! leagues – and probably won't see a dramatic spike in his ownership rate this season – but he is certainly a candidate to be monitored very closely.
Antoine Vermette (C/W – Arizona Coyotes)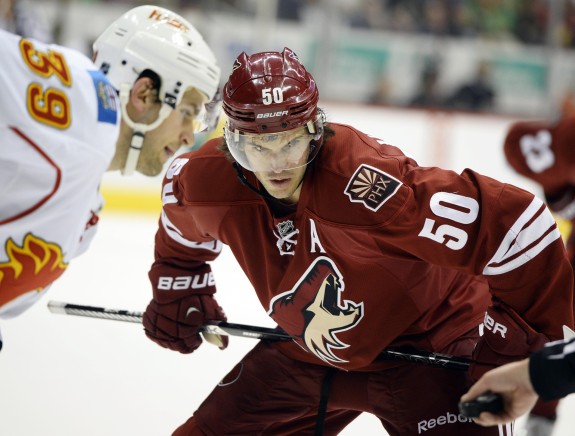 Ever since he was traded to the Coyotes, Antoine Vermette has seemingly found his niche. Last season, Vermette had 45 points (24 Goals, 21 Assists) in 82 games played for Arizona, and it looks as though the top-line pivot will come very close to repeating those numbers again this season – if he is healthy for a full NHL season.
With four goals and nine assists already recorded during the current NHL season, it really is baffling that Vermette is only 24% owned in Yahoo! leagues. Having scored a career-high 13 points (7G, 6A) on the power-play last year – as well as three short-handed goals – Vermette has picked up right where he left off last season as he has registered three goals and three assists on the man-advantage this season. Fantasy managers should absolutely take a flier on Vermette if they have a chance as he will figure prominently into the Yotes' offense this season and will be given primary time on the team's power-play.
Andre Burakovsky (C/W – Washington Capitals)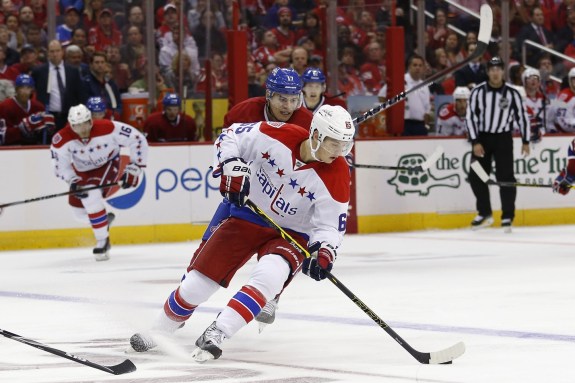 Andre Burakovsky sure is having himself a fine time as a rookie with the Washington Capitals. Averaging slightly over 14 minutes of ice-time per game, the 2013 first-round draft pick has managed to amass three goals and nine assists in 17 games played in the NHL this season.
What is even more impressive about Burakovsky's play is that it has earned him some ice-time on Washington's top line – right alongside Alex Ovechkin. While there is no guarantee that Burakovsky will receive more playing time with Ovechkin, the forward has been getting top-six looks over the last few games, so fantasy managers should definitely keep their eyes and ears open for any news regarding Burakovsky. At 16% owned in Yahoo! leagues, Burakovsky has already garnered a considerable amount of attention from certain fantasy managers, and if he keeps on scoring at his current pace then he will draw the attention of a lot more in no time.
Zemgus Girgensons/Tyler Ennis (C/W – Buffalo Sabres)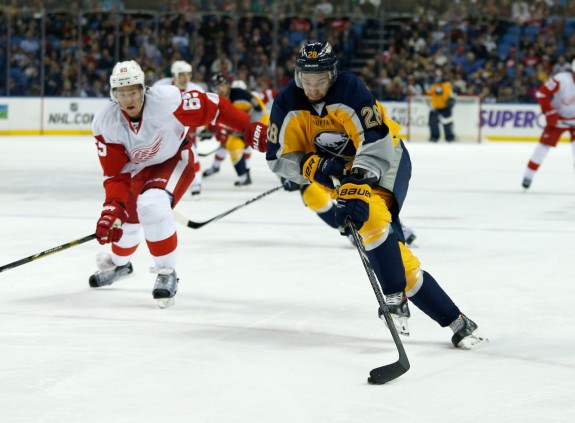 In 70 games played last year, Zemgus Girgensons recorded 22 points (8 Goals, 14 Assists) – but the dual-position forward seems intent on improving upon the totals that he set in his rookie campaign. Girgensons has been playing with Matt Moulson and Tyler Ennis on Buffalo's top line and it certainly has showed as the sophomore forward has scored seven points (4G, 3A) in his last seven games. Seeing as how Girgensons is only 5% owned in Yahoo! leagues, fantasy managers have a prime opportunity to snag the Latvian before his ownership rate potentially increases.
On the other hand, Tyler Ennis has been known in fantasy hockey circles for the past several years, so it's a tad bit surprising to see the top line winger sitting at a mere 8% owned in Yahoo! leagues – especially since he set career-highs in goals and power-play points last season. While Ennis' +/- might scare some fantasy managers, his offensive upside is simply too much to ignore. Having scored six goals and six assists in 19 games this season, Ennis could very well come close to establishing a career-high in point totals this season. Fantasy managers should definitely consider adding Ennis to their rosters as he will be a big part of the Sabres' offense and receive a considerable amount of time for special teams play.
Honorable Mention
Artem Anisimov (C/W – Columbus Blue Jackets)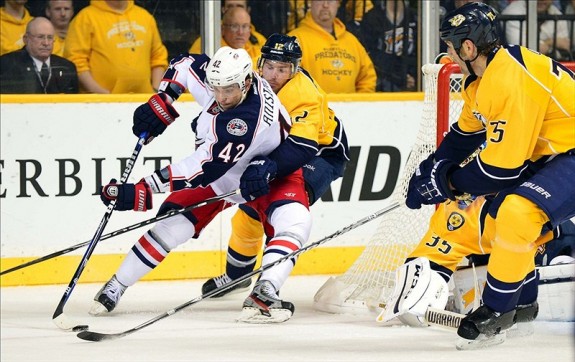 Artem Anisimov would normally not be in the "Honorable Mention" section as his offensive capabilities have been well-established by now, but it is yet to be seen how the dual-position forward will react after coming back from a concussion. Last season, Anisimov set a career-high in goals scored (22) and had 39 points (22 Goals, 17 Assists) in 81 games played for the Blue Jackets.
While the forward suffered a concussion during the early stages of this season, managers must also remember that he also has five points (2G, 3A) in 10 games played this season and is averaging almost 16:30 of ice-time per game this season. Despite the fact that Anisimov is receiving third line duties right now, fantasy managers should absolutely keep a close eye on the forward as he is perfectly capable of being a scoring threat for the Blue Jackets.
In his third year with The Hockey Writers, Toli covers all things related to the New York Islanders. Focusing on the Islanders, the NHL Draft & draft-eligible prospect goalies, and hockey history, Toli can be contacted on Facebook by searching/messaging Toli Metter and on twitter by searching @ToliMetterTHW.