While the fantasy hockey season might still be only a handful of games old, there have certainly been a number of performances that have caught the eyes of fantasy managers. Whether it be a spectacular goal scored, a stellar defensive play, or a highlight reel save, there have undoubtedly been some plays that have made managers aware of certain players this season.
Although offensive statistics and solid defensive play are desired by fantasy managers from their skaters, contributions from one's goaltenders often goes overlooked – and it most definitely should not. However, for a position that could be responsible for at least four or five categories per week, a goalie can be the key between one's success or failure in a fantasy hockey league. Even though most starting netminders were probably snagged on draft day in many leagues, it wouldn't hurt to take a look at some backup goalies that have been making their names known through their solid play – especially for those in deeper leagues.
Don't Bail On The Backups
Devan Dubnyk (G – Arizona Coyotes)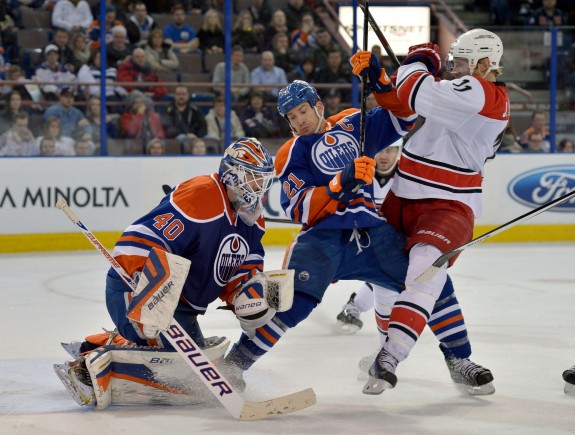 Going into this fantasy hockey season, managers probably wouldn't have touched Devan Dubnyk even if they were being paid to take the goalie onto their roster. After playing through a horrendous '13-'14 NHL campaign with Edmonton and Nashville, Dubnyk was signed by the Arizona Coyotes and the rest has been history.
Working with the famed "Goalie Whisperer," Dubnyk – under the tutelage of Sean Burke – has been able to regain the form that made him a first round draft pick in 2004. In six games played this season, Dubnyk has amassed a 4-0-1 record while playing to the tune of a 2.25 GAA and .925 Save Percentage. While Mike Smith has been going through a rough stretch as of late, fantasy managers should expect the goalie to regain his starting duties. However, that doesn't mean that Dubnyk should be ignored for the remainder of the season – especially since he's only 12% owned in Yahoo! leagues and working with a goalie coach that is known for teaching his students how to play a simple and efficient brand of hockey in their crease.
Thomas Greiss (G – Pittsburgh Penguins)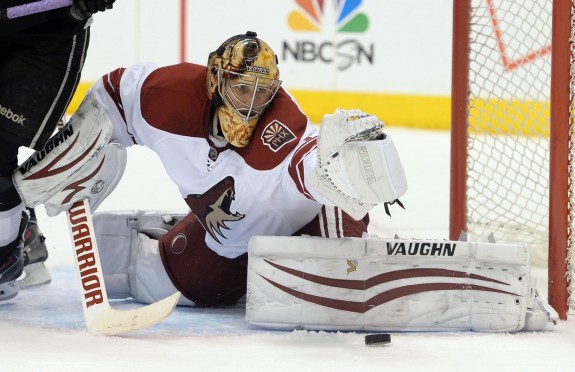 For the last several  years, Thomas Greiss has made his living as a backup in the NHL. Playing for his third team in his career, Greiss has definitely made an impact on the Pittsburgh Penguins this year as he has appeared in three games (2-0-1) and has helped the Penguins pick up at least a point in each of those contests.
With Greiss as a backup, the Penguins can rest assured that they have a reliable netminder to go to in case Marc-Andre Fleury gets injured or has a bad meltdown. Over the last few years, Penguins fans have been lamenting over Fleury's propensity to fall into bad mental lapses – which more often than not lead to subpar play on the goalie's behalf – but Greiss has always been a formidable goalie to insert into the lineup when his number has been called. Greiss is only 5% owned in Yahoo! leagues, but his resume as a backup in San Jose and Arizona speaks for itself, and fantasy managers should definitely continue to monitor the netminder's progress for the rest of the NHL season.
Troy Grosenick (G- San Jose Sharks)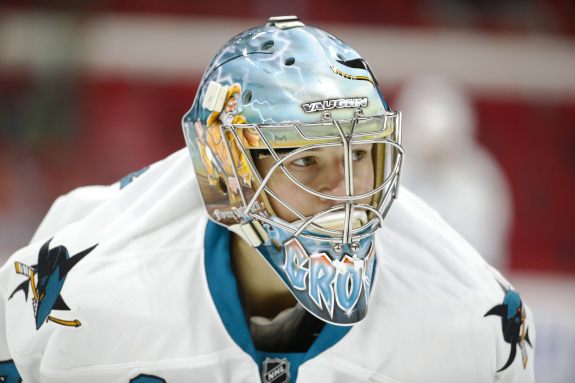 Troy Grosenick sure knew how to get noticed in his first NHL game. Saving 45 shots in his debut against the Carolina Hurricanes, Grosenick recorded a shutout in his first NHL appearance – something that likely wouldn't have been possible if Alex Stalock was healthy.
While Grosenick will likely serve in a somewhat limited capacity behind Antti Niemi, there is no set timetable for Stalock's return, so fantasy managers would be wise to keep track of Grosenick in the meantime – starting with his second straight performance in net when he squares off against the Buffalo Sabres. According to Fear The Fin, Grosenick did everything in his power to will the Sharks to a victory and made up for his team's poor defensive play with a thorough showing in his crease. Even though Grosenick might not see a bunch of action behind Niemi as Stalock recovers, fantasy managers shouldn't treat the goalie's debut performance as an afterthought – at least not until he has recorded a few more NHL starts under his belt.
Antti Raanta (G – Chicago Blackhawks)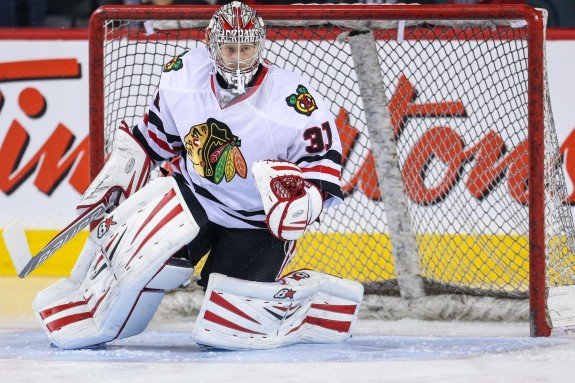 Antti Raanta's first year in the NHL wasn't jaw-dropping, but it certainly helped put the goalie on the map for those that weren't acquainted with his skills. Backing up Corey Crawford, Raanta appeared in 25 games (13-5-4) for the Blackhawks last season and put up a 2.71 GAA and .897 Save Percentage.
Despite the fact that Raanta's peripheral statistics left much to be desired, fantasy managers must remember that the Finnish netminder was a hot topic during the summer of 2014 as an undrafted free agent – and for good reason. While Raanta was recently sent to the AHL, he was sent to Chicago's farm team in order to see some game action. With Raanta returning to the Blackhawks, fantasy managers might want to keep track of the goalie as he has already posted some fairly strong numbers (2.03 GAA, .933 Save Percentage), albeit in a very small sample size. Much like Greiss, Raanta is only 5% owned in Yahoo! leagues – and has even seen his ownership rate drop 4% over the last few days – so managers will likely have ample opportunity to add the goaltender to their roster.
Dustin Tokarski (G – Montreal Canadiens)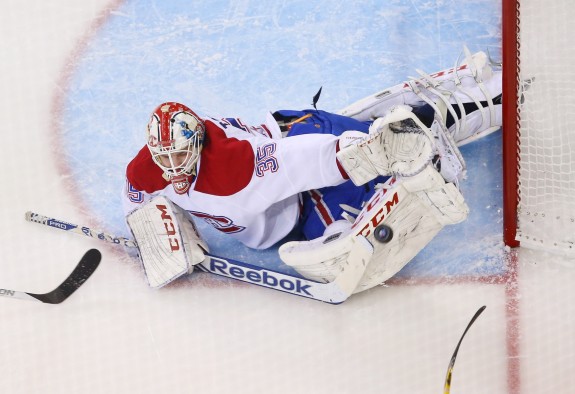 During last year's Stanley Cup Playoffs, Dustin Tokarski made a name for himself after Carey Price was ran into by Chris Kreider of the New York Rangers. Having stood on his head throughout the Conference Final, Tokarski earned himself the backup role behind Price for this season – and he hasn't disappointed at all.
Tokarski has played in five games this season and has gone 3-1-0 in those contests while registering a 1.79 GAA and .937 Save Percentage. Seeing as how the backup is only 7% owned in Yahoo! leagues, fantasy managers could definitely use Tokarski's services if they are in a pinch. While Tokarski might not get a plethora of starts behind Price, he is certainly worth monitoring as he has proven himself to be a formidable option for the Canadiens when Price is not available.
Don't Forget Him
Josh Harding (G – Minnesota Wild)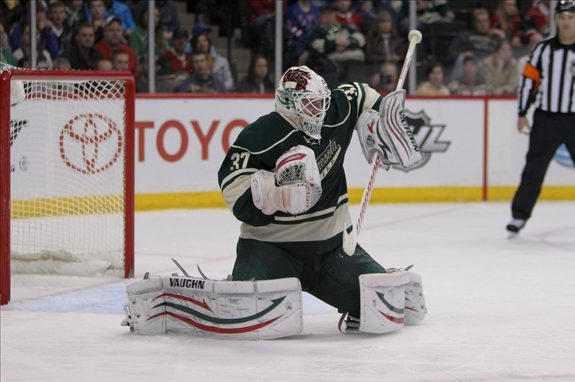 Josh Harding recently cleared waivers and will head to the Wild's AHL affiliate in Iowa. While Harding hasn't logged any NHL minutes this season after breaking his foot, managers shouldn't panic over the fact that the goalie was put on, and cleared, waivers.
As per Michael Russo, it was anything but a sure shot that Harding would be snagged off of waivers, but for a goalie that hadn't played since December of last year it was plain to see that the netminder would need to round back into game form in one way or another. With Darcy Kuemper playing to the tune of a 8-5-0 record with a 2.03 GAA and .914 Save Percentage, sending Harding on an AHL stint was a logical idea from the Wild's standpoint as it will give the goalie more than enough opportunities to see live game action and round into form while Kuemper and Backstrom man the crease for the Wild. As a result, Harding's ownership rate in various leagues will likely decrease, so it will be up to the vigilant fantasy manager to snag the goaltender if/when it is made known that Harding will return to NHL action.
In his third year with The Hockey Writers, Toli covers all things related to the New York Islanders. Focusing on the Islanders, the NHL Draft & draft-eligible prospect goalies, and hockey history, Toli can be contacted on Facebook by searching/messaging Toli Metter and on twitter by searching @ToliMetterTHW.