Theres's a lot of discussion regarding these New York Islanders and if they should look to make a trade for someone. Names such as Keith Yandle, Evander Kane (which may be partially my fault for proposing this so many times,) and others have popped up in weeks past. Now, these sorts of discussions are beginning to heat up largely due to the fact that Michael Grabner will be returning from injury soon, Josh Bailey has already returned, and there appears to be a logjam at forward.
If you've watched the Islanders this season, it's become clear that the biggest need for the Islanders this season has been the lack of a top line left wing. With about 20% of the season played, the Islanders have started Cory Conacher, Josh Bailey, Nikolay Kulemin, and Brock Nelson on the top line next to John Tavares and Kyle Okposo. The need for someone to consistently be on that line is a necessity, after having Matt Moulson and Thomas Vanek hold that position pretty well over the past few years.
However, there's one thing different about this Islander team than the ones of years past- they're actually pretty good. Whatever Jack Capuano is doing, is working- at the time of writing, the team is in second in the Metropolitan division with 22 points. Due to all of this, trade rumors have really creeped up. However, the Islanders would be wise to wait until the offseason to assess their options.
Islanders Chemistry Shouldn't Be Messed With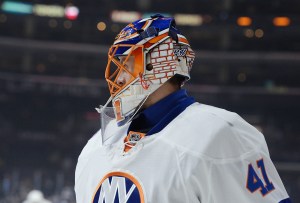 The Islanders have really begun the gel and have played good two way hockey in their past four or five outings. Jaroslav Halak posted back to back shutouts and almost set the franchise record for longest shutout period in team history. The defense is working, secondary lines are scoring and playing defense, and overall the team is doing what is expected of it.
A shakeup in the locker room isn't exactly what is needed at this point in time for the team to be successful. The only situations where a personnel change would be necessary would be-
A. If the team wasn't as good as they appear to be and began to stop winning as many games.
B. If a player obtains a debilitating injury that holds them out for the entire year.
C. If the asking price for a surefire upgrade is just too good to pass up.
Other than these three scenarios, the team would be better off waiting until the offseason.
The Salary Cap Might Not Go Up Again
This is a very real possibility, as reported by NESN. If this happens, there will be more than a few teams that will have to resign players in the coming season, or will have increased salary cap hits. One team that comes to mind more than any others is a team that the Islanders dealt with this offseason. That would be the Chicago Blackhawks.
The Blackhawks are going to be committing millions of dollars to Patrick Kane and Jonathan Toews next season. Their cap hits are going to jump from $6.3 million to $10.5 million-each. That's an increase of $8.4 million, which is large considering that no new players would be added in these numbers and the cap could very well stay put. The Hawks do have a few contracts coming off the books, such as Johnny Oduya and Michal Rozsival, but one would assume that at least one of these players are kept, especially after the team elected to keep Oduya over the younger and cheaper Nick Leddy. Therefore, it seems like there may be the chance for the team to make a move and acquire a certain top winger.
No, Not Patrick Kane
Patrick Sharp's contract expires following the 2016-17 season, and has a hit of $5.9 million. This would be the perfect acquisition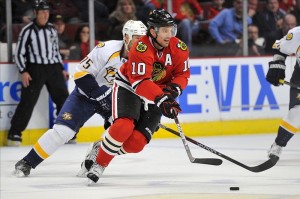 for the Islanders for several reasons. Sharp has championship pedigree, established talent, and a contract that doesn't break the bank. He would bring instant leadership into an already strong locker room and would be off the books by the time that Michael dal Colle is (hopefully) ready to man the position next to John Tavares.
Obviously, this hinges a lot on the salary cap staying where it is. If it does go up, then the Blackhawks don't have to get as creative with their cap issues. However, this is the price to pay for building one of the best teams of the 21's century.
The reason that this doesn't seem to affect the Islanders just yet is the amount of money that's coming off the books for them. Eric Boulton, Lubomir Visnovsky, Cory Conacher, Colin McDonald, Matt Carkner and more all are going to be coming off the books, as well as the Alexi Yashin buyout. While the Islanders will have to worry about having to pay players in the coming years for sure, it doesn't look like they will have any contract issues for the next season or so.
Bringing in a veteran also is likely a better idea than trading for a younger player such as Evander Kane due to the relative asking price. If they were to trade a first round pick and a top prospect, which seems to be the asking price for Evander Kane, there's much more at stake and there's a reluctance to move on from them in a few seasons. With Sharp, after a season or two at what would likely be a cheaper price, you can feel much better about moving on to dal Colle or the next winger to take their place next to the Captain.
Certainly, nothing is guaranteed in sports. Look at the hard time the Avalanche are having to this point, as well as the rough start the Rangers have gotten off to. However, teams should always look towards the future in terms of building something sustainable over the long haul. Building something that can allow the team to be competitive, while also being conscious of the young talent in the pipeline, is something that should be front and center in the minds of team builders. And while the last thing Islander fans want to hear is "next season," in this instance it may actually be the best thing for the team.
The Islanders are a legitimately good team, on the rise. They're definitely here to stay, and waiting an offseason to fill a need that isn't as glaring as some may lead you to believe is fine by me.
Lifelong Islander fan who spends way too much time playing NHL 15. Student at Hofstra University currently studying broadcast journalism. Generally can be found tweeting about hockey or whatever he's watching on Netflix.