Grosenick first off the ice. Very interesting

— Curtis Pashelka (@CurtisPashelka) November 18, 2014
While never an absolute indication, the first goalie off the ice during the morning skate generally indicates who the starting goaltender will be. After making 45 saves in his NHL debut, earning a 2-0 shutout victory over the Carolina Hurricanes, Troy Grosenick may in fact be back between the pipes tonight in Buffalo. If that is the case, it is a move that I certainly applaud but never expected from the San Jose Sharks.
when Niemi starts tomorrow, youll probably see me say something like, "45 save shutout in your debut, now grab some pine rookie"

— Andrew Bensch (@BenchWarmerView) November 17, 2014
While Niemi doesn't get the credit he deserves for being an above average goaltender, and every other year a fantastic goaltender, he has had his ups and downs like all the Sharks have so far this season. Personally, in my book whenever a goaltender earns a shutout, he should get to start the next game regardless of whether it is a pure tandem situation, or a clear cut No.1  and No. 2 goaltender. If you don't allow a single goal, you should get rewarded. In the case of say , the New York Rangers, chances are their backup won't have a ton of shutouts, so at most, this would mean Henrik Lundqvist plays 2-5 fewer games than he normally would. Is that such a bad thing for your top goaltender to have some extra time off?
Stalock Factor
When it comes to the Sharks goaltending situation, they indicated before the season started that Alex Stalock would have an opportunity to earn more starts this year. Despite Stalock sporting a fantastic .925 save percentage so far, all of a sudden the Sharks went back to playing Niemi basically every night after alternating the two netminders the first few games. As colleague Andrew Wilson noted, this was hardly a decision that made sense. Both goaltenders were playing well but Stalock seemed to be inexplicably shafted out of ice time.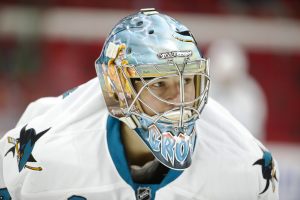 Given the fact Stalock, (who is now on IR) was frequently riding the pine despite his terrific numbers, my expectations for the Sharks to start Grosenick a second game in a row were limited. Hence the sarcastic tone in my tweet. To me goaltending should be like any other position, if a rookie skater has a three point night in his debut, he wouldn't be sat the next game for a veteran. Yes there are tons more skaters and only one goalie, this is not nearly an apples and apples comparison. But because goaltending is such an individual position in a team sport, I've always been convinced that confidence is a huge part of playing at a high level. Goalies are on an island, they have nobody to bail them out when they make a mistake. In other words, when a goaltender is playing just decent hockey, and he gives up a bad goal or two in a game, it can really sap the team and the individual in net. When this happens as a player, you just have that "here we go again" feeling. However, if the goalie lets in a bad goal one night but is coming off a shutout, there is more confidence that the team and individual can shake off that bad goal.
House Money
Grosenick had the NHL debut that kids dream about, he has to have all the confidence in the world right now. So why not throw him out there and see if he can repeat it? Why waste that confidence by sitting him on the pine for the next four or five straight games behind Niemi? If he struggles and the Sharks lose their eighth in a row to the Buffalo Sabres, it's not going to ruin their season. Heck, the last time they lost to Buffalo earlier this season, they came back and had their best game of the season in Anaheim the next night. It may be cliche, but with Grosenick coming off such a sparkling debut, the Sharks are essentially playing with house money. Nobody could have expected him to dominate the way he did in his debut.  And well, if you can play with house money, why wouldn't you? Niemi will still be available for the following game.
Andrew has been credentialed to cover the Sharks since 2010 and the 49ers since 2012. He graduated with his BA in Broadcast Electronic Communication Arts in 2013 from San Francisco State University.