It's hard to get out to a 30-9-8 start without contributions from all over the lineup. That's been one of the biggest themes of the season for the Carolina Hurricanes: depth. All-Star Andrei Svechnikov has been at the forefront of their charge, alongside his linemate (who arguably should have been an All-Star himself) Martin Necas. Sebastian Aho, fresh off a natural hat trick that broke a 2-2 tie against the New York Islanders, surprises no one these days as the team's best player and one of their on-ice leaders. Then, of course there's a star-studded defense, and some pretty good goaltenders behind them.
These players are obviously a huge reason the team sits with the second-best record in the league, but there's a lot more to this season's iteration of the Hurricanes beyond just stars atop the lineup. Today, we're going to take a look at three players that perhaps don't always get the kind of recognition they deserve. All of these players have fought through some struggles at some point this season (to varying degrees), but their recent exploits have played a large role in the team's overall success.
Jalen Chatfield
To kick things off, we'll begin with our "late bloomer" or "player development is not linear" example for the day, lightning-quick defenseman Jalen Chatfield. A bit of an afterthought as a free-agent signing in the 2020 summer with just 18 games of NHL experience, Chatfield has gone from an American Hockey League (AHL) depth defenseman to a first-pairing defenseman in a really short amount of time. Well, kind of a first-pairing defender, anyway.
It makes some level of sense that when Jaccob Slavin went down with an injury, the lineup change simply came from promoting a bottom-pairing defenseman, instead of bumping up one player from each pair and therefore mixing up all three. Head coach Rod Brind'Amour likely didn't want to mess with the chemistry of the Brady Skjei-Brett Pesce pairing (more on them shortly), and, frankly, he had confidence in the way Chatfield was playing that it just seemed logical that he could slide up and take on a bigger role in the absence of the team's No. 1 defender. Chatfield responded with a career high in ice time at 20:24, got a primary assist on a point shot that was tipped in by Jordan Staal, and was a plus-4 rating in a 5-2 road win over the Islanders.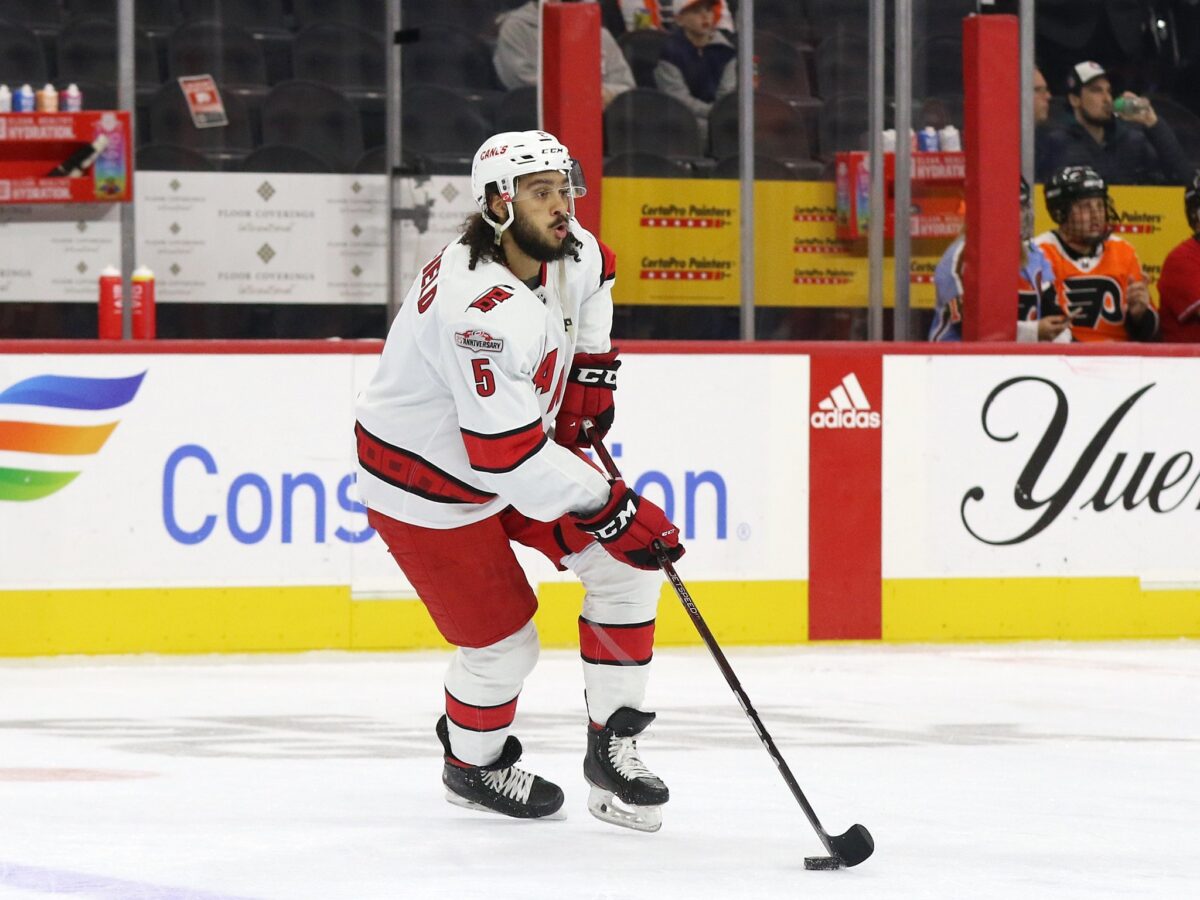 After picking up just two points in the first 37 games of the season, the 26-year-old has five points in the last five games, and has scored four goals in the last nine. His speed and defensive instincts have made him a reliable defender all season, which is why despite a lot of mixing and matching on the third pairing, he's been in the lineup every game. After finding the twine for the first time in his NHL career on Dec. 22, Chatfield's five goals are the most amongst Hurricanes defensemen since. His defense made him a constant in the lineup, and now the offense is a reason his role — along with the team's trust in him — is growing.
Chatfield's confidence is clearly sky-high in both ends right now. He's showing the willingness to use that aforementioned skating ability to jump into the rush, and a sneaky-good shot that has beaten goalies cleanly from distance at times. He's even a plus-10 in 10 January games; yes, plus-minus is a flawed stat, but that number feels pretty notable, especially when the Hurricanes have as many losses as wins in those 10 games (5-3-2).
It's fun to watch a player's growth over the course of a season, and Chatfield seems to get better each passing day. That's a testament to Brind'Amour and defensive coach Tim Gleason's ability to develop their players, and Chatfield going from a reliable defender with a physical edge to a legitimate jack-of-all-trades that can contribute in every area also showcases his teachability and desire to get better. There are some suggestions that the Hurricanes may look for a third-pairing defender to round out that pairing down the stretch, but make no mistake: regardless of what happens, he will be on that right side, giving the Hurricanes a huge source of energy and making plays all over the ice.
Jesperi Kotkaniemi
There are a couple different ways to look at this inclusion. If you're a person that (unfairly) expected Jesperi Kotkaniemi to be an exact Vincent Trocheck replica, affecting every phase of the game and scoring 50-60 points, you were bound to be disappointed. I won't say the thought didn't cross my own mind at times in the preseason when he played so well, but even then he would have had to keep playing at a significantly higher level than he did at any point during his initial campaign with the Hurricanes to match the team's former second-line center. That didn't happen once the regular season started, and a short couple months later, Kotkaniemi found himself going from the second line, between Svechnikov and Necas, to the fourth line.
Related: Hurricanes Trade Targets After Losing Pacioretty Again
---
Latest News & Highlights
---
To many folks that, along with his middling raw numbers, likely tells his entire story or at least as much of it as they're willing to hear. There's a fair argument to be made against this inclusion when factoring in his contract and the corresponding production, and the Hurricanes really are missing a second-line center and a bit more offensive punch right now. The latter part is especially true now that Max Pacioretty is done for the season, so there's at least some level of disappointment that 2022-23 hasn't panned out exactly as initially hoped for Kotkaniemi. That doesn't mean he hasn't been an important part of the team's success, though.
As the end of January approaches, the Hurricanes' young center has become a huge part of their forecheck and overall game-to-game establishment of their identity. The Hurricanes aren't surprising anyone with their style; they're going to play north-south, get pucks behind opposing defenses, forecheck them to oblivion, and throw everything on net. That's where a player that can use his body to cause havoc in the dirty areas and plays an effective two-way game will thrive, and Kotkaniemi has done those things really well for over a month now.
He's playing a heavy game, regularly punishing opposing defensemen in their own end, while also creating a decent amount of offense and showing real chemistry with Stefan Noesen. They've been a tough-as-nails duo that likes to muck things up in front of the net and in the corners, and their ability to wear down their matchup has a ripple effect throughout the opposing team that creates space and makes the game easier for the rest of the Hurricanes' lineup. Plus, when you can roll them out after the physically dominant Staal line, it's got to be a hellacious game for the opponents to try to play, just shift after shift of getting punished.
Furthermore, and perhaps the biggest area in which Kotkaniemi has made an impact, he's taken some huge steps defensively and has been a key penalty killer of late. Playing under Brind'Amour has certainly had its positive effects, even if he's not going to score 25 goals or put up a huge numbers of points this season. With that said, it'll be interesting to see if Brind'Amour decides to give Kotkaniemi another shot in the 2C role. It may be worth seeing if he can carry over this simplified, but highly effective, game he's begun to display in recent weeks with more offensively gifted linemates. There's always the argument that you shouldn't mess with the status quo, with the young Finn playing so well, but if he did carry this game up into that role alongside Necas and Svechnikov, his offense could very well skyrocket too.
Brady Skjei
Now, I know Skjei really doesn't fit the most accurate mold of an under-the-radar player. He's a well-known commodity, being a top-four mainstay for a few seasons now on a team that is known for it's stout blue line. His pairing with Pesce makes up one of the most reliable pairs in the entire league, and their exploits are regularly lauded by national media and analytics departments alike.
However, and despite this being a team where a multitude of players could be singled out for a list like this, Skjei feels particularly worthy of receiving a little praise for his play in 2022-23. In addition to regularly shutting down opposing top lines and being an excellent penalty killer, the 28-year-old Minnesota native has already reached his career high in goals, hitting double digits for the first time in his career, a mark he achieved barely halfway through the season!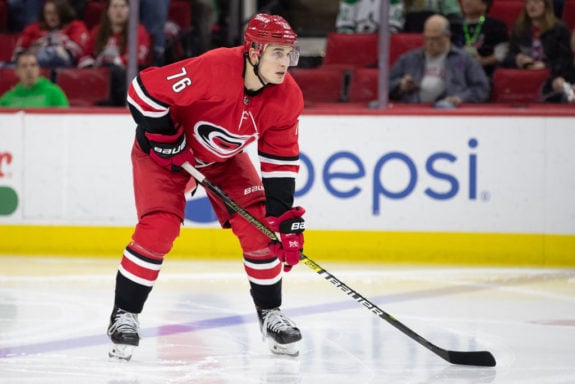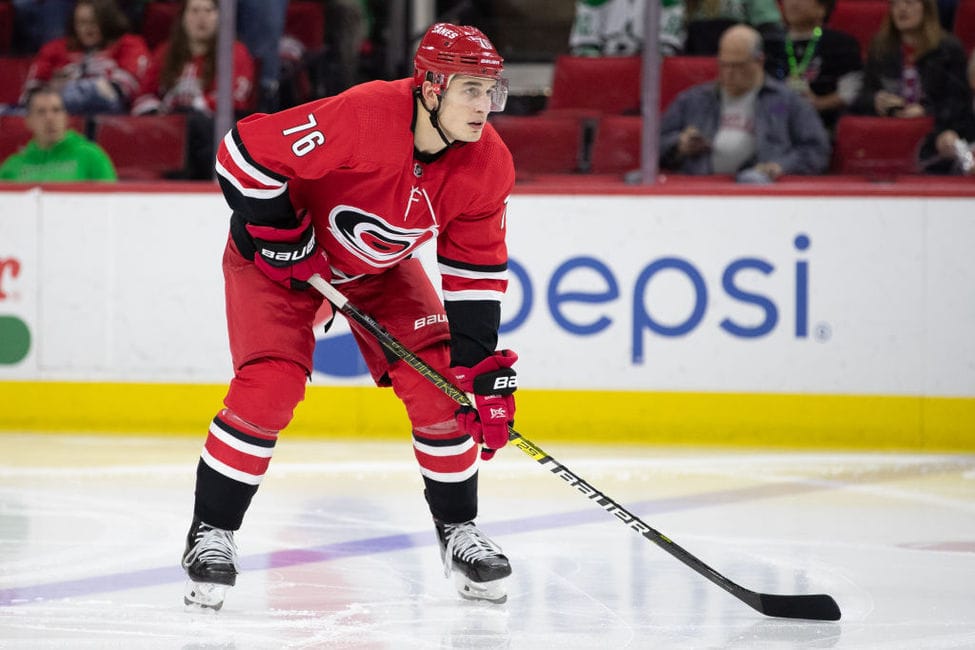 Almost all his damage has come at even strength, as he's only begun to get playing time on the power play in the last few games. This means there's a legitimate chance that not only can those numbers hold steady, they could potentially even improve if he can settle into the role. He has the heavy and accurate shot to do it, and now he's also being put in position to showcase more of his offensive instincts than in years past.
It should be noted, the Hurricanes' power play is their glaring weakness, one of the few things that legitimately gives me pause when considering them as a Stanley Cup contender. Special teams and capitalizing on opponents' mistakes are too important in today's game. However, after registering a goal and an assist on the power play against the Minnesota Wild in just his second game quarterbacking one of the units, there's a real chance his inclusion could be a key factor in turning that narrative around. Skjei has always been valuable because of his defense, but with his career offensive year, he's looking like one of the top two-way defenders in hockey right now.
Hurricanes Must Continue to Get These Contributions (And More)
As mentioned above, there were plenty of players worth consideration beyond these three. That's a good thing for the Hurricanes, because while it's almost cliche to hear a hockey coach say "we need everyone going," the team really does with a tough stretch on the horizon. Over the next couple weeks they'll see playoff contenders in the league-best Boston Bruins, Dallas Stars, Los Angeles Kings, and Buffalo Sabres, with divisional showdowns with the New York Rangers and Washington Capitals mixed in. It's all hands on deck right now heading into the All-Star break.
The road there isn't easy beyond just that tough slate of games. The team is currently without Slavin (although his injury does seems relatively minor), and Pacioretty's season is over after his second torn Achilles since the summer. With Svechnikov and Necas going through a bit of a downturn in scoring, now that depth is going to to really be challenged. Incidentally, it'll be interesting to see if the Hurricanes make a play for a big fish between now and the March 3 trade deadline, with some interesting names such as Bo Horvat and Vladimir Tarasenko being thrown around in trade rumors. A player like that could ease the sting of Pacioretty's gut-wrenching loss, and also could spark Necas and Svechnikov again, assuming the player acquired was a center (with apologies to Paul Stastny, they need a 2C).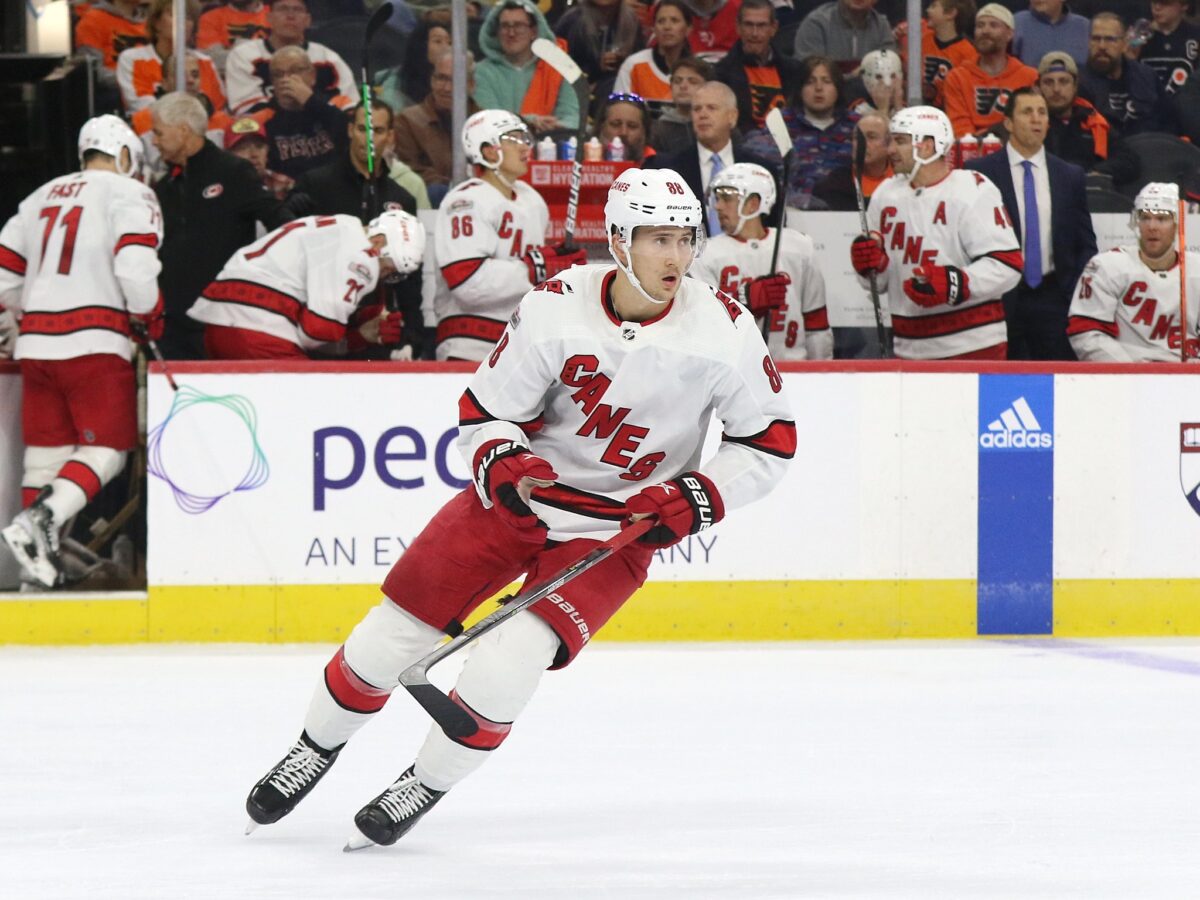 Still, the Hurricanes have put themselves in good position where they don't need to make a hasty decision today. They can afford to let the next few weeks play out ahead of the trade deadline without worrying too much about playoff standings, being that they're comfortable at the top of the division — even if New Jersey is actually tied with them in points at the moment. More importantly, they're seven points clear of the third-place Rangers, and I'm not sure Brind'Amour's bunch is that worried about the Metropolitan Division. It's definitely a plus, and home-ice advantage is important, but getting as healthy as possible and figuring out what this team truly needs to contend is the biggest objective right now. The team has much higher goals scored than the other Metro teams these days; it's Stanley Cup or bust in Raleigh.
When recently chatting with Hurricanes assistant general manager Darren Yorke on a podcast, he said the biggest thing that makes this season feel different from the last is the depth throughout the roster. Players like Kotkaniemi, Skjei, and Chatfield are having big roles in that. There are still questions for this team to answer about the roster between now and when the playoffs begin, but the Hurricanes should feel good about this team moving forward, even if a piece or two may be necessary to complete the puzzle.
---
---