Things felt a little rocky after a late Game 3 dismantling for the Carolina Hurricanes. The team's postseason road struggles are well-documented, and they played a really strong game for approximately 55 minutes. Then the wheels fell off, and despite carrying the play for long stretches and Antti Raanta making timely save after timely save, they fell short once again. It was probably fair to wonder if the Hurricanes would ever win a road playoff game again, and a fan of the team can be forgiven for thinking right then and there that the series was all but tied heading back to Raleigh for Game 5.
As they say, that's why they play the games, and the Hurricanes finally, finally took their dominating puck possession game on the road for Game 4, with their own dismantling of the New York Islanders by a final score of 5-2. The team got contributions from all over the roster, a new face stepped up and made a big impression, and the special teams continued to be a huge, and mildly surprising (one of the two phases, anyway) story in the series. We're going to hop into all that and more in today's post, so let's get it rollin'.
MacEachern Latest to Go From Role Player to Hero
There have been some relatively surprising heroes over the last couple of seasons for the Hurricanes in the postseason. Which, let's be real, a team needs if they're going to advance. Depth is really important. One of the unexpected star performances that quickly comes to mind is Max Domi, making undoubtedly his biggest contribution to the franchise against the Boston Bruins in the deciding Game 7. Greg McKegg scored the series decider against these very Islanders in 2019. Then there was Brendan Smith, scoring the only goal in a 1-0 win over the New York Rangers last postseason. Or, if you're more in the mood for a throwback, how about, say, Nic Wallin on Martin Brodeur in 2006?
Sunday's performance wasn't necessarily as dramatic as some of those aforementioned occurrences, but I'm confident the player in question definitely raised more instances of people asking "wait, who?". Recent call-up Mackenzie MacEachern slid into the lineup in place of the injured Teuvo Teravainen in Game 4, and what a story he wrote in his first-ever game wearing a Hurricanes sweater. After starting the game on the fourth line, an injury to Jack Drury caused him to leave the game, and MacEachern pretty quickly found himself playing atop the lineup on the wing of Sebastian Aho. The 29-year-old took full advantage of the opportunity, finishing the game with a snipe of a goal on Islanders' goalie Ilya Sorokin, a pretty backhand primary assist to Aho on a 2-on-1, and five hits to top it off in a little over 14 minutes of ice time.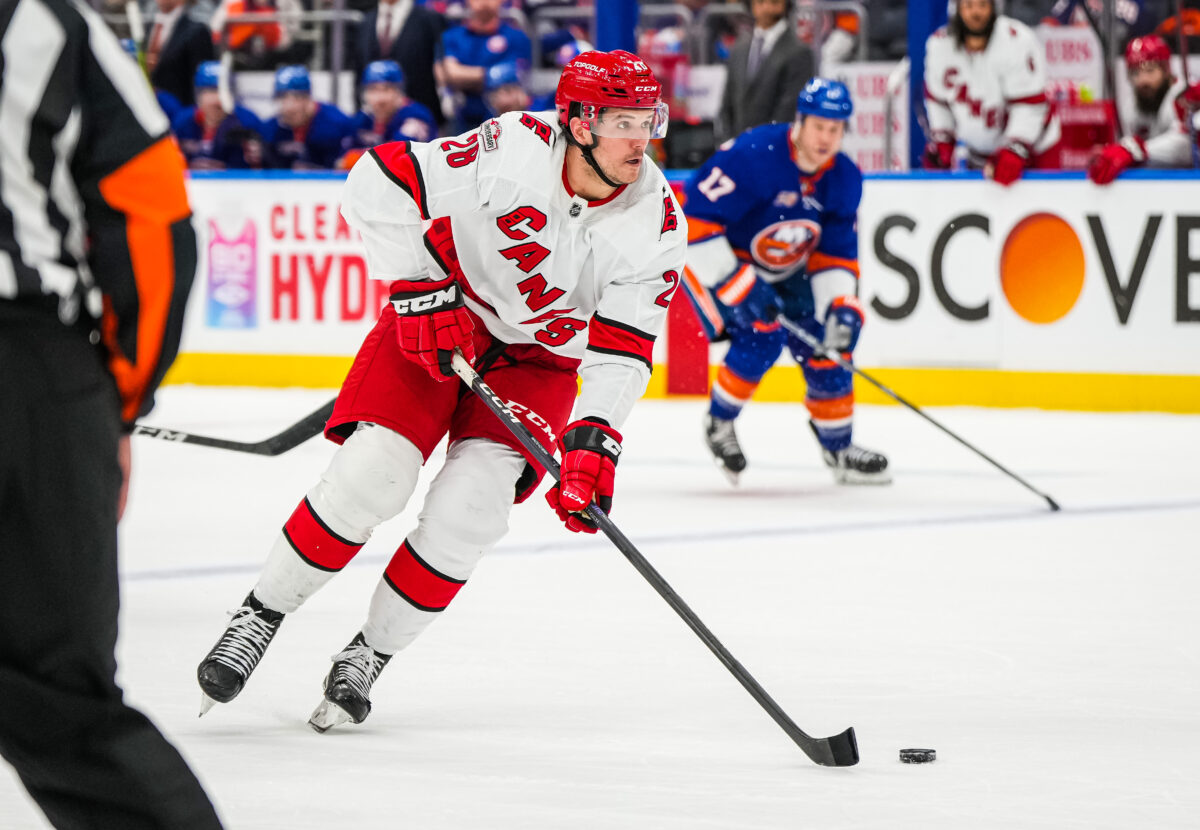 Not bad, for a guy that didn't even know he was playing two hours before puck drop.
The Hurricanes have gotten outmatched physically at times this series against a big, feisty Islanders lineup, but it's highly likely that MacEachern earned himself a little more time – not just in the lineup, but on that top line for a little bit. His ability to create space for Aho (goal, two assists in Game 4) played a direct role in that line's increased efficiency in the offensive zone, with more chances created than they had been able to generate prior in the series. Plus, he simply brings another physical element the team has sort of been lacking in recent years – and certainly is right now without players like Andrei Svechnikov and Max Pacioretty.
It's probably unrealistic to expect too many repeat performances after this one, at least as far as scoring multiple points goes. However, this is a player with over 100 games of NHL experience, who won a Stanley Cup with the St. Louis Blues and had a solid showing in the American Hockey League (AHL) this season with 30 points in 37 games. So who knows – the playoffs are all about who gets hot at the right time, maybe he does have a couple more big goals up his sleeve for the postseason run. Either way, it's hard to get off to a much better start than MacEachern did, and he could have an important role to play moving forward.
Top Players Show Out
Depth scoring has been very important for the Hurricanes not just in this series, but all year long. This isn't exactly a high-flying offense with a bunch of elite offensive talents up top. In a year where 11 players (including Erik Karlsson, a defenseman) broke 100 points, led by Connor McDavid's absolutely ridiculous 153, Carolina's leading scorer had just 71.
That said, in the absence of half their top-six, they were always going to need their remaining top players to show out eventually if they were going to get this done. Game 4 was a clear step in the right direction in that regard. Their top line, which we've already spoken a tad about, combined for seven points. Seth Jarvis scored two goals to go with the aforementioned big performances out of Aho and MacEachern, and perhaps the Hurricanes have found something there with the big, space-creating MacEachern alongside two smaller, skilled playmakers.
---
Latest News & Highlights
---
While on the topic of Aho, and I'll tell on myself here, I can't believe I almost forgot to mention his goal was the 20th of his playoff career – meaning Sunday he surpassed Eric Staal for most in franchise history. The Hurricanes don't have a super extensive track record of postseason play over their relatively-brief history, but at just 25-years-old and with the team set up to compete for a while yet, there's a good chance Aho puts some pretty serious distance between himself and second-place over the next few years. He continues to elevate his game in the postseason, tying for the team lead with two goals and five points, and for his career has 51 points in 52 postseason games. His fiery competitiveness and underrated two-way play are built to succeed this time of year.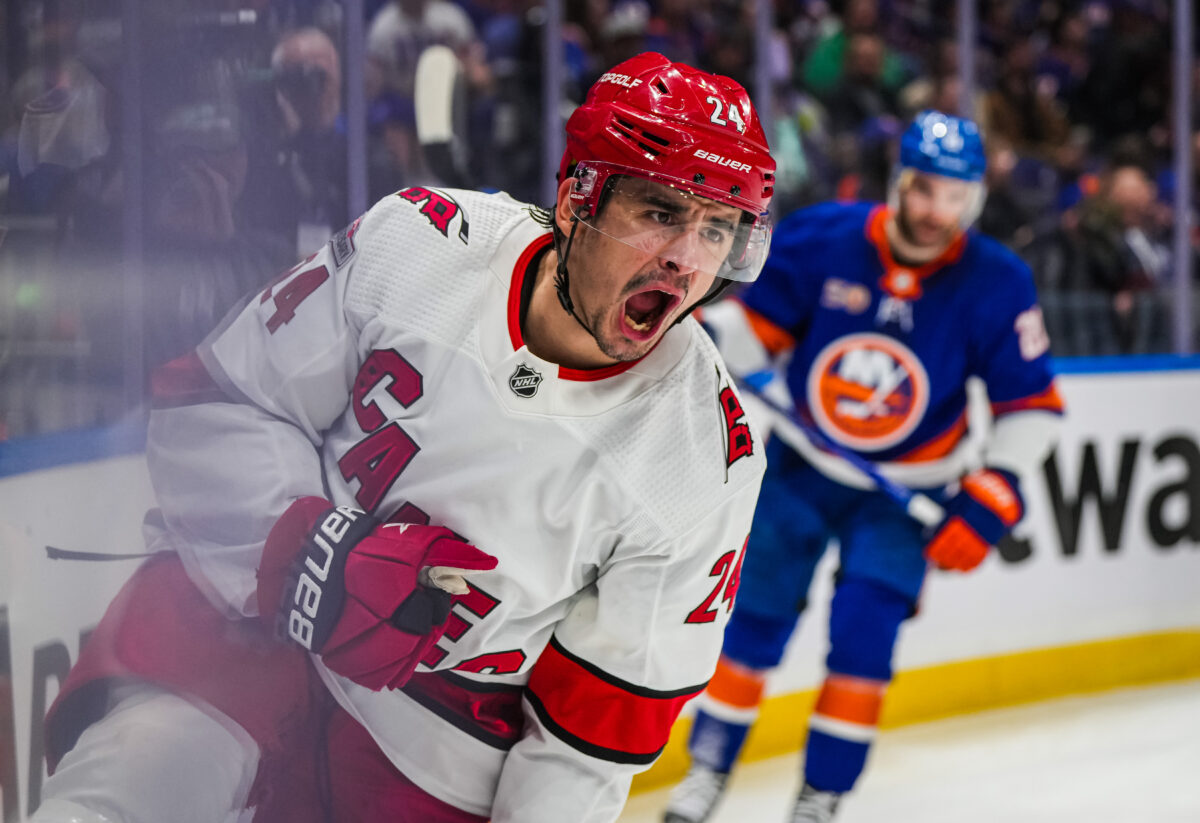 Beyond that top line, though, another big development in Game 4 was the performance of Martin Necas. He rebounded from a tough couple of games to score a big power play goal, and simply looked far more dangerous and confident than he had in previous games. This type of performance is much more in line with regular-season-Necas, a player that can create space for himself with his vision and hands, use his skating to pressure defenses into mistakes and open lanes with his deceptiveness, and who doesn't seem quite as shy about playing through the middle of the ice or into dirty areas. It was a nice change of pace to see him cut towards the net for his back-door, tap-in goal, whereas other times this series he's slowed down just inside the blue line or hung around the circles, and therefore been a bit of a non-factor.
Necas is always going to be a player who is at his best in open space, and one who creates most of his offense from the exterior; this is, after all, why he's one of the deadliest players in the league during overtime 3-on-3s in the regular season. But "open space" and "exterior" are basically the antithesis of what these two hockey clubs are trying to do, as a majority of the goals have been ugly ones scored in tight, and the Islanders do a good job in general of keeping everything to the outside and blocking passing and shooting lanes.
However, perhaps the physical altercations he was involved in have woken him up a bit and played a role in a much more engaged version of the former first-round pick showing up to the series. Better chances followed, and will continue to do so only as long as he continues to work for them like he did in Game 4. If the performance wasn't a one-off, and instead the Hurricanes' leading scorer can build on it and shake the narrative of "regular season performer" who crumbles in the tight-checking environment of the playoffs, the Hurricanes just might have a chance to carry on their postseason play a little longer than many pundits are expecting.
Power Play Showing Signs of Life
Another big development in Game 4 was the Hurricanes scoring twice on the man advantage – for the second time this series. Unsurprisingly, both of those games have seen them come out on top. All year long they have largely carried the play at five-on-five, but a theme from many of their losses has been the power play coming up short in big situations that could have swung the tide. The puck movement was significantly more crisp and confident Sunday afternoon, and if that confidence and execution can carry over, it'll significantly improve the Hurricanes' postseason outlook. Their power play is clicking at a vastly-improved 26.3% clip through four games (5 for 19), after scoring on just 19.8% during the regular season (20th in the league, and 13th of the 16 teams that made the playoffs).
Stefan Noesen deserves a lot of the praise here, as his role is evolving a bit and he's thriving within it. He made two gorgeous passes on the power play for primary assists in Game 4, and has four points in the series. Back in Game 1, the Islanders adjusted to take away Brent Burns' space after he created two power-play goals early on. That over-pursuit high in the zone has opened things up below the circles, and Noesen, generally a net-front player, has popped out to the side of the net/goal line more frequently in the last couple of games for quick passes and rebounds.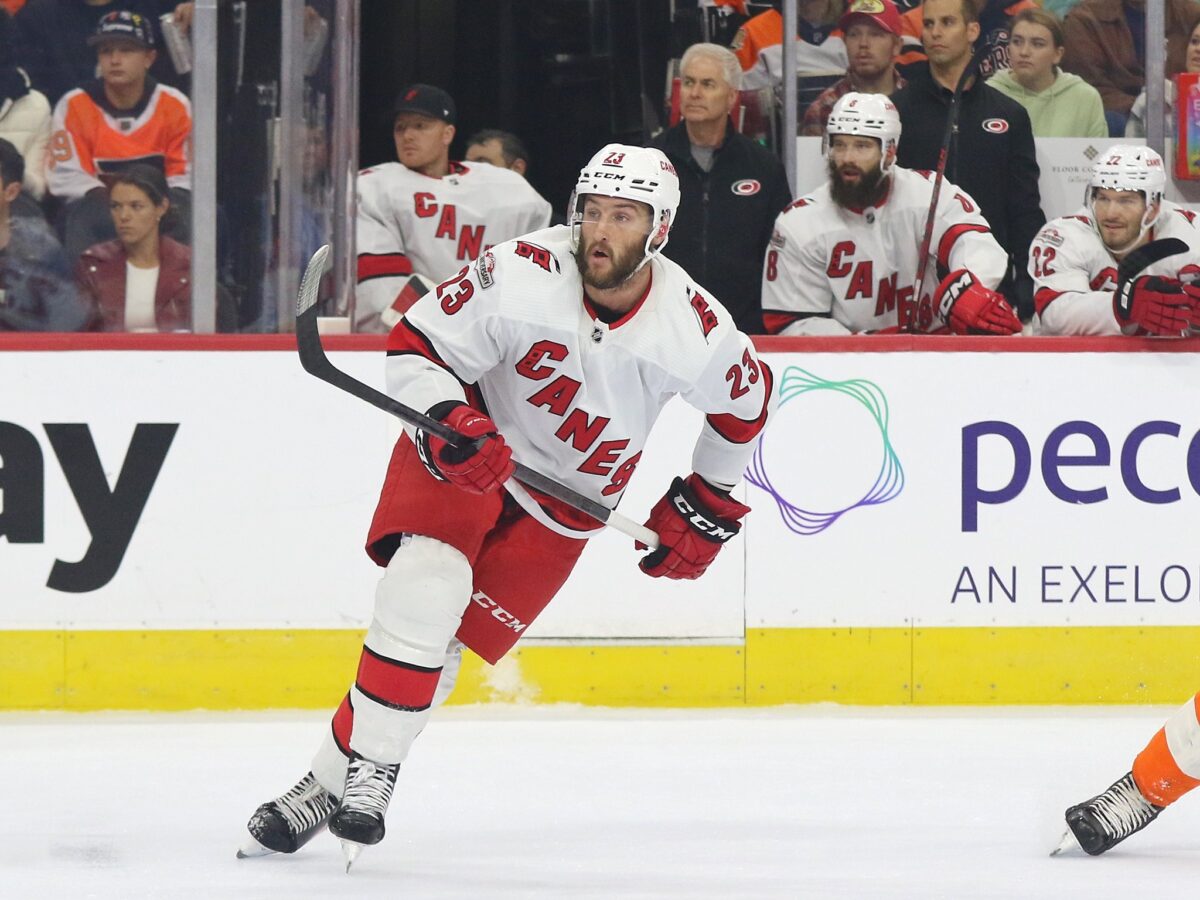 It led to a few close chances in Game 3 as the Hurricanes tried to work the seams, and after some time to review the film and talk it over, the team really took advantage in Game 4. Good job by the players and coaches to make their own adjustments after Islanders' coach Lane Lambert was able to take away one of the Hurricanes' strengths. Or, mildly slow down, at least, since Burns still has a team-high-tying five points in the series.
Meanwhile, the penalty kill continues to be extremely stout. They are facing the third-worst power play in the league in 2022-23, which is at least worth noting. Still, they've done a fantastic job of puck retrieval and pressuring the puck carrier, cutting off passing lanes, winning battles, and – perhaps most importantly considering their issues with this at times – clearing the puck when they have the chance. The Hurricanes have killed 11 of 12 penalties taken so far, and have even balanced out that one power play goal allowed with a shorthanded goal of their own. Special teams are so crucial this time of year, and if the Hurricanes finish off this series it's shaping up to be a big area to look back upon afterward.
Blue Line Helping Raanta Settle in, Prove He's the Guy
For the second year in a row, there have been a lot of questions facing the Hurricanes' goaltending entering the postseason. And for the second year in a row, the answer to those questions has been Raanta.
Now, one cannot overlook the job the Hurricanes' defense has done so far, specifically in their three wins. I often mentioned late in the season, especially after the injury to Svechnikov, that if the Hurricanes were going to make a run, it had to come on the backs of the blue line. They haven't been perfect, and a key piece or two (mostly Brady Skjei) is still trying to settle into the series, but more often than not Raanta's job has been pretty cushy with the way the defense has cleared pucks and cut off any mounting attack.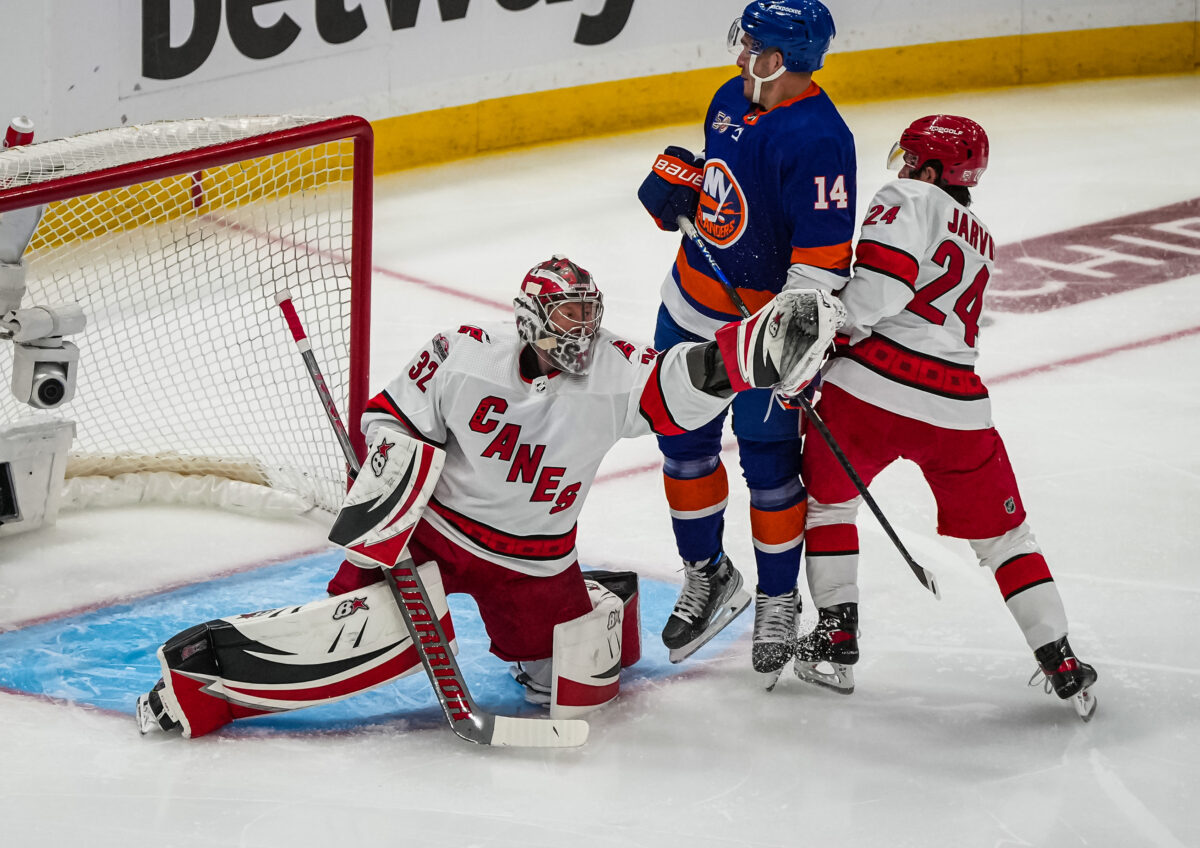 The Hurricanes suffocated the Islanders for long stretches of the game, and really that's been the case all series. Anders Lee and Mathew Barzal (one goal, zero assists each) have been held mostly in check, and Bo Horvat only picked up his first point of the series late in Game 4 after a bit of a fortunate bounce off Jaccob Slavin's glove became a shorthanded breakaway and goal.
The Hurricanes' game planning and execution in taking away the Islanders' top players have been superb, as has their structure through the neutral zone. In instances the Islanders do get possession in the zone, the shots rarely come from high-danger areas, and the team remains stout at blocking shots and clearing rebounds.
Still, in Game 4, there was a stretch after the Islanders scored to make it 4-1 – a pretty tough goal that came from Noesen fanning in his own slot, as he was trying to play the puck back to Raanta for a cover and whistle – where the ice began to tilt. Raanta, who stopped 27 of 29 shots, was there time and again to keep the Hurricanes comfortably ahead as time ticked away. After a few big stops and timely whistles curbed the mounting momentum, the defense settled back down, and the Islanders generated next to nothing in the back half of the final frame.
It's interesting to consider, but in an ideal world, it's unlikely the Hurricanes would be starting Raanta right now to begin with. Frederik Andersen – who reportedly tweaked something recently, but didn't look like he was going to be the guy in the 2023 playoffs anyway – was obviously brought in two years ago to be "the guy". Even Pyotr Kochetkov had an incredible stretch late in 2022, and gave some indication that he was ready to be number one, until he got hurt in late December and never again really found his footing at the NHL level this season. Late in the year when Raanta was hurt, the 23-year-old Russian was given a string of starts in important games against teams like the Rangers and New Jersey Devils, a stretch that seemingly was the head coach pleading for the kid to steal the job and go on a run, but to no avail.
Related: Hurricanes' Big Questions As Playoffs Approach
So when the playoffs began, it was again Raanta backstopping the Hurricanes, and throughout all four games he's done everything that can be asked of him to give the team a great chance to win hockey games. So while this probably isn't how the team drew up the game plan when Raanta originally signed on to be the backup in the summer of 2021, I'm pretty confident that these days the front office is awfully glad they picked him up.
Returning Home With Road Demons Exorcised
Close-out games are never easy. Opposing teams will be playing with as much desperation as they can muster, being faced with elimination and a long, frustrating offseason full of what-ifs. The Islanders will undoubtedly leave it all on the ice, knowing their work over the course of the long, 82-game season comes down to a couple more games. Furthermore, the physical play – a topic that narrowly missed the cut for a subsection of its own in this post – will surely be ramped up, probably even further than it was in Game 4.
The Hurricanes lost yet another body on Sunday, and are really running low on options with any experience in the league at this point. If Jack Drury can't suit up over the next few games, should anyone else go down the Hurricanes will assuredly be forced to turn to a player with zero games of NHL experience to step in and debut in a playoff series (the next men up likely being Vasili Ponomarev or Jamieson Rees). That's not exactly ideal, but the development those two have experienced over the last couple years, not to mention the mature, but energetic styles they play, ought to have them ready should the need arise.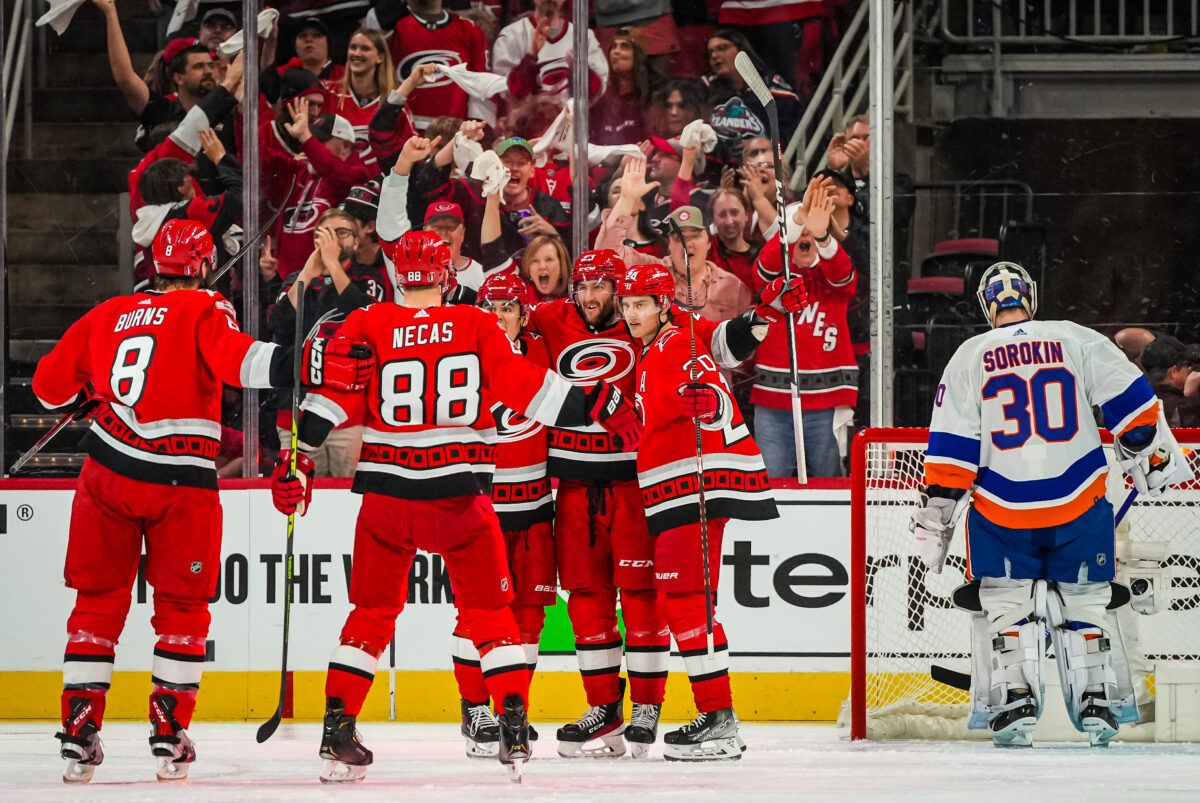 The Hurricanes now return home to PNC Arena, where they'll have two chances (plus a possible Game 6 back on Long Island, of course) to close things out at home. Before Sunday, they had lost eight consecutive road playoff games, dating all the way back to a double overtime win over the Tampa Bay Lightning on June 3, 2021, their only win in that year's Eastern Conference Semifinals. They finally got that monkey off their backs, proving they could win without the friendly faces of their own barn surrounding them, and now they'll simply have to not lose three straight in order to advance.
That long-sought road win ought to give them a nice boost of confidence, not just in front of what's sure to be a raucous Game 5 crowd in Raleigh, but moving forward deeper into the playoffs as well. They're one game away from a fourth second-round appearance in five Brind'Amour-led years (and third consecutive trip), so perhaps they're due to get over a few more hills that are lurking over them – like, say, getting out of that second round, maybe?
There's a long way to go between here and a Stanley Cup, and getting ahead of themselves (you know, like I'm doing here) would be a mistake. It's one game, one day at a time once you get in the playoffs – and that especially holds true for an already-very-shorthanded team like the Hurricanes. Still, in many ways things are falling into place for the team, even with the injuries piling up. Even when Aho, Svechnikov, or Slavin missed time during the year, others stepped up. That's built up a lot of belief and resiliency in that locker room, and those things can make a team really dangerous this time of year.