Since the Calgary Flames did not qualify for the 2023 Stanley Cup Playoffs, they will have to wait another year to break their championship drought, which is now at 34 years. Coincidentally, hundreds of players have put on a Calgary sweater over the last three decades, coming to town hoping to win but leaving empty-handed. 
Related: 5 Teams Flames Fans Should Cheer on in 2023 Playoffs
As we search the rosters of the 16 teams that qualified for the NHL playoffs, several former Flames players are still actively searching for their first Stanley Cup ring. 
10. Calle Järnkrok – 17 games (647 NHL games)
Calle Järnkrok may be known for his time with the Nashville Predators, where he spent the first eight years of his career. However, now as a member of the Toronto Maple Leafs, he collected his first 20-goal campaign.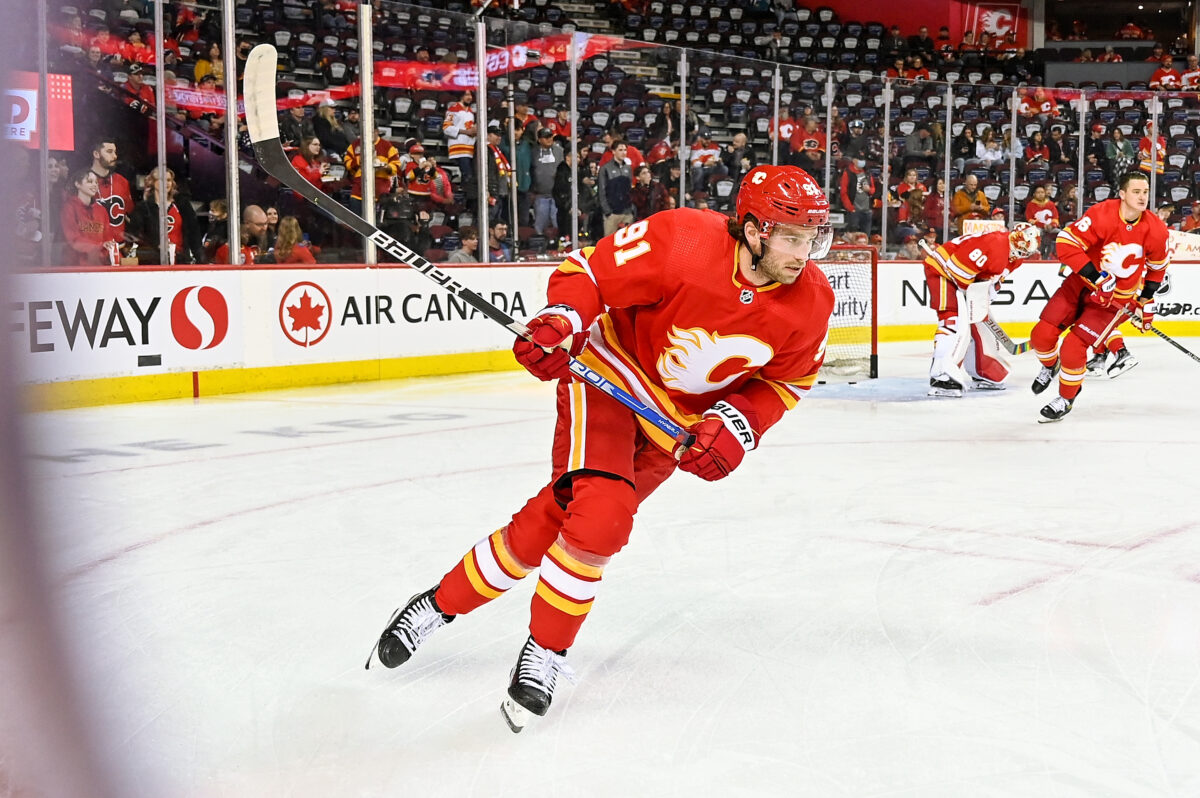 After being drafted by the Seattle Kraken in the 2021 Expansion Draft, Jarnkrok played 49 games with the team before a trade to the Flames, where he played just 17 games. Thus far, he's only missed the postseason once in his 10-year career.
9. Brian Elliott – 49 games (543 NHL games)
Brian Elliott is a well-traveled veteran, playing with six franchises and still chasing his first Stanley Cup ring. After making a name for himself with the Ottawa Senators and St. Louis Blues, he came to Calgary via a trade for one season in 2016-17. Although he aided the Flames to a playoff spot, he went 0-3 in the postseason and immediately left town as a free agent. As the backup to Andrei Vasilevskiy in Tampa Bay, Elliott has his best chance to win after only 48 playoff games in 16 seasons. 
8. David Rittich – 130 games (172 NHL games)
David Rittich came to the Flames' organization in 2016 after two seasons in the Czech Extraliga with a 34-37 record. Eventually, he'd become the club's starter during the 2018-19 season, going 63-39-15 over five seasons.
---
Latest News & Highlights
---
However, after signing Jacob Markstrom as their main guy in 2021, Rittich went to the Maple Leafs via a trade. Although he briefly played in Nashville (17 games), he is now in Winnipeg, backing up Connor Hellebuyck. Surprisingly, he has only played in two playoff games in seven seasons. 
7. Garnet Hathaway – 175 games (457 NHL games)
Garnet Hathaway was an undrafted prospect who signed a minor league deal within the Flames' organization in 2014. Despite success at the college level, he struggled in Calgary with 40 points in 175 games before joining the Washington Capitals as a free agent in 2019. Now, as a member of the Boston Bruins, he has his best chance to win the Stanley Cup in his fifth trip to the playoffs. 
6. Derek Ryan – 192 games (500 NHL games)
Derek Ryan was an undrafted prospect who made his NHL debut with the Carolina Hurricanes. After three seasons in the southeast, he came to Calgary as a free agent scoring 80 points over 192 games. Now, he plays with the Flames' northern rival, the Edmonton Oilers. Interestingly, he's only been to the playoffs four times while playing in Alberta.
5. Dougie Hamilton – 245 games (751 NHL games)
Dougie Hamilton was only a member of the Flames for three seasons; however, his tenure still has a long-lasting effect on the club as the centerpiece in the trade for Elias Lindholm and Noah Hanfin in 2018. Initially, in 2015, the Flames thought highly of Hamilton when they traded away three draft picks (one first-round and two second-rounds) for his services. Although he's now in New Jersey, his fourth NHL team, he's advanced to the Stanley Cup playoffs in seven of his 11 seasons.
4. Sam Bennett – 402 games (546 NHL games)
Sam Bennett was a fourth-overall pick who never had a chance to shine during his seven years with the Flames organization. Although he didn't miss many games (17) in his first four seasons as an NHL regular, he never scored more than 18 goals or 36 points, finishing each year with a negative plus/minus rating.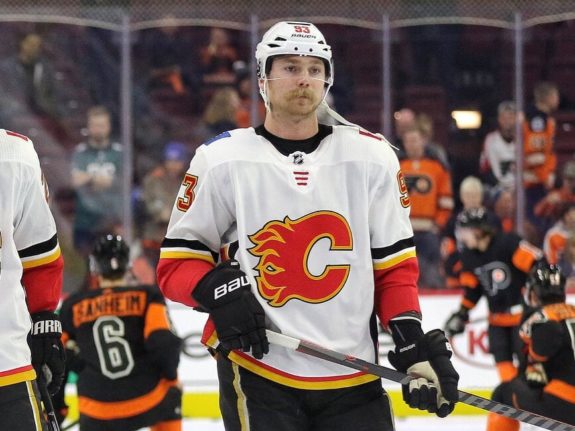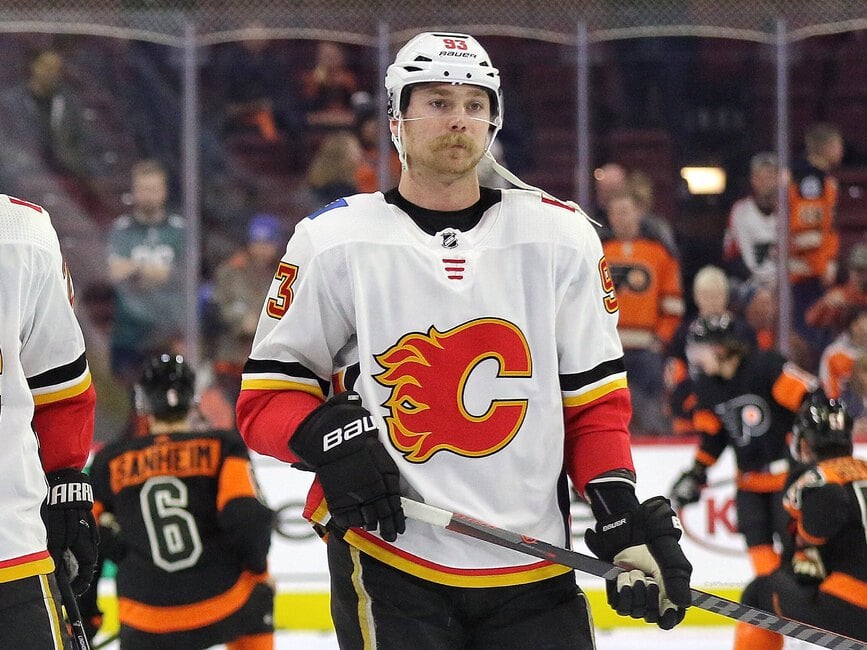 Eventually, a chance at a fresh start came in April 2021 when the Flames traded Bennett to the Florida Panthers. So far, in nine seasons, he's played in the Stanley Cup playoffs seven times. 
3. Matthew Tkachuk – 431 games (510 NHL games)
Matthew Tkachuk was a first-round pick that blossomed into one of the most energetic players in recent Flames history. Whether dishing out body checks or scoring goals, he was a fan favorite who many hoped would be the club's centerpiece for the future. Unfortunately, after a career year with 42 goals and 104 points in 2021-22, he was traded to the Panthers in the summer of 2022. Unlike several players on the list, he's been to the postseason in five of his seven seasons in the NHL. 
2. T.J. Brodie – 634 games (830 NHL games)
T.J. Brodie joined the Flames as a 20-year-old in 2010-11, becoming an NHL regular the following season. Even though he only collected 28 points over his first three seasons, he routinely scored 30 to 40 points in the subsequent campaigns. Despite his offensive contributions, he left the Flames as a free agent in October 2020 to join the Maple Leafs. Thus far, Brodie has only qualified for the Stanley Cup playoffs in seven of his 13 seasons. 
1. Mark Giordano – 949 Games (1102 NHL Games) 
After spending 15 years with the Flames organization, including eight years as team captain, Mark Giordano departed the club to play with the Kraken in the 2021 Expansion Draft. Although his time in Seattle was short, 55 games, he became the franchise's first captain before a trade to his hometown Maple Leafs at the 2022 NHL Trade Deadline. Despite playing in the league for 17 years, he's only qualified for the postseason on six occasions, never playing past the second round. 
Historical Perspective
Hockey fans everywhere remember that franchise icons Jarome Iginla and Miikka Kiprusoff played their best hockey while members of the Flames organization. However, despite appearing together in the 2004 Stanley Cup Final, both retired without championships. Despite breaking many hearts upon his departure, few people weren't rooting for Iginla to win a title with another franchise.
Related: Flames' Offseason Will Determine Futures of Backlund & Lindholm
Regarding the current state of the roster, the end of the 2022-23 season may be a significant turning point for the franchise. Consequently, several cornerstone players like Mikael Backlund and Elias Lindholm could be dressing with a new team next season, which would alter this list next spring. Ultimately, we must stay tuned to the newswire to see what transactions transpire this offseason.
Until then, if you wish to watch this year's playoffs despite the Flames' lack of participation, there are a few former players you could cheer for instead of just the teams who play against the Oilers.
---
---