The Chicago Blackhawks have traded away several notable players since they began their rebuild, and this is something we should see continue during the 2023 NHL offseason. One player who is beginning to stand out as a trade candidate is veteran defenseman, Connor Murphy. The 30-year-old is a proven top-four defenseman who carries an affordable $4.4 million cap hit until the end of the 2025-26 campaign, so Blackhawks general manager (GM) Kyle Davidson should get calls about him during the offseason. Let's discuss three potential landing spots for the reliable defenseman now.
Buffalo Sabres
The Buffalo Sabres took a major step in the right direction and were inches away from making the playoffs for the first time in over a decade. Although that ended up not coming to fruition, there is no question that they are heading into next season with plenty of optimism and the expectation of being a playoff team. As a result of this and the club having plenty of cap space, they are expected to be aggressive this offseason, so perhaps they could be in the mix for a player like Murphy.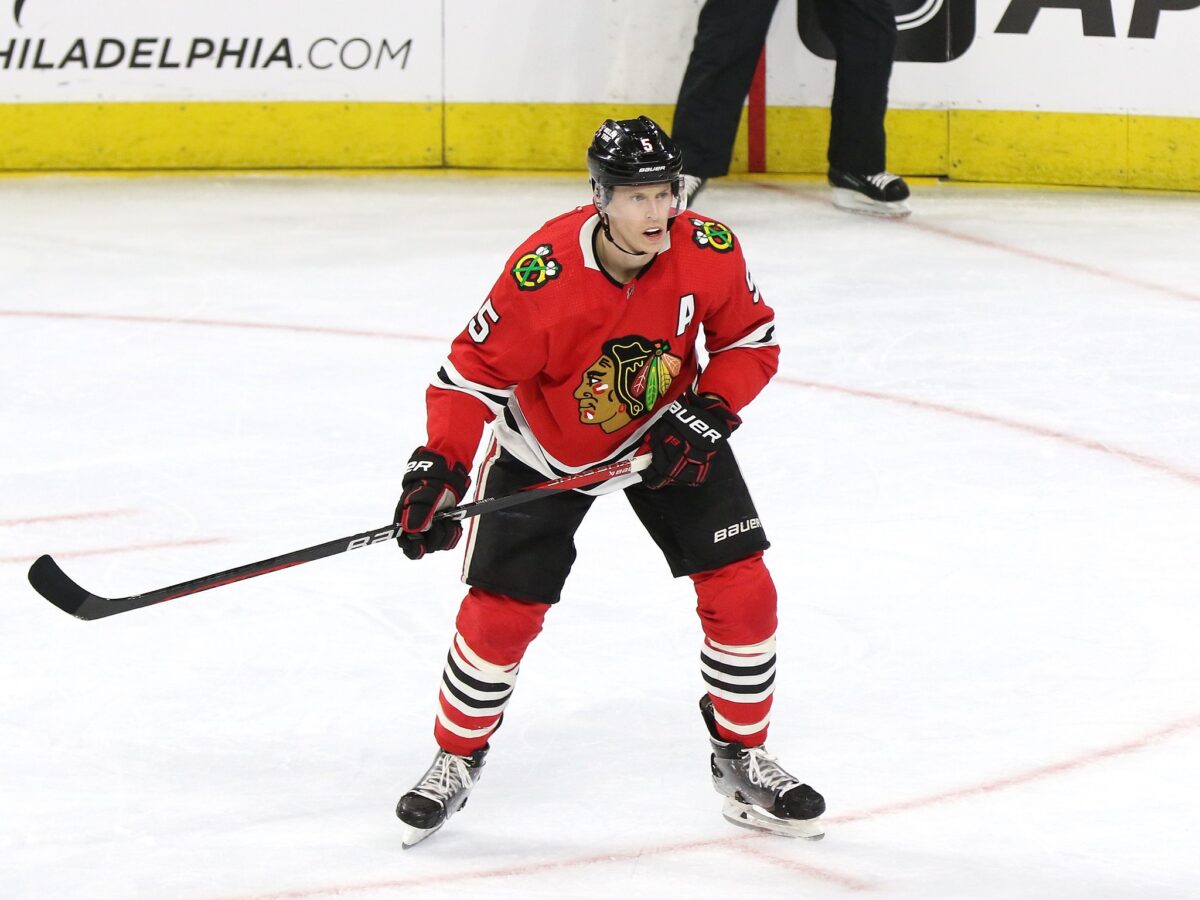 When looking at the Sabres' roster, they need to improve the right side of their defensive group. If they acquired Murphy, he would immediately become one of their best right-shot defensemen and make them look better on paper because of it. When thinking of a specific spot for him, he could be a great fit with star defenseman Rasmus Dahlin on the top pairing. However, he also could be a reliable partner for top prospect Owen Power to play with on the second pairing. With that, Murphy would of course be one of Buffalo's key penalty killers if acquired.
The Blackhawks would likely want two second-round picks and a prospect from the Sabres in exchange for Murphy. One Sabres prospect who could make sense for the Blackhawks is Mats Lindgren. The 18-year-old defenseman just had a solid season with the Red Deer Rebels of the Western Hockey League (WHL), where he had 11 goals and 34 points.
Ottawa Senators
Similar to the Sabres, the Ottawa Senators improved significantly in 2022-23 and were in the playoff hunt until the final weeks of the season. It is clear that they are inching closer to becoming a playoff team, and GM Pierre Dorion told reporters at the end of the year that "the rebuild is done." Thus, we should expect Dorion to have another busy summer as he tries to make the Senators a playoff team. With Ottawa needing help on their right side, Murphy is a player in who they could express interest.
Related: Blackhawks: 3 Teams Who May Target Tyler Johnson This Summer
---
Latest News & Highlights
---
The Senators improved their defensive group when they acquired Jakob Chychrun from the Arizona Coyotes before the deadline passed, but it is apparent that they still need help on their right side. Bringing in a player like Murphy would provide them with a much-needed right-shot top-four defenseman. When thinking of a specific spot for him in their lineup, he could be a great fit playing second-pairing minutes with Chychrun or Thomas Chabot. He also would be a major addition to their penalty kill.
To acquire Murphy, the Senators would need to part ways with two second-round picks and a prospect like Roby Jarventie. The 20-year-old winger just had a strong season with the Belleville Senators of the American Hockey League (AHL), where he scored 16 goals and posted 30 points.
Toronto Maple Leafs
The Toronto Maple Leafs might be in the market for a right-shot defenseman this summer. After all, Justin Holl and Luke Schenn are both pending unrestricted free agents (UFA), and they will need to replace them if they walk. As a result of this, they could look at a player like Murphy this summer. It is also important to note that Toronto was linked to him leading up to the 2023 NHL Trade Deadline.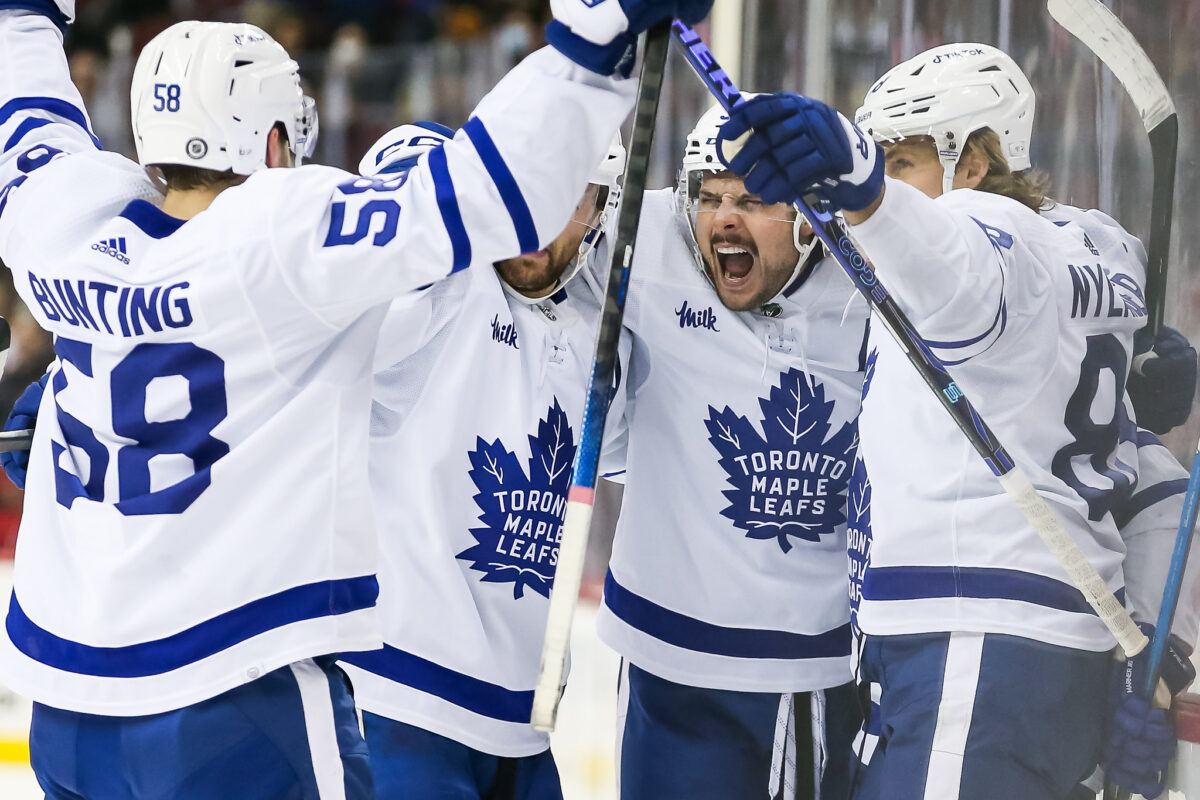 If the Maple Leafs acquired Murphy, they would have an affordable right-shot defenseman who can play top-four minutes. When looking at a specific spot for him in their lineup, he could be a great fit on the team's second pairing with Mark Giordano. However, he also would be an option to play with Morgan Rielly on the club's top pairing. In either scenario, the Maple Leafs would be adding a reliable shutdown defenseman to their top four if they landed Murphy.
Due to the Maple Leafs having no second-round picks until 2027, they would need to move the Boston Bruins' 2023 first-round pick they acquired from the Washington Capitals in the Ramus Sandin trade. With that, a prospect like Nick Abruzzese could help finalize this move. In 69 games this season with the Toronto Marlies, the 23-year-old center had 16 goals and 48 points.
We will need to wait and see if the Blackhawks decide to move Murphy from here. If he is officially shopped, do not be surprised if these three teams express interest in him.