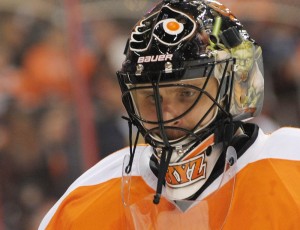 Two years after signing in Philadelphia and with seven years remaining on his deal, Ilya Bryzgalov is a free agent.  The Flyers used their second compliance buyout on the Russian goaltender today and in combination with their buyout of Daniel Briere, will save over 12 million in cap space next season.
With the salary cap coming down significantly in 2013/14, all teams were permitted two of these compliance buyouts, enabling them to void a contract without it affecting their cap space. Owner Ed Snider will continue to pay Bryzgalov and Briere to not play for his team but the Flyers will not suffer a cap penalty for doing so.  It's an expensive mulligan.
Most importantly though, in the case of Snider and the Flyers, it is a case of mismanagement of goaltending and of people.  In a team sport, Bryzgalov is an individual.  In a conservative and traditional league like the NHL, he is misunderstood.  In the minds of many, his off-ice personality became baggage to his on-ice performance and even in today's NHL with Patrick Burke's You Can Play campaign, the steps made towards an inclusive and racially sensitive league, and the slow but eventual recognition of mental illness in the sport, this is apparently deserving of a buyout.
If You Can Play…
In June of last year, Harrison Mooney of Puck Daddy wrote an excellent piece wondering if the NHL's issues with individuality could keep gay players from coming out.  In it, he points out that players like the recently retired Niklas Lidstrom are particularly lauded for being low-maintenance people who quietly go about their business and provide results on a consistent basis.
From Mooney:
"In the NHL, if 'individual' isn't appended by 'effort', it's typically framed as a flaw. Hockey may not have any openly gay hockey players, but it does have several openly unique hockey players, and they've been openly criticized for this shortcoming all season long….Somehow, his (Bryzgalov's) unpredictability off the ice became merged with his unpredictability on the ice, as though his tendency to let in a bad goal was a symptom of the same quirkiness that made him such a fun interview."
And Bryzgalov did come with mixed results.  After losing the Stanley Cup Final in 2010, the Flyers believed they were solving their decades-long problems with goaltending by locking up the Russian for nine years after he found relative success in Phoenix with the Coyotes.  In his first year wearing orange, he had a few poor performances, became a star of the HBO documentary 24/7, and lost the starting job in that season's Winter Classic to then backup Sergei Bobrovsky.  The first-round matchup between his Flyers and the Pittsburgh Penguins was one most will not soon forget for the high-scoring and lack of goaltending prowess.  But when the eventual Finalists were the New Jersey Devils and the Los Angeles Kings, one could argue neither the Flyers nor Penguins were built to win in 2012.  Yet Bryzgalov was the best Flyer in their second-round loss to the Devils.
But the Flyers and their goalie had a dip in 2013 and missed the playoffs completely.  And individuality is only permitted when a player is a success on the ice.
One could see evidence of this during the 2013 playoffs.   Joe Haggerty of CSN Boston interviewed Bruins defenceman Andrew Ference who had this to say about dressing room standouts: "It sucks having guys that are emotional train-wrecks in the room. It really does . . . because it's contagious. You want to . . . well, you do tell them to shut up every once in a while.".  Patrick Kane of the Cup-winning Chicago Blackhawks has had his share of controversy, whether it was the incident with the cab driver or the numerous rumours of his party-boy tendencies.  But he now has two championships to his name and now a Conn Smythe trophy for playing his best at the most important time.
Individuality is acceptable if it means winning. And only then.
A brief history of strange goaltenders
Goaltenders are long-known for their quirkiness.  It's become an easy cliché but it certainly has its grounding in history.  The World Hockey Association had more than a few of these types in the 1970's. See if any of this sounds familiar.
Gary Smith won the WHA championship, the Avco Cup, in its final season with the Winnipeg Jets.  But he also once skated the puck past centre ice during a nationally televised game and was caught another time by coach Tom McVie eating a hotdog on the bench.
Smith (From Ed Willes' The Rebel League): "I don't know why I did those things. It's just the way I was, I guess. But a lot of the stories written about me aren't very flattering. Everything people have read about me is the crazy stuff, and most of it isn't true. I always showed up for the games. If you talk to the guys I played with, you get a different picture".
Or, listen to what the author Willes says about goaltender Gilles Gratton: "The issue with Gilles Gratton was never talent. The issue was whether the mothership from Pluto would call him home during a game". Gratton believed he had been reincarnated several times over the course of centuries and once opted out of a game because of sore ribs he was experiencing from a spear wound suffered 300 years earlier.
Another Smith, Al, was the top WHA goaltender in 1978 and was a part of the first Avco Cup-winning team before playing two seasons with the Buffalo Sabres.  Harry Neale who coached Al Smith said he was "a hippie when the concept of hippiedom wasn't exactly embraced by the hockey world" (The Rebel League).  His teammate, Larry Pleau was understanding of his goalie: " He had his own ideas about things, but he was a competitive guy and a good teammate…that's the way he lived.  On his own terms".
Perhaps former teammates of Bryzgalov will look back fondly on these times but for now, hockey's most entertaining personality will be stifled.
That's really what is at stake here.  Bryzgalov does not suffer from racial prejudice, and for all we know, does not suffer from mental illness or the difficulties of closeted gay hockey players (he is married with children).  Here is a man who dares to talk about his other interests, injects comedy in to his interviews, and speaks with a frankness that is sorely lacking in what is still The Old Boys Club of the NHL.  When he marvelled at the universe on HBO, we should have taken notice of a person who thinks out loud about other things in life besides hockey.  When so many hockey players are pushed quickly through school by over-zealous teachers who emphasize their physical abilities, live in a self-indulgent bubble through their professional careers, and play in a league that does not prepare them for life outside of hockey, Bryzgalov was a refreshing example of a jock with the capacity for intellectual pursuit.
From Ilya Brygalov, speaking to Dimitry Chesnokov of Puck Daddy: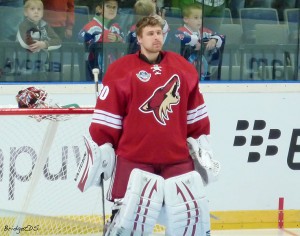 "We were in the locker room and they [the video crew] were standing there. There was a talk about [space] and I just told them that two dogs were the first to fly into space. And they looked at me with such a stare. And I realize that these people don't even know that [about the dogs]. They have no idea. And then they started laughing and I started joking 'Yeah, a monkey…it pushed something…' Word after word something came of it, but I understood that they had no idea two dogs were the first to fly into space. And then they laugh at me for knowing it, and at the same time think that their ignorance is OK."
It no longer matters that he has something to say. It is always going to be couched as the latest whimsy of an odd bird.
The reaction by the Philadelphia media to the buyout has been as swift as it has been heartless.  Minutes after the announcement, Flyers beat writer Randy Miller tweeted: "By the way … I heard Bryz had 4 blowouts last season with Lavy (coach Peter Laviolette). And I heard players couldn't stand him.".
Frank Seravalli interviewed Bryzgalov's agent Rich Winter recently where Winter defended his client, though Seravalli was not buying it.  Winter:   "He is one of the most intelligent athletes I've ever met. He's an avid fan of American history and Russian studies, and he can quote verbatim things that most professors would have a hard time remembering.  It'd be interesting to see if the major league in the world was Russian, and the majority of the best players were American or Canadian, how a guy like Tim Thomas might be interpreted in Moscow if he was trying to wax poetic about his political philosophy."
Ed Snider has been involved in the league since the 1967 expansion and is certainly part of the old school…but this is a step backwards for individuals in the NHL.  Mooney may be correct in his supposition that it is also potentially a step back for gay athletes and it is most certainly already the case with anyone who feels their personal strengths or weaknesses can become a distraction.  Bryzgalov, who just turned 33 on June 22, may not be able to find a job anytime soon and some have speculated that the next team that would sign him might be in the KHL.
If an NHL team were to invite Bryzgalov to their team this year, it should be an organization that is willing to be patient with its people.  New Edmonton Oilers head coach Dallas Eakins said in his introductory press conference that he coaches individuals, not teams.  Bryzgalov may just be one of the casualties of the growing pains of today's NHL, one that still prefers a Niklas Lidstrom to a Theoren Fleury, Evander Kane, or a Gilles Gratton.