While it may not be his ideal contract, Patrik Berglund has re-upped with the St. Louis Blues for one more season.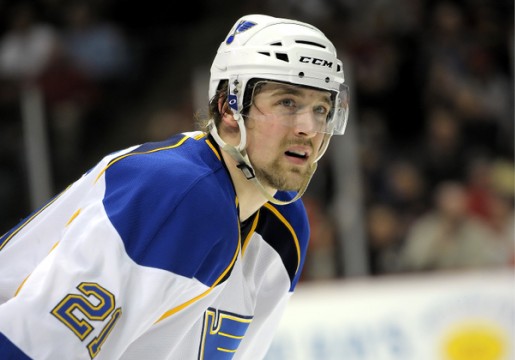 Giving one of his patented show-me-what-you-can-do contracts, Blues GM Doug Armstrong agreed to a one-year contract that will pay Berglund $3.25 million next season. Because of free-agency rules, Berglund will not officially sign the contract until July 5.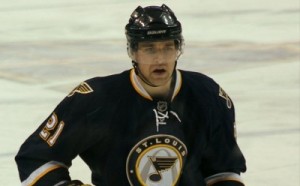 Berglund is coming off a two-year, $4.5 million contract that was signed in 2011. This past season, the native of Vesteras, Sweden posted 17 goals and 25 points. Over a span of a regular 82-game season, Berglund would have accumulated about 29 goals and 43 points.
His playoff performance was disheartening, though, as he recorded just one goal and a minus-3 in the Blues' six-game loss to the Los Angeles Kings.
The contract that the 25-year old signed has become the norm with the current Blues roster, as players such as Chris Stewart and T.J. Oshie have received these contracts for the sole purpose of seeing how a player reacts to not receiving a desired long-term deal.
In Oshie's case, he stormed out of the gate after receiving his one-year deal in 2011-12. He posted career-highs in goals (19), assists (35) and points (54) that season, earning a five-year extension that began in 2012-13.
S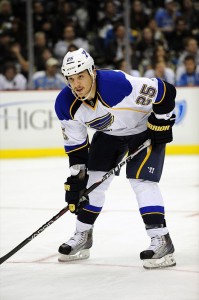 tewart responded fairly well last season when awarded his one-year contract, eclipsing his point totals across the board despite playing in 31 less games due to the lockout-shortened season. His 18 goals and 36 points led the Blues in both categories.  Like Berglund, Stewart had a forgettable playoff showing, posting just one assist and an even plus/minus rating.
It is difficult to measure Berglund's playoff success against his teammates; in reality, the only Blues player who was a consistent offensive threat was Alex Steen, who posted a team-leading three goals, including the game-winner in Game 1.
The team already lost some of its offensive presence this summer as long-time top-six forward Andy McDonald retired due to concussion concerns.
Berglund, along with Oshie and Stewart, is expected to step his game up even farther this summer as the Blues ranked just 17th in goals-scored-per-game (2.58). Even though McDonald was often injured, the official loss of his services could potentially make that number sink lower.
Berglund was drafted by the Blues with their first round selection, 25th overall, in the 2005 NHL Entry Draft. He has teetered between the second and third lines under Blues Head Coach Ken Hitchcock but is expected to be the front-runner for the second-line center role in 2012-13.
If the regular season Berglund shows up to training camp, the Blues could be in for quite the treat in 2013-14.
.
I am a former NHL media member and reporter for the St. Louis Blues, working for various media outlets. Currently, I am an NHL News Writer and Editor for The Hockey Writers. I live in St. Louis and work as a freelance copywriter in numerous industries.