The Winnipeg Jets had a plethora of prospects participate in the 2015 World Junior Hockey Championship. It was perhaps the best group of prospects of any of the 30 NHL teams. Most notable were the three players that captured gold with Canada, Nic Petan, Josh Morrissey and Eric Comrie.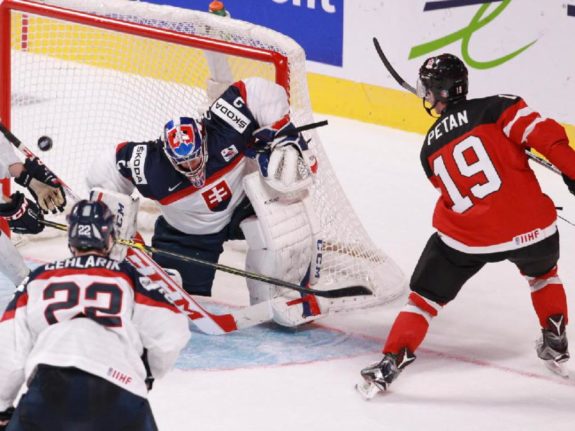 Petan lit up the tournament with his speed and playmaking abilities. He recorded a hat trick in Canada's semifinal win over Slovakia. His third goal led to one of the tournament's most unforgettable moments as his father threw a hat on the ice and then went back to his seat where he embraced his wife as she wiped away tears.
.@petan19 scores to get the hat-trick and his parents celebrate.
5-1 Canada. #HereWeGo pic.twitter.com/g59engwvmB

— TSN (@TSN_Sports) January 5, 2015
Petan finished tied for the tournament scoring lead with teammates Sam Reinhart and Connor McDavid. He recorded four goals and seven assists for 11 points in seven games.
Morrissey came into the tournament as Canada's only returning defenseman and he led by example from day one. Morrissey was a cornerstone of the Canadian blue line with his play in all three zones. He was physical, blocked shots and made quick decisions with and without the puck. He generated a number of offensive chances, including one beautiful stretch pass which led to a McDavid breakaway goal in the gold medal game.
Josh Morrissey, now of @Kelowna_Rockets, with the perfect pass to spring Connor McDavid on a breakaway and he makes no mistake. 3-1 Canada.

— Larry Fisher (@LarryFisher_KDC) January 6, 2015
Morrissey finished fourth with a plus-10 rating and recording one goal and three assists for four points. He was named to the tournament All-Star team.
Comrie wasn't expected to get much playing time, but he gave Zach Fucale a solid push. Comrie won both his starts and finished with a 1.50 goals-against average and a .933 save percentage. He has a ways to go in his development, but it's not unreasonable to think he could suit up in the NHL in a few years. Not unlike Michael Hutchinson.
Injured Jets
More Jets are dropping, while others are finally returning the the lineup.
Grant Clitsome is the latest to be hit with the injury bug. It was revealed on January 5 that he had an upper-body injury and was listed as day-to-day. Meanwhile, fellow blueliner Zach Bogosian participated in practice and is ready to return Thursday evening against the Arizona Coyotes, according to the Winnipeg Sun. Bogosian has missed 14 games.
With his return, Julien Brouillette has been placed on waivers. Should he clear, he would head back to St. John's.
Of course, partners Jacob Trouba and Mark Stuart remain out for another few weeks, which would be looked at as a bigger blow, if the Jets were blowing more games. That said, Stuart skated with the team this week, as did Tobias Enstrom. Both were wearing non-contact jerseys. Trouba has been skating on his own, according the the Winnipeg Free Press.
As for Evander Kane who hasn't played since December 27 and was originally slated to return in February, it's all good news. He too was back at practice and will join the team on the three-game road trip.
What does all this mean?
Well, they have lost three of four, so maybe the injuries are finally becoming too much to overcome. On the other hand they've done better overall during this injury-filled period than most could have expected. Realistically, when any team — even L.A. or Chicago —loses its top four blueliners a tough losing skid is almost certainly in the forecast.
Under Paul Maurice and with the help of some young players stepping up, the Jets have found a way to overcome this setback. Just like they've found a way to silence many critics — including myself — throughout the first half of the 2014-15 season.