Canadiens fans know too well what a significant injury can do to your season. Just last year, they suffered through injuries to Carey Price, Brendan Gallagher and Jeff Petry which all contributed to the collapse of the Habs.
Now, they will have to maneuver through Alex Galchenyuk possibly being out for a period of time. On top of that news, against the St. Louis Blues on Tuesday night, David Desharnais who was set to replace Chucky, went down with a knee injury.
So we sit here after a five game road trip down two of four centermen. For a team with playoff and Stanley Cup aspirations, that's going to hurt you both in the short- and long-term.
Despite the circumstances, all is not lost. Considering the loss against the Blues on Tuesday night, they played well enough even with those two out of the lineup. The question is can they limit the damage until both Galchenyuk and Desharnais come back?
On the Roster
Before we look elsewhere, let's discuss what the Canadiens have on their National Hockey League roster.
The Habs already lacked centermen to begin with as second line center is their biggest need. Currently, Phillip Danault, Tomas Plekanec, and Torrey Mitchell are the only players that have played or do play center for the Habs. That's a problem.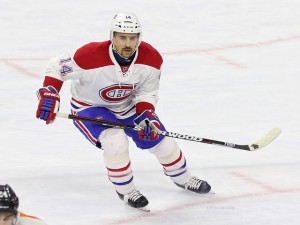 Danault has played well so far this season but he isn't more than a third line center. Mitchell has also played well but like Danault, he won't be as effective if pushed into a top two center role. Plekanec has had an awful season and despite his two-point performance on Tuesday night, he still only has two goals on the year.
The Habs' only saving grace is that he's played in a top two center role most of his career and has experience there. Even with that, on a contending team, he would most likely be a third line, shutdown player.
Just at a glance, you can see the Canadiens will have to work out some issues and perhaps hope for a small miracle that they don't fall too far behind during this injury period.
Help on the Way?
Going on the fact that Plekanec and Mitchell will be the one and two centermen on the roster if Desharnais and Galchenyuk are out long-term, who do the Canadiens have to fill in the voids outside of the main roster?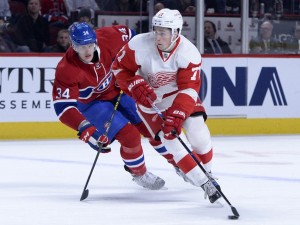 The first place to look is internal, and by that I mean the American Hockey League. Surely there are prospects that can come help patch the wounds, right? That's not entirely true for the Habs. Young center Michael McCarron is injured along with other prospects Nikita Scherbak and Charles Hudon. Although McCarron and Hudon are close to coming back, they don't immediately have adequate help waiting to be called up in the AHL.
Since the AHL won't be much help, what about a trade? We already know general manager Marc Bergevin has talked to other teams to try to get a jump on the market and we also know that center was and now even more so, is a need for the Canadiens.
However, as nice as a trade may sound, Bergevin knows he has to be careful. He has no leverage right now. Other general managers know the situation the Canadiens are in and will try to take advantage of that. If he makes a deal now, there's a chance he's going to have to give up more than he would have if he wasn't in dire need of middlemen.
It's a hard situation for Bergevin to be in especially with the team performing so well.
What's the Solution?
It's not a simple fix. It's either call up a player from the AHL or make a trade. Personally, I think it'll be the former, even with three top prospects injured. I think you can expect to see names like Sven Andrighetto and Chris Terry, possibly even McCarron depending on his status to come up and down as the Habs try to navigate through these injuries.
No, it's not the ideal solution but it's the only one that makes sense as of now. Sure, if Bergevin can pull off a trade for a center that doesn't involve giving up too much, then go for it — I just don't think there's one to be made right now.
As a fan, you're just going to have to temper your expectations in the coming weeks and hope that the hot start will keep the Canadiens safely in a playoff spot until Galchenyuk and Desharnais return.