The Carolina Hurricanes held an end of season media availability last week. I spent some time in the locker room with the players, asking questions about missing the playoffs, how they felt about their individual seasons, and plans for the summer. Part one of the interviews is located here. I also picked up answers to questions asked by my colleagues in the media.
Cam Ward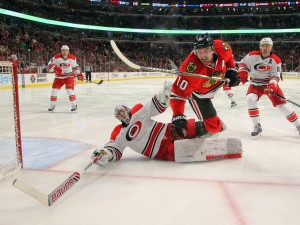 Winning the preseason battle to become the Hurricanes' go-to goalie, Cam Ward had flashes of brilliance throughout the season. His thoughts about Coach Bill Peters were positive, noting that the biggest change Peters brought to the team was the system. Ward said,
"He got the guys to buy into the system. I think we showed that at times when we were playing together with structure."
Lauren Brownlow of wralsportsfan.com asked Ward about Peters' seemingly "no-nonsense" style of coaching. Ward said,
"When I think of coach I think of an emotional guy who is very passionate about the game. I think that carries over to the players. He takes his job very seriously and winning matters. That's what you want out of your coach."
Ward feels that even though the Hurricanes fell short this year, the team is moving forward, and definitely "headed in the right direction." With his .910 save percentage, and 2.40 goals against average, Ward had a respectable season, but may yet find himself fighting again with Anton Khudobin this summer for the number one position.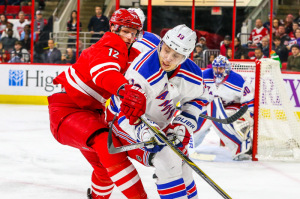 Hurricanes Captain Eric Staal
Mile Maniscalco of 99.9 The Fan, and radio host of the Hurricanes' pre and post game radio shows asked Eric Staal, "What's the message to the fans?" Staal acknowledged the fans' frustration:
"I think you saw the building not as full as it has been in years past – that's to be expected. Now it's about building the team back up to get those people back in the building, and get our team back into the playoffs."
Giving management a nod, Staal said that Ron Francis and his staff have a "direction that they want to go, and they're going to get there."
Staal said that at times the team showed flashes of being a good team, especially when healthy, but admitted, "we've still got a long way to go."
Jordan Staal
Jordan Staal was out for a good portion of the season. His absence was glaring as the team went 0-8 in October, putting themselves in a hole that was insurmountable. He talked about his brother Eric, and said he understands his frustration of again not making the playoffs. Staal said,
"He's been through some great ups and some really tough downs. I respect the way he carries himself everyday and what he does in this room for this team, and what he's done for this city."
He added that when Eric has been in the playoffs he's "done some damage and played some really good hockey and I want to be a part of getting him back."
Commenting on Coach Bill Peters, Staal said that he's a great coach with great attention to detail. "We'll keep learning from him and his systems and take that into next season and be a much better team."
Some fans are asking the question I posed at before the season about the value that Jordan Staal brings to the team.
Jordan Staal is a good player but was he really worth 6 mil a year X 10 years and at the expense of 3 young players who add depth ?

— Freedom NOW ! (@jneal_27) April 22, 2015
I can't put a dollar amount on his value, but it is clear that the team really missed him when he was out with the broken leg. Two healthy Staal brothers for a full season next
year may be the foundation that the team needs to win consistently.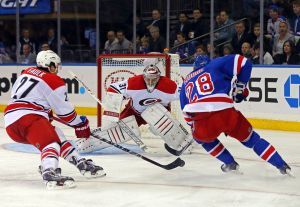 Anton Khudobin
If anyone has a right to be frustrated with the Carolina Hurricanes it is Anton Khudobin. Game after game he played his heart out only to have his team not produce offensively.  Coming off a better than average season last year, he found himself in a battle with Cam Ward to become Bill Peters' "stud."
The team more often than not did not have Doby's back. He was visibly irritated during our time in the locker room, with frustration evident in his words and his appearance. Khudobin said,
"My expectation didn't work out for the season, the way we started. It was a rough season for me."
No doubt it was rough, as Khudobin tallied a .900 save percentage and a 2.72 goals against average, numbers that really don't do justice to his ability. This is a glaring statistic, however:
Outside of the month of January, Anton Khudobin was 3-17-6 this season.

— Ben Pope (@CanesReport) April 12, 2015
Doby went on to say, "I didn't have the season that I wanted, but there's another season. Next year I'll be ready." I hope that his teammates will be ready, also. Khudobin is not a bad goalie, he proved that in 2013-14. His team needs to score more, which is fairly obvious, not just for Doby, but for Cam Ward, as well.
Alexander Semin
Chip Alexander of the Raleigh News & Observer asked Semin to describe his season. Semin said, "Tough season, tough season for the team, for me. I hope to play better next season." Asked if he was healthy or injured much of the season Semin responded,
"No, not really. I don't know what's happened with me this year. (long pause) I have nothing to say"
The question remains, if Alexander Semin doesn't know what's happened, who does?
Alexander Semin: Carolina's biggest disappointment (via Tyler Berlin) http://t.co/FPOJA7zAia pic.twitter.com/EZ7RVPsfAa

— Pucks and Recreation (@pucksandrec) April 13, 2015
Coach Bill Peters tried a variety of motivational actions, including benching Semin early on. I wrote about Peters' move here. It didn't work, as Semin continued to baffle fans and analysts alike with his complete absence offensively for the Hurricanes.
6 goals, 13 assists, and 0 power play goals is not what anyone would have predicted as Semin's stat line going into last season. He did say he will not be playing for Russia over the summer in the World Championship, and that he planned to return in July – earlier than usual – to begin to prepare for next season.
Semin said he "likes Coach Peters' system" but admitted he had trouble learning it, adding "now it's ok." Fans of the Hurricanes hope it's more than "ok" next season. A 40 goal year like he had for the Washington Capitals in 2009-10, or even a 22 goal season of a year ago would be a dramatic improvement.
If Semin does not find his game, Ron Francis and staff will be faced with what to do with a highly paid player who just is not producing. Let's hope it does not come to that.
Semin did show a keen understanding of what needs to happen for the Hurricanes:
"If I score more, if Staalsie scores more, and Skinny scores more, I think we'll play better."
Thank you, Alex. I'm sure Carolina Hurricanes fans everywhere agree with you wholeheartedly.
Part 3 of my series, "Inside the Hurricanes Locker Room" will reveal answers to the question that has dogged this team all season: "Why did the team so often not start on time?" Stay tuned…
Mark Shiver is a staff writer for The Hockey Writers credentialed with the Carolina Hurricanes. You can follow him on Twitter @markshiver
Check out Part 1 of "Inside the Hurricanes Locker Room" here