English poet Robert Browning (1812-1889) once wrote, "Ambition is not what man does… but what man would do."  Even though Browning died nearly 100 years before Filip Ćurković was born, he would have found incredible truth in that quote embedded in the resilience of character in the young goaltender, a life journey that has seen the Croatian netminder fluctuate from euphoria to defeat to the hope of a new day.
Ambition is surely genetic in the Ćurković family.  Born on May 11, 1992, in Zagreb, Croatia, Filip was the only son of Andrija and Marina Ćurković, both parents having careers in the entertainment industry. (A younger sister, Petra, was born in 1996.)  Andrija owns HiFi Media, a highly successful audio/video magazine which distributes all over Croatia and the entire Balkan peninsula. Marina is a freelance fashion and jewelry designer who, although she works from home, maintains a steady clientele and she currently maintains a blog about her work.  With such incredible passion and drive in both parents, it was almost fate that Filip was going to follow with such aspiration.  He was also blessed to have parents who were both supportive of him every step of the way, as well as a sister who has become his biggest supporter of them all, despite the four-year age gap between them.
For Ćurković, it was not just desire that was going to take him to new heights in his life.  It was also going to be destiny.
When Ćurković was five years old, his kindergarten teacher was taking their class for skating lessons. The stubborn youngster almost did not go but his teacher told him that, if he had remained behind at school, he would have been the only one in the class to not come.  Not wanting for that, Filip went along with his classmates.  When he took to the ice, it was magic.  Ćurković was a natural.  He and one of his friends eventually became the best skaters in their entire kindergarten class.  One day, the talent possessed by Ćurković and his friend were noticed by Zlatko Ožura, a hockey coach looking for young players to practice with him.  Ožura, who still coaches children to this day, asked Ćurković and his buddy if they wanted to attend a hockey practice, something that they readily accepted.
At that time, hockey in Croatia had been starting to gain some traction in the IIHF by then, five years after joining the federation.  (In fact, Croatia became a member of the IIHF on May 6, 1992, five days before Filip was born.)  The future was on the horizon for Croatian hockey and Ćurković was excited. Even though he was one of the best skaters in his kindergarten, he did not wish to become a forward or defenceman.  Ćurković instead donned goaltending gear and it clicked in the five-year-old's mind then that he was going to become a goalie.
It was going to be one of the best decisions Ćurković would ever make.
*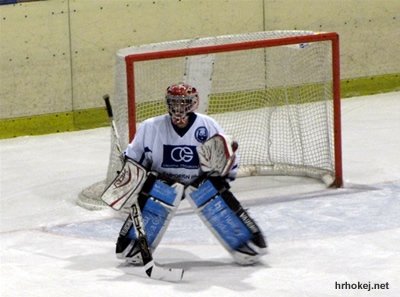 Despite it all, the possibility for role models was scarce for Ćurković.  NHL hockey was not shown on television when he was a young child.  Happily, between 2002 and 2006, when Filip was ten to 14 years old, his hometown club team of KHL Medveščak Zagreb employed a talented goalie from Slovenia named Anže Ulčar. Ulčar joined Medveščak after winning back-to-back championships with HKH Olimpija Ljubljana in his homeland. As a smaller goalie, the Slovenian puckstopper had a profound impact upon the impressionable young Croatian, instilling confidence that he too could become a top-notch netminder.
As time passed, Ćurković also became well-versed in the playing style of Mike Richter, the former superstar goalie of the New York Rangers.  In looking at Richter, he found a steady North American influence, one who showed that, despite being smaller, he was a calm force in the net and he did not allow his shorter stature to inhibit him in any way.  In the years since, Ćurković has found inspiration from NHL goaltenders Henrik Lundqvist and Carey Price, as well as Alex Westlund, an American-born goalie who has played many years in Europe, including the last five seasons for EHC Linz, an Erste Bank Eishockeyliga team in Austria.
Ćurković was quickly becoming one of the best young goaltenders in Croatia.  Every team wanted him to be their #1 goalie.  Thankfully, Ćurković had both the ambition and the initiative to allow himself to be available for any team who needed him.  He was named best goaltender in tournaments in Zagreb, Budapest and Ljubljana before his teenage years even began.  Ćurković even remembers one day in which he played three games in three different arenas for three different age groups; additionally, he recalls playing in a tournament in Bled, Slovenia, only to return home that afternoon to play with an older team, then return to Bled the next morning.  He never had to be asked to do this; he simply found it to be further proof that he wanted to become a top goaltender.  As he improved, so did the quality of his competition.  Ćurković even recalls playing against Anže Kopitar when he was younger.
In 2006, at the age of 14, Ćurković represented Croatia internationally for the first time, donning the HRVATSKA national jersey in an under-16 friendly in Hungary, which was being used as a backdrop to christen a new arena in the city of Kaposvár.  The next year, Ćurković made his professional hockey début with his hometown team, Medveščak, the same team that had employed the services of his idol, Anže Ulčar, who had left the season before.  The team's then-coach, Mike Shea, saw a lot of potential in his 15-year-old netminder and he had Ćurković practice with Gašper Krošelj, a Slovenian netminder five years Filip's senior.  A three-time medalist in IIHF junior tournaments, both under-18 and under-20, Krošelj, who currently plays for Herlev in Denmark's AL-Bank Liga, became a mentor to his Croatian pupil but, above everything, the two became very good friends.  He instilled professionalism and confidence into Ćurković, qualities he still possesses today.
*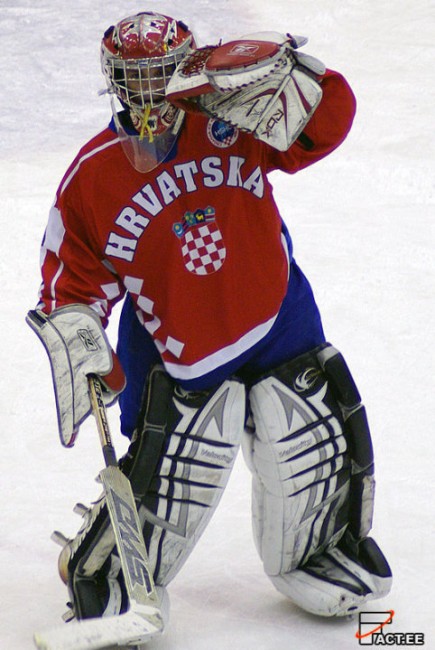 In 2008, when he was 16, Ćurković tried his best to expand his horizons.  In addition, he was about to learn the harsh realities of hockey life in Croatia. That year, one of his good friends and former teammates, Borna Rendulić, was allowed to relocate to Finland and Ćurković hoped to go along with him. The transfer was all ready to be finalized and he was about to leave when something went wrong. Unfortunately, he had to stay behind in Zagreb and play for Medveščak, something that Ćurković was unaware of until the last minute. Despite the setback, he got the opportunity to represent Croatia in his first World Under-18s which took place in France.  He did not get to play but he surely benefited from the experience.
Sadly, only five months later, tragedy struck for Ćurković, Medveščak and Croatian hockey as a whole.  On September 7, 2008, Domagoj Kapec was involved in a horrible car accident in Zagreb.  He was severely injured in the crash.  Three days later, on September 10, Kapec died from his injuries.  He was only 18 years old.  The Erste Bank Eishockeyliga and the Croatian Ice Hockey Federation instituted a moment of silence before every game to begin the 2008-09 season; additionally, Medveščak put black armbands on their jerseys to honour their deceased friend.  Some time after Kapec's death, Ćurković tried autonomously to transfer himself out of Medveščak without the team's intervention, hoping to find a team in Sweden, the homeland of Henrik Lundqvist, one of his newest idols.  The transfer, however, was voided due to a visa issue.  Ćurković returned to Zagreb to make the best of the situation.
After playing in another World Under-18 tournament in 2009 in Maribor, Slovenia, it was the 2010 World Under-18s in Narva, Estonia, where Ćurković truly shone.  He was literally Croatia's saving grace during the tournament, registering a 2.44 goals-against average and a .916% save percentage in five games en route to being named the top goalie of the tournament.  (Interestingly, Andrej Vasiljević, a 1993-born netminder who was Ćurković's backup in that tournament, won the honour the next year.)  Croatia won bronze in the tournament, with gold and silver going to Italy and Romania, respectively.
Ćurković knew that his success at that tournament was thanks to one person in particular.  Guelph, Ontario, native Tom Hedican, a goalie coach with students such as Cristobal Huet, Alex Auld and Jonathan Quick, worked with him everyday for a week before the tournament.  During those seven days, Hedican taught Ćurković not just about how to perfect his craft but also to be a good person.  The effect was so profound and life-affirming that the two keep in contact even to this day.
Things started to look up for Ćurković… but not for long.  He was about to learn even more about the harsh reality of hockey life in Croatia, even more than he had already.
*
After Ćurković's heroics at the 2010 World Under-18 tournament, Croatia learned that they were going to take part in the World Juniors later that year.  The team had competed at the tournament in 2009 in Spain with Matija Tačković and Tihomir Filipec in goal, leading them to promotion for 2010 in Gdańsk, Poland. Ćurković was expected to join them in Spain but duties to the Medveščak senior team made it an impossibility. At the 2010 tournament in Gdańsk, however, he joined Tačković and reunited with Vasiljević.  Ćurković was injured in the only game he played in, prompting the Croatian team to put in Vasiljević, who let in eight goals in one period.  After that, the team decided to let Tačković take the reins, hoping that his veteran experience could help calm things down in net.  Despite it, though, Ćurković found the experience to be somewhat beneficial; he played against some Norwegian and Belarusian players who had been drafted to the NHL.
Despite it all, Ćurković thought that maybe he would be able to return to the Croatian under-20 team in 2011 to try to regain a starting job.  He was about to get a real slap in the face.  The team brought back Vasiljević, despite how poorly he played the year before, and they also brought Mate Krešimir Tomljenović, another 1993-born goalie who was beginning to assert himself as a top netminder in Croatia.  To make it even harder, Tomljenović found himself to be taken to the 2011 IIHF Men's World Hockey Championships, which were held in Croatia.  He helped the host team win silver, losing gold to their Balkan rivals from Romania, playing so well that he was named the tournament's top goalie. The goalie everyone wanted suddenly became the goalie no one wanted.  It was the same reality that had befallen Tačković and one of Croatia's other top goaltenders, Vanja Belić, causing both to retire at young ages.
*
By the time the 2010-11 season was about to begin, Ćurković started looking around for other avenues. He took a full year to get all of his documentation in order, including his visa, his passport and transfer documents.  He returned to Medveščak for the 2010-11 season, all while searching high and low for a team who would appreciate him.  He was actually very close to signing a contract in Denmark, the same country where his friend and mentor Gašper Krošelj was playing.  He then found advice from one of his teammates, former NHL player Frank Banham.  Banham told Ćurković that maybe he should consider playing NCAA hockey in the United States, opting that it would be a great way for him to play and to continue his education. Ćurković had always been a great student, getting a B average in high school, all while playing competitive hockey.  There were many times when the young goalie would leave home at 7:00 in the morning for school and, due to practice or game requirements, he would not come back until 10:00 that night, having to do homework for the next day.  In fact, Ćurković emerged losing one year of school because of the commitments he had to his hockey career, causing him to sum up all of his missed classes.  Banham's advice was seconded by Tony Hrkac, a former teammate of Banham's from their days with the Mighty Ducks of Anaheim, who was the coach at Concordia University, a school in Mequon, Wisconsin, which plays in Division III of the NCAA hockey program. Hrkac had become the coach of the Falcons in 2006 and, for the 2011-12 season, he received a letter of intent and transfer from Ćurković to come and play for them.
Ćurković, however, found himself in an awkward situation.  He was playing behind three other goaltenders at Concordia.  Additionally, he was not in accordance with many of Hrkac's coaching philosophies, especially at the fact that the team suffered immensely during his six years as coach, recording only ten wins in 129 games behind the bench, causing for Hrkac to be fired in February 2012.  To make things even worse for Ćurković, he spent the majority of the season injured, something that complicated his acclimatization to the NHL-size ice surface.  By the time he was ready to return, there was no job to be relinquished by any of the other three goalies, all of whom were between three and five years older than he. Thankfully, the year was not a complete washout for the ambitious young Croatian.  He threw himself into his schoolwork, majoring in Business. He was about to go into Sports Management, hoping to fulfill another dream of becoming a player agent, but it was Andrija Ćurković who told Filip that a business degree will get him further professionally rather than just a sports degree.  Ćurković finished with a 3.8 GPA in his classes, placing him in the top 10% of first-year students at the school.
Once again, though, Ćurković found himself in professional limbo. He knew that he was not returning to Concordia, despite the fact that he really liked the school and his classes.  He decided to look for another school where he could continue his studies and play hockey.  Being ever diligent and ambitious, Ćurković did his research, all the while knowing that there was no way he was going to return to Medveščak, especially the way that they had treated him before he came over to North America. He eventually found San Diego State University, a team whose varsity hockey team plays in Division 2 of the American Collegiate Hockey Association.  The Aztecs are a member of the West Coast Hockey Conference. In his research, Ćurković learned that the team did very well last year, making it within one game of a berth to the national finals, which were held in Fort Myers, Florida.  Ever showing the initiative that got him success even as a youngster, Ćurković took it upon himself to contact the team's head coach, Dennis Hands, himself a former goalie.  He explained his situation to Hands and he found himself getting along fantastically with him.  His willingness to succeed, coupled with a passion for the team dynamic and the drive to make it to nationals in 2013, puts the Aztecs on a level that Ćurković had never seen.  Hands has aided in team bonding, bringing the team closer as a cohesive unit that wants to succeed together.
It finally seemed as though Ćurković had found a coach — and a team — willing to respect him for the goalie he is on the ice and the person he is off of it.  Yet again, his ambition had been greatly asserted.
*
Ever since he has been playing American collegiate hockey, Ćurković has once again become a role model for young hockey players in Croatia.  He has had many children and their parents approach him, asking what it takes to come over and be successful.  As the first bona fide born-and-trained Croatian to play in North America, Ćurković honestly tells what needs to be done.  He stresses the value of education, especially since there are many teams in Europe who would be rather willing to spend their money on an import player rather than cultivate homegrown talent, especially if the import player is one who has already been groomed professionally in other top leagues.   Junior hockey players in Europe, especially in the lesser-developed hockey nations, should have something to fall back on, and a university degree is a great first step.
*
Robert Browning's quote is surely correct in the case of this modest, young Croatian goaltender.  It is not what Ćurković has done that has showcased his ambition but what he has done to get to where he is now.  He took those skating lessons in kindergarten.  He put on the goalie equipment.  He believed in himself when it seemed no one else would.
That is why Filip Ćurković is who he is today, on and off the ice.