The Nashville Predators have been making some strong moves this off-season; all of them can be argued as either beneficial or detrimental to the team. Their most recent move, however, is all positive.
Recently, Nashville General Manager David Poile announced the Preds have re-signed center Mike Fisher. Fisher was already under contract for the upcoming season, but Nashville extended that contract for another two years, paying out $8.4 million for the 32-year-old.
Fisher provided Nashville with solid numbers in the middle of the ice with 24 goals and 51 points in his first season. Nashville's offense wouldn't be the same or nearly as strong without Fisher, making the contract extension a given.
Along with his play on the ice, Fisher provides experience and leadership in the room that other guys can rely on. With over 700 NHL games under his pads, the locker room knows he is a player that can be trusted and one that belongs. Proof of that is the 'A' he wears on his jersey as one of the alternate captains of the team.
Nashville fans won't be disappointed to hear that Fisher will be sticking around for a while either. Having a player on the roster─and under contract for several years─that the fans respond to will go a long way in continuing to build the hockey fanbase in Tennessee, one of the least likely hockey states in the U.S.
But by retaining fan favorites and hanging wins on big teams in the league, all while making playoff pushes in the process, Nashville can quickly become a respected stronghold in the NHL.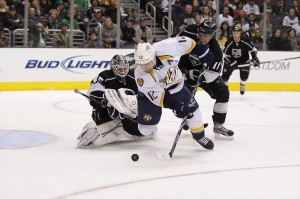 Along with Fisher, Nashville has recently signed defenseman Scott Hannan to a one-year one million deal. Hannan played for the Calgary Flames last season and only racked up two goals and 10 assists over the course of the year. But Hannan's big contribution, and surely what Nashville will be looking for out of him, is his physical play.
Hannan has totaled up 522 penalty minutes in 908 career regular season games. Despite his physical play, Hannan's six-foot-one, 225-pound frame seems to be made of steel. He's played in more games than any other NHL defenseman in the last ten seasons (798) as he fought off injuries. Oh, he also has a gold medal hanging in his trophy case that he won with Team Canada in the 2004 World Cup of Hockey.
Hannan won't replace the scoring power of Ryan Suter, but that's not what he was signed for. His big, physical presence will be a force the Preds can build on and use to throw their weight around a little bit, especially come playoff time. However, as an NHL lockout looms over the league and the fans, Nashville can be a little worried.
The team has seen significant growth both on the ice and with the fans as the NHL has become more progressive and fast-paced over recent years. A lockout, a stoppage of hockey, could halt that growth and momentum for a team hoping to ride the wave all the way to the Stanley Cup.