While it's unclear when or if the 2012-2013 NHL season will begin, it didn't stop the league from releasing its television schedule for its national partners. For the first time in recent memory, the Florida Panthers will receive a significant amount of U.S. television exposure. Last year, the Panthers were only featured nationally once, a 4-2 defeat at the hands of the Pittsburgh Penguins.
After a season where the Panthers returned to the playoffs for the first time in over a decade and won their first Southeast Division title, Florida was rewarded by the NHL with three games on NBCSN and one on the NHL network. The Cats will face off against the Washington Capitals on October 15th, the New York Islanders on October 22nd, and the New York Rangers on New Years Eve, which will all air on the NBC Sports Network (formerly Versus). The Panthers final game on national television will air on the NHL Network, again against the Rangers.
It's been a long time coming for the Panthers, who have largely been irrelevant on the national hockey landscape and, for the most part, consistently left off the national television schedule. It's not hard to see why, either. Before last year's turnaround, Florida hadn't made the playoffs since the 1999-2000 season. Also, since the departure of Pavel Bure, the Panthers  hadn't had a player that would draw national excitement.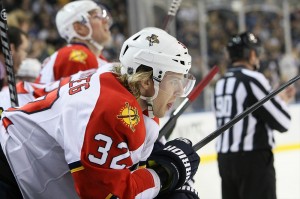 After last season, the league has finally taken notice of the team from South Florida. The Panthers are a fast, exciting team to watch that has the potential to build on last season's success. Florida now possesses a talent level that the franchise has never seen, due to players like Kris Versteeg, Brian Campbell, Tomas Fleischmann and rookie Jonathan Huberdeau.
With the lockout looming, hockey fans can only hope that the NHL and NHLPA can work out their differences to avoid a painful work stoppage. For Florida Panthers fans, a lockout would be particularly difficult. With their team finally returning to relevance, there would be no crueler fate than missing an entire season.