When the Edmonton Oilers signed Jordan Eberle to a six-year, $36 million contract extension, few were surprised that the 22-year-old was given a long-term deal. The same can not be said for the dollar amount that came with Eberle's new contract, which will begin with the 2013-14 season.
Many people believe that $6 million a year over six years is a gamble for a player that has only been in the NHL for two seasons. Although time will tell if Eberle's 2011-12 season was the springboard to a great career, there are those who doubt whether or not he can have the same type of year again.
But make no mistake about it, Jordan Eberle is not overpaid, and by the end of his contract, we might look back and wonder how Edmonton was able to keep the former Regina Pat in the fold at such a bargain.
In fact, by looking at other players around the league, Eberle's deal is easily at market value. Among the forwards in the NHL who had a cap hit close to $6 million last season were the Sedin twins, Patrick Kane, Jonathan Toews, Henrik Zetterberg, Mike Cammalleri, and Patrik Elias.
If you include Eberle into this group of forwards, the Oilers' right winger had the third highest point total in 2011-12. With 76 points (34 goals, 42 assists), Eberle only recorded five less points than Henrik Sedin, and two fewer points than Elias. Also, Jordan's 34 goals were the most among this group of forwards.
Another benchmark for establishing Eberle's worth was the contract Oilers' general manager Steve Tambellini gave to Eberle's teammate Taylor Hall. The Oilers' left-winger received a 7-year/$42 million extension last week, meaning he will also have a $6 million cap hit starting in 2013-14. In their first two seasons (Eberle and Hall both debuted in 2010-11), Eberle had a higher points per game average than Hall (0.81 to 0.75).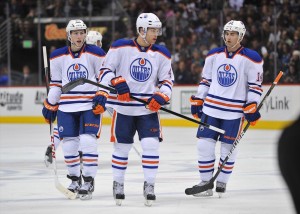 The Oilers' dismal performance in recent years gave them the #1 overall pick in three consecutive drafts (Hall in 2010, Ryan Nugent-Hopkins in 2011, and Nail Yakupov in 2012). The three #1 picks are all part of the Oilers' bright future, but it was the 22nd overall pick in the 2008 draft, Eberle, who led Edmonton in points in each of his first two seasons.
Even though Eberle deserves $6 million annually right now, there is little doubt that his contract, like his friend Hall's, was determined based on their potential production in a few seasons. If Eberle's progression follows the same track it did between his rookie and sophomore season, then his $6 million cap hit would be a bargain.
With Hall signed for the next eight seasons, and Nugent-Hopkins and Yakupov on board for the foreseeable future, the Oilers' offense looks to be explosive for years to come. Eberle, the elder statesman of the group at age 22, is certainly a part of that mix and is trending up right now.
As part of a talented group of young forwards that will undoubtedly grow up together in Edmonton, it will be interesting to see what kind of numbers Jordan Eberle will put up in the years to come.