Russian-born forward Daniil Vertiy has been drafted by the Windsor Spitfires during the second round of the 2014 OHL Priority Selection. As he gained Canadian citizenship, having moved there when he was only 14, he did not have to pass through the CHL Import Draft. Before this, he had a very good 2013-14 season with the North York Rangers Min Mdgt AAA of the GTMMHL. As a late-born player (1998), Vertiy won't be eligible for selection until the 2017 NHL Entry Draft. Defined as "an outstanding young player with good size and strength" by Spitfires General Manager Warren Rychel, Vertiy will certainly be one of the players to watch for Windsor next year. In this translated interview originally appearing on sports.ru, Vertiy talked about his first steps in hockey, about his experience in North America, and about being part of the Windsor Spitfires.
First steps in hockey
– Where were you born and where did you grow up? When did you start playing hockey?
– I was born and grew up in Nizhnevartovsk, where I lived 12 years, then I moved to Moscow. I spent 2 years in Moscow and 1 year in Canada. My bigger sister Lolita once got me skating with her and I really enjoyed it. So I started visiting the rink more often, until my family gifted me a pair of skates. So I asked them to help me get into the sport of hockey. They bought me all the equipment and I started playing on a team. My first coach was Alexander Korovin, he really helped me a lot. I had excellent ties with him and we try and stay in touch even now. He always gave me some good advice.
– What team did you start playing hockey for?
– I started playing for Filin, Nizhnevartovsk. Or, at least, the team was called that way.
– When did you understand that hockey would be your future occupation?
– I think when I started playing for CSKA Moscow.
– How did you get to Canada? Was it hard to adapt to the new world? What were your first impressions?
– I was practicing in Canada and the North York Rangers coach approached me and said that, if I wanted, I could stay there. I'm very glad about it. My teammates were very helpful for the whole year. I felt like at home since the very first day. The league is very good, there is more physical play than in Russia, the game is more dynamic, you have to play fast otherwise you're in trouble. At first it has been a little hard to adapt to the new style, but after five or six games I got used to it and all went great. I have to thank my coaches and teammates for their help.
Daniil Vertiy and the Windsor Spitfires
– So now you've been drafted by Windsor. What does it mean to you? A new challenge or simply another stage to reach your goal?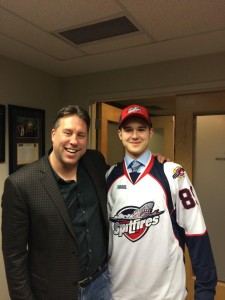 – Of course this is high level hockey and I'm very excited to be part of the Windsor Spitfires. I really wanted to get exactly there. In the team there are many older players who have been drafted in the NHL and I therefore I have something to strive for. And of course, it's a new part of my development as a player. I'm really thankful to the Spitfires for having drafted me. Now I'll have to work three times harder to fulfill their expectations. But I think that all will be great.
– What do you know about Windsor and about the Spitfires?
– I went to Windsor some ten days before the draft. I visited the city and skated with the team. The teammates treated me like I was a member of the team, even if I wasn't even been drafted yet. The Spitfires are a well-organized franchise. Many players who played for them now are in the NHL. I'm sure that this will be a great development path for my career.
Daniil Vertiy and the OHL
– You participated in the OHL Cup. What can you tell us about this tournament?
– The OHL Cup is a tournament between the top 20 teams in Ontario. The games are followed by a lot of scouts and coaches. I think that it's one of the top tournaments in Ontario.
– What are your goals for the following season?
– I really want to have a good season in Windsor. I know it will be hard at first, but everyone has to pass through all this. And if we talk about more distant future decisions… Of course, I want to play in the NHL. I think this is the ultimate dream of every player.
– Why did you pick 89 as your uniform number? Who is your favorite player?
– I played with that number for CSKA and I want to keep it here too. I didn't like the free numbers they had when I was playing there. I'll wear the 89 for the Spitfires too. My favorite player is Pavel Datsyuk. He can do on ice whatever he wants. He's a wizard. I think that he's one of the best players in the world.
– You spent a whole season in Canada. What would you advice to the guys who are thinking about moving overseas?
– I think that you shouldn't think about moving or not. You should simply move. The most important thing is to show that you can work hard, and all will come.