It's always fun to watch the top players like Stamkos, Crosby, and Kane to name a few.  However today's NHL is filled with a ton of young talent ready to explode onto the scene.  The future of the NHL is bright with skill sprinkled all over the league and not in just a few markets.  This list features five players that'll really start to make names from themselves around the hockey world in the 2014-15 season.
John Gibson is Ready to Make a Splash on The Pond
At the end of last season John Gibson entered the NHL and made an immediate impact for the Anaheim Ducks.  Gibson, along with Frederik Andersen, allowed the Ducks to move on from long time goalie Jonas Hiller this offseason.  The 21 year old goaltender started three regular season games last year winning all of those games.  In those three games Gibson had a .954 save % and a 1.33 GAA to go along with one shutout in his first career start.  Gibson started the Ducks playoff run behind Andersen, but would eventually find his into four playoff games going 2-2 with a 2.70 GAA.  Gibson would give the eventual Stanley Cup champions, LA Kings fits in a long 7 game series.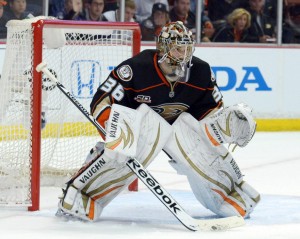 The experience Gibson earned in his small NHL taste last season will go along way on the American born goalie making a name for himself this season.  Gibson will battle with  Andersen and newly signed Jason Labarbera for minutes to begin the season, but it'll be only a matter of time before Gibson is the main stay in goal.  The former 2nd round pick has great technique to go along with his size.  His instincts are great and moves extremly well for a goaltender his size.  Gibson won't blink under the pressure that is on the cup contending Ducks this season.  He gained a lot of experience playing under the pressure of the World Junior Championships, including leading to USA to a gold medal in 2013 and tournament MVP.
Girgensons Will Lead The Way For a Young Growing Sabres Club
Zemgus Girgensons made his NHL debut last season for the Buffalo Sabres.  Girgensons played in 70 games last season and registered 22 points.  Sure thats nothing to write home about, but the 20 year old brought more than that to a bad Sabres  team.  The young center is mature beyond his years and is without a doubt the future captain of the Buffalo Sabres.  He's a great two way player that will go into the dirty areas without hesitation.  Girgensons found himself playing against the other teams top line more often than not in his rookie season.  The former first round pick was perhaps the Sabres most consistent player last year.
This season in a reshaped Sabres lineup Girgensons will likely find himself between two large wingers in Marcus Foligno and Chris Stewart.  The size and grit that line will bring to opponents should be fun to watch.  The size of all three forward will allow each other to have more space in the offensive zone.  This line if it remains healthy, could be the scariest trio the Sabres will throw at defenders this season.  At only 20 years old the potential for Girgensons is through the roof.  If you love a player who works hard and plays the game the right way, then big Z is your guy.
Valeri Nichushkin Will Play a Large Role For a Stars Team on The Rise
Valeri Nichushkin had a good rookie season with the stars.  The big Russian winger accounted for 34 points in 79 games last season.  After playing a hard series against the Ducks last season the Stars added to a young team of talent with Jason Spezza and Ales Hemsky.  Nichushkin will likely find himself on the wing with either Spezza or Seguin this year.  The play making ability of those two centers to go along with the size and space of Nichushkin should lead to a breakout season.
The 2013 first round pick has an awesome mix of speed, size, and skill.  The Russian winger had a 52.8% Corsi For in 5 on 5 close situations last year.  In comparison Corsi leader Anze Kopitar had a 62.6% rating in that same category according to hockey-reference.com.  Not bad possession stats for a rookie.  His possession stats should only grow this season with a year of experience and new line mates.  The 19 year old winger  could easily double his point total this season if he remains healthy.
Alex Galchenyuk is Primed to Jump to Elite Level
Alex Galchenyuk had a great rookie season with the Canadiens in the 2012-13 season.  Last year Galchenyuk had a bit of a sophmore slump while he battled injuries and consistent play.  Last year the 2012 third overall pick put up 31 points in 65 games.  Only 4 more points than he registered in the 2012-13 season where he played 17 less games.  If Galchenyuk can get his possession stats back to where they were in 2012-13 or above that (53.3% Corsi For 5v5 close) along with his natural progression, Galchenyuk would be inline for a breakout season.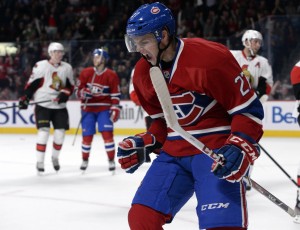 Galchenyuk showed flashes of his potential in the playoff series against the Rangers last season.  He was perhaps the Habs top forward and scored two goals in only five playoff games.  This is a great sign for Canadiens fans going into this season.  If he can stay healthy I believe the 20 year old will lead the team in scoring in the 2014-15 season.
Buried Under the Talent, Saad Will Make His Presence Felt
Brandon Saad doesn't get a lot of recognition.  Hard to gain the spotlight when you play on a team that features Toews, Kane, Sharp, Hossa, Keith, and Seabrook.  However that'll change this season.  The 21 year old forward scored 47 points in 78 games last season.  However in the playoffs Saad was an absolute force.  In 19 playoff games Saad put up 16 points.  Along with Patrick Kane, Saad was the best Blackhawks player on the ice most nights throughout the playoffs.
Saad plays with great speed and excellent balance.  His excellent skating combined with his great possession numbers set up for a huge season.  Patrick Sharp may be on his way out of the windy city due to the cap and Saad will be able to step right into his spot.  With a team full of skill I see Saad being in the top two in points this season on the Hawks battling with Kane for that top spot.  One of my bold predictions for the 2014-15 season has Brandon Saad being in the running for the Hart Trophy at the end of the season.
.