In a summer of craziness, there was the Toronto Maple Leafs. As we polish off the Eastern Conference, today we put James Tanner of The Hockey Writers on the hot seat. We gave him a total of thirteen questions.
Below are his answers — unedited and uncut. Enjoy!
===============================
1. The collapse — no not the playoff one — last year's final ten game slide was crushing. What went wrong that people perhaps forgot?
First of all, I think it's wrong to view the game seven loss to Boston as a collapse and a negative. I really think part of what went wrong last year was that everyone took the Boston game so negatively – they took the best team in the conference to game seven in what would have been a huge upset and if they had of lost any other way, people would have looked at it differently; in a more positive light.
The end of last season, I just think it was a perfect storm of bad luck – guys burned out from playing too much, (RC relying too heavily on top line, no second line scoring, not playing 4th line enough, the compacted sched, the Olympics), the Bernier injury was a huge factor, but its not fair to blame Reimer, they allowed too many shots all year and were perhaps lucky to be where they were in the first place (around 3rd in the conference after Olympics if I'm remembering right)so there was some definite regression back to where a team with there possession stats seems more likely to be in, they were dressing 5 or 6 offensive defenseman and Tim Gleason – that's no recipe for success.
And finally, I just think they had terrible luck – hitting posts, not getting calls, bad bounces – for the first four or five games, anyways, I remember discussing with my friend about how any of those games could have gone either way, and I think, if even one had, then I think things turn out different.  In the end, I think it was a whole bunch of different things coming together at once and it broke them. I don't think it makes them a bad team or anything, I think a losing streak like that, it's so unlucky it's not really repeatable or indicative of their team.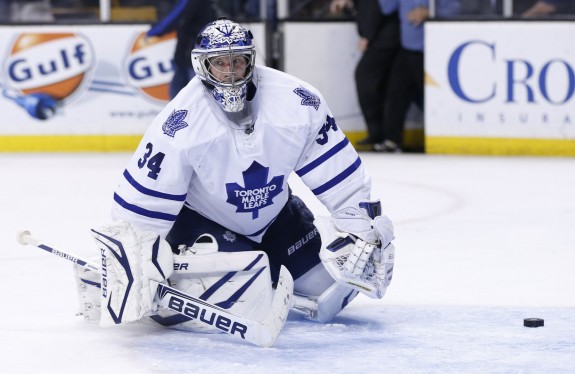 2. James Reimer was brought back and signed to a new deal. Can he bounce back to Optimus Reim level?
Sure, my belief is that anyone who is capable of making it to the NHL as a goalie has the potential to have an all star season – Look at Josh Harding, Reimer from before, Craig Anderson , Brian Elliot, Jim Carrey etc – these are not guys with the Price/Bernier pedigree and since it happens so often that a guy no one predicted to just goes 'lights out" I am starting to think that most of goaltending is luck and the teams situation. I mean, put Rask on Florida last year, they aren't a playoff team and he was the best goalie in hockey. Put Reimer on Boston, they probably still win the Conference.
So, I think, yes Reimer can bounce back. The Leafs are smart to retain him as his and Berniers combined cap hit is somewhere in the ballpark of the price you'll be paying for just Bernier after this season when his contract expires. Also, Bernier is coming off hernia surgery and I think it's prudent to have Reimer around in case Bernier hasn't recovered well. Furthermore, its just smart to have two guys who can both be starters if you manage it since the position is so volatile and unpredictable it pays to have two guys.
3. The Toronto Maple Leafs have finally hopped on board the advanced statistics train with several notable hires. What do you make of it?
It's smart. Forget the stats vs eye-test argument for a second – it's just idiotic to ignore any information. The Leafs have unlimited money, they should have a department that just searches for other departments to maybe create. I.E they should have one guy who's sole job it is is to find different ways of getting information.  What I mean, is if there's even a whisper of a whisper about a new way to look at things or evaluate players, the Leafs should be using their unlimited resources that the cap prevents them from using on the team, to get an edge in other areas.
One thing I will say though – I like how they didn't go 'all in' on advanced stats. It makes sense -its prudent, if you will – that they kept RC and Nonis and are trying to mesh the old with the new, because that's really what needs to be done anyways. Statistics can only tell you about the past, so relying on them completely is to commit a logical fallacy. This is because there are a lot of variables that go into each player arriving at whatever stat he has for a season and they aren't necessarily repeatable year to year.
Also, if you aggregate a players whole career, that doesn't really tell you much about the ice time he'll recieve next year, who his linemates will be, his role, his talent level, his luck, his psychological condition, his dedication, etc etc etc.   SO, I really don't think its important to remember that advanced stats are just one tool you have for player evaluation.  If you make it stats only, you'll end up just as poorly off as if you completely ignored stats in the first place.
One thing though: If I was in charge, instead of hiring just hockey guys who know stats, i'd have hired statisticians who I could teach about hockey – because as prevalent as stats are becoming, people are still, for the most part, horrible at applying them and they jump to all kinds of conclusions that aren't necessarily accurate.  Maybe a better idea would be to hire a statistician from a local university and have him work with the hockey department.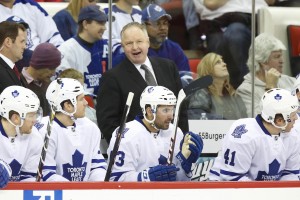 4. How hot is the seat for Randy Carlyle? Is it Global Thermonuclear Hot yet?
It's so hard to say. They didn't fire him after a ten game losing streak. He survived the summer and the entire fan base – especially those who consider themselves sort of the elite or more educated fans – they HATE him.
A lot of people will disagree with me on this, but I just don't think that the differences between NHL coaches is all that great. How many wins can there seriously be between Randy Carlyle and say Dan Blysma, Barry Trotz or Mike Babcock? No matter what a coach can do, it's 80% your roster 19% luck and maybe 1% coaching. Why do you think the same 25 guys just move to new teams every 2-3 years? RC got to this level and he isn't the idiot people make him out to be.  Just how much discrepancy is there between the strategies and systems each team plays? A little, for sure, but not a ton – I mean, keep in mind that in the NHL Patrick Roy pulling his goalie early constitutes a "revolutionary" change in strategy.
People can say what they want to about RC but who exactly is supposed to make the playoffs with no secondary scoring and a defense group that features 5 offensive defenseman and Tim Gleason? If he avoids losing 5 games in a row, he'll survive the season no problems.
5. What was the biggest off-season signing or acquisition that the Toronto Maple Leafs made?
I think it's what they didn't do that was best – they know they can't win this year, but they have a really underrated core. So their best move was to retain Kadri, Gardiner, Phaneuf, and Reimer. All the guys they were rumoured to move, they kept and that's a smart thing.  They have a bright future: they have their top 2 centres now (Nylander and Kadri) . They have their wingers (JVR, Kessel) They have their two D studs (Rielly, Gardiner) and their goalie (Bernier) Add in Phaneuf and you have a team that should be able to grow into something really special.
6. Can Jonathan Bernier repeat last year's performance? Where do you have his numbers?
The Leafs have better D and better depth on the bottom six, so his number should be better, but you can't predict these  kind of things.  He was probably extremely lucky last year, so there should be some regression there, but will it be countered by the better situation?  Also, there's the injury and how he recovers.  I think he's a star goalie, but I think think having Reimer is going to come in handy this year.
7. Tying back to the third question,  is the advanced statistics squabbling finally dead?
I think no, it's not. Are people ready to admit that +/- is an idiotic stat that is meaningless and be more open to things like Corsi and zone stars and quality of competition? For sure, or, at least I hope so. But most people are still never going to be interested in charts and ultra specific comparisons.  Secondly, the application of stats is somewhat poorly done, as whole – so that's got to improve. What I mean is that people find a stat and then apply it to mean something they then take as a fact, which is why there is that old cliche about lies and statistics. Things are going hard in one direction, but eventually it will be clear that scouting reports are just as important as stats and that a blending of the old and the new is the best way to find out what you want to know. If nothing else, the advent of stats should help us do away with meaningless, un-quantifiable stuff like leadership, heart, culture and whatever other intangible, untrackable made up things that have nothing to do with playing hockey effectively.
I am a huge fan of stats – but I am also a hopeless hockey nerd. Most people are probably never going to take the time to know all the stats and this gives those who do a false sense of security and a kind of elitism I don't really like. Look at Bozak or Carlyle: people have sort of used stats to say that they are objectively and empirically bad, and I don't think this is fair – there are just so many factors at play and so many variables that what you think is objective can really be very subjective – just in what data you are factoring and the weight you give it.
Also, comparing across years or teams is fraught with problems, and while guys are trying to solve this and there are a lot of "relative" stats, what I think you'll see eventually is stats that act as sign posts and not facts. At least, that's what I hope. Like anything else in the world, the answer lies in the middle and not at either extreme of the spectrum.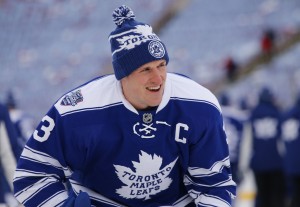 8. Can Dion Phaneuf be the defensive leader and point producer everyone thought he could be?
Oh he already is. If you look at what the team asks him to do – be their best offensive D, their best defensive D, their PP QB, their shut down guy, their best PK guy etc. they play him in every situation against all the top players and even ask him to fight and be captain – it's ridiculous.  And he has had to do it all with Carl "Gunnysack" Gunnarson as his partner and let's face it, Gunnsack isn't a top line player.  I think with less minutes, other guys in other roles and a more defined role for Dion, and he will be back to being a star. Which, I think he already is. I mean, before the collapse of last year, people were saying it was his best overall season in the NHL, and I also believe he was hurt down the stretch, which also helped them miss the playoffs.  I think with the ascension of Rielly and Gardiner he's automatically better.
But most of all, I think he's been a scapegoat.  He has been the Leafs best defenseman – BY A MILE – for four years now. He plays the toughest minutes and has the least help of virtually any other D in the NHL.  He was once rated by Sports Illustrated as the most overrated player in the NHL, I would say today he's become the most under-rated.
9. When does Toronto get serious in finding a number one center? Is the answer on the team?
I like Bozak. I really do. Is he your prototypical #1? No way. But Phil Kessel has been a top 10 scorer 3 years in a row and last year JVR had 30 goals. How much more can these guys produce?  Phil can get 50+, but doing so has more to do with the Leafs having secondary scoring than it has to do with who centres him. It makes no sense to spend assets to get what will ultimately be only a slight upgrade – especially when you consider that a) there are in house options and b) they can't win right now anyways.
So, if you look at it long term, by the time Kadri and Nylander are ready to be the top two centres on the Leafs, Bozak could very nicely slide back to 3C, and by that time, his contract won't even look too big to play that role anyways.
I mean, let's say the Leafs traded for Thornton – are they gonna win the Cup? Not even close. So they are best to keep their assets and use this year and next year to develop their players and hopefully get playoff experience for their core.
10. What is the biggest concern that you have going into the season for the Toronto Maple Leafs?
That their secondary scoring will allow teams to smother the Kessel line. I mentioned 50 goals and Kessel/Bozak a minute ago. The thing stopping that from happening isn't a number one center.  It's a number two centre. Last year, Kadri had trouble in that role and Lupul was constantly injured and Clarkson had 6 goals.  Teams did not have to make any hard decisions and Kessel and JVR had to face the top lines every single night basically ever shift.
Now look at Crosby – His QOC is misleading, because his coach likes to put him out against the best forwards on the other team, which, btw is just one way advanced stats can mislead you –  but every time he is on the ice, the other coach has to consider that if he puts his two best defensemen on him, that Malkin gets to skate against duds.  So, since most teams can't ice two groups of defenseman that can contain a top line, one of those guys is always skating against a weaker group of players. In Toronto, this never happens. This situation can turn guys like Kunitz into a star and Neal into a 50 goal scorer – and he isn't close to as talented as Kessel.
The Leafs either have to split up Kessel and JVR, get more out of Lupul and Kadri or bring in outside help, but as long as they lack second line scoring that forces other teams to move the Charas and Webbers off of the Kessel line, at least occasionally, then Kessel will continue to hit those walls were he doesn't score for six, seven games.
11. Are there any prospects in the system that could make an impact?
I guess in a perfect world Nylander is so impressive they have to keep him on the team and he wins the Calder, but I doubt very much they rush him. I think Granberg or Percy might have an impact this year, they are both more defensively responsible that Cody Franson who is superfluous on a team with Phaneuf, Rielly and Gardiner, so one of them, both after the inevitable Robidas broken leg, could make a difference.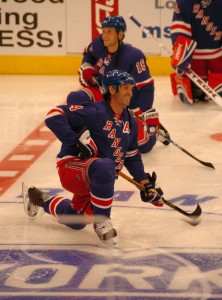 12. Does "Shanny" pull out the rug on Randy Carlyle then produce a video explaining his reasons?
Haha.  I think the days of videos from Shanahan are over. But can I just say that I was skeptical when they hired him because there's way too much of a bias towards ex-players when what they should be looking for are critical thinkers and just overall smart people who know how to analyze things, but with Shanahan I think they got both.  I was sold on him at his opening press conference when he talked about using all the information he could find and was dismissive of dumb things like leadership and culture as things you don't talk or care about when you win.
13. So how does the season go for the Toronto Maple Leafs? Do they make the playoffs or end up golfing early one more time?
If you look at what Phil Kessel has done on the Leafs as a member of a one line team, then I think that he has proven himself as one of the best players in the NHL. If the Leafs can force teams to care about their second line, then Phil Kessel will tear the league apart and the Leafs will make the playoffs. Basically it all comes down to secondary scoring. I don't believe that people actually appreciate what Kessel has done so far as a Leaf. To score 37 goals – twice – while he's essentially on the only line you have to cover, is unreal. Look what James Neal did with Malkin when teams were busy covering Crosby.
Anyways, the Leafs will make the playoffs – in part because I think the secondary scoring will be here this year, and in part because I think Rielly and Gardiner are going to take huge steps forward and I like their bottom end depth. I really think that along with Edmonton and Arizona, the Leafs are going to be the surprise of the NHL this season.