In this translated interview, originally appearing on the popular Russian portal sports.ru, Moncton Wildcats forward Vladimir Tkachev talks about playing in Canada and discusses his summer story with the Edmonton Oilers.
– The first thing that usually everyone notes about you is your small size. Are you working to get some mass?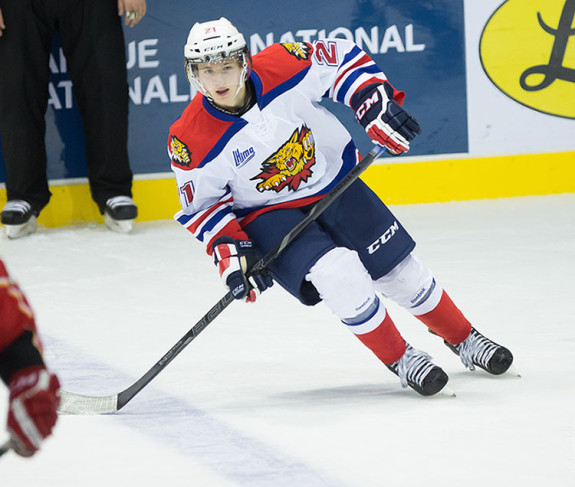 – Now I'm 179 cm (5'10") tall. I think it's okay for a winger. My weight is now 70 kg (154 lbs). Here the food is great, therefore I don't think I'll have any problem in gaining weight (laughs).
– While you were playing in Russia those numbers were any different?
– Well, of my play in Russia I prefer remembering winning the [2013] Junior Club World Cup and having my KHL debut with Avangard Omsk.
– Why do you think you didn't manage to get a regular spot within the Avangard lineup?
– I think it was because of the team's results. We didn't have many points in the standings and most likely the team decided to rely on more experienced players to improve the situation.
– How did you get to Moncton?
– After the 2013 U18s in Sochi I have been drafted by the Moncton Wildcats. They told that they were going to pick me to make me play with Ivan Barbashev. I couldn't get there since the start of the season as I was busy with the KHL training camp and I had visa problems. So they had to wait me until January. And I'm grateful to them for having waited me.
– Didn't you have any doubt before going overseas?
– I was selected to play in the 2013 Subway Super Series. After those games, I had no doubts about moving to Canada.
– Right after your move to Canada, Avangard's president Vladimir Shalayev declared to the press that he was ready to discuss your return if the coaches wanted you back.
– Yes, I've heard about it. But they didn't talk with me, therefore I have no comments. There are reasons if I left Omsk, now I'm a Moncton player and I don't think that leaving the club midway through the season would be a good idea.
– Your duo with Barbashev is doing great and most likely you'll play together at the WJC too. Your invitation to Edmonton's camp was another sign of your great play, especially thinking that you haven't been drafted.
– After the draft, Oilers representatives called my agent and invited me to their rookie camp. I played well there, and they asked me to stay for the main camp. I simply tried to do my best. And as a result they offered me a contract as a free agent.
– What did impress you the most at the Oilers training camp?
– The organization. The practice process, the coaches, the players. All was very professional and at the highest level. Nail Yakupov and Nikita Nikitin helped me a lot. They showed me everything, and spent a lot of time translating for me. I'm not such an expert in English language. And well, they also teased me a bit due to my, let's say not huge size (smiles). All has been great.
– I cannot avoid asking you about the situation with your contract. Was it tough to swallow?
– I was at Nail [Yakupov]'s place, the next day we had to play against Arizona. And at one moment someone from the club calls me and says that the league didn't confirm my contract. Of course, I fell apart. But the Oilers told me that they will of course try to select me during the next draft, if no other team will.
– Who did work on your contract? The situation was indeed strange.
– It's hard for me to judge. My agent, the general manager and Oilers lawyers worked on my contract. I've been told that they simply lost sight of this little rule. The last time it happened was like five years ago. It happens, what can I say? Probably my time is yet to come.
– Nail Yakupov is very interested in your plans. Do you still want to be an Oiler?
– Of course! I really want to play for Edmonton.
– So, let's get back to Moncton, where you're playing with Ivan Barbashev. How is the team doing? What are your plans for the season?
– The fans wrote on the internet that they were happy about our return and this has been very pleasant. Our goal is to reach to the playoffs and go as further as possible. Of course, we would like to win the Memorial Cup. Our coaches have a lot of ambition. Our head coach, Darren Rumble, won the Stanley Cup with the Tampa Bay Lightning. His assistant, Fabian Joseph, played many games for Team Canada.
– If you won't get a spot in the NHL, will you get back to Russia?
– Hard to say. I'll reply like that: playing in the NHL is my dream and I'll do everything I can to fulfil it.
– How do you spend your free time?
– In Moncton there aren't many entertainment options. We often spend free time with the whole team. For example, we play mini-golf. Our defenseman Jacob Sweeney plays great. Barbashev also plays well.
– What hockey player do you think is the best example for others?
– Pavel Datsyuk. He's what a professional should be.
– What do you think, is it good for Russian players to leave Russia and play junior hockey in North America?
– If you want to play in the NHL, it's worth it. This is why I'm here [in North America].