We've all had our embarrassing moments in life. The kind that make us cringe at the thought of such memories. But considering what Michael Del Zotto has been through lately, casting judgment is unquestionably necessary. It just so happens, though, it's not the kind of judgement you may think.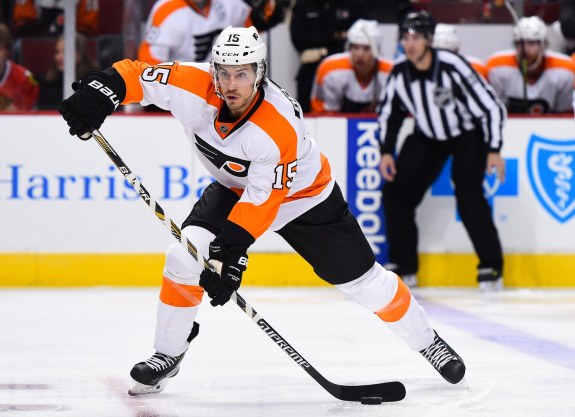 A Week from Hell
The first week of November didn't exactly start out the way Flyers defenseman Michael Del Zotto would have liked it to. The 24-year-old's Flyers had just been swept by the state of Florida, and he was more than likely experiencing a bad hair day. That's how it goes. When it rains, it pours. Add in a hellacious set of events that could demolish a reputation, and you'll have an idea of what it's like to be wearing Del Zotto's shoes.
As hundreds of thousands awoke to tinker with their fantasy football lineups on Sunday morning, they were greeted with a bombshell. An adult film actress, who we'll leave unnamed, took her apparent frustration with Del Zotto out on Twitter. Her detailed complaints were chronicled with humorous headlines that eluded to the Ontario native being "thirsty," among others.
Allegedly, Del Zotto asked to be set up with friends of said "actress" in cities he and his team were traveling to. The allegations include Del Zotto being asked to stop on multiple occasions, as well as being threatened with the consequences that we've now seen.
Even though it wasn't you or I, it's enough to make you feel uncomfortable. Can you imagine how he felt upon learning of this dirty laundry being aired to the world?
Let this be a note to professional athletes. If you're going to upset someone, make sure it's not an adult film actress — especially one with over 749,000 Twitter followers. — Josh Cooper, Puck Daddy
The hockey world got its money's worth, of course. On a day that his Flyers were not even playing, Del Zotto's name was trending on Twitter for a good portion of the day (Sunday). And when you're outshining the NFL on a Sunday, you know you're a big deal.
Heck of a day for Del Zotto.

— Joe Yerdon (@JoeYerdon) November 2, 2014
Del Zotto, who had to be just as blindsided as the rest of us, blocked the author of what could be considered a Twitter novel. Do you really blame him? While using his handle in a slew of tweets, Del Zotto's notification bell had to be blowing up, making it more annoying than the onslaught of Election Day eve television commercials. Especially when your name is being dragged through the mud for the whole world to see.
The adult star later joked around that she should probably build a dating profile for the NHL player to rid her of his annoyance.

She told all her followers and particularly targeted the female section when she asked someone to please take Del Zotto and his persistent texting off her hands.

Del Zotto is yet to respond to any of the posts, we can probably see why. — Elliot Greening, GiveMeSport
Is that really so surprising? What would you do? Or perhaps, maybe, Del Zotto refused to take part in this ambush so that the Flyers wouldn't be subjected to any unnecessary distractions. And that's where the meat and potatoes come in when casting judgment on the former first-round draft pick.
The Tweets going on about Michael Del Zotto is totally High School and just shows how classy that girl really is. #Immature

— Derek Marques (@derekmarques) November 2, 2014
What a team player this Michael Del Zotto is. Flyers lose to the Panthers and this guy takes the whole spotlight. Captain material.

— Yo (@FlyGoalScoredBy) November 2, 2014
Whether it's true or not is irrelevant. Sure, it's a black eye if it is an accurate account of events. And while common sense and rationale suggest it is, in fact, true, is it really the general public's business?
Before anyone leaps down his throat any further, has it ever been asked if the nuclear option was truly the last resort? This isn't to justify inappropriate behavior. Especially if he was asked to stop texting. But cell phone blocking is just one of many neat little features 2014 has to offer. In other words, it could have, and should have been handled differently.
This is nothing more than a publicity stunt at Del Zotto's expense. After all, there are laws pertaining to harassment in place these days. Even after another private conversation between an anonymous user of social media and Del Zotto was exposed, it doesn't change the fact that it's kicking the man while he's down. As if a single man pursuing a female is beneath our civilized society.
Casting Judgment on Performance
No matter what our thoughts are of Del Zotto's recent roller coaster ride, he's still left open to warranted assessment of his performance on the ice. This is where things start to get better for him.
After being passed over by every team in the league during the opening month of last summer's free agency period, Del Zotto's play through Philadelphia's first dozen games is making him appear to be an absolute steal.
"It's a lot to deal with at times," said Del Zotto. "In my young career, I've dealt with a lot of adversity, a lot of ups and downs. Some people think of it as negatives. I think of it as objectives and ways to be stronger mentally and help yourself get better each day and take it as a challenge rather than a setback."
Del Zotto, to this point, has handled his latest opportunity with poise. Considering the fact that he was brought into the mix as a tool to stop the bleeding of a defensive unit in dire straits, Del Zotto has risen to the occasion. The 195-pounder began the season penciled into the third pairing, but has since seen his role significantly heighten after injuries to Braydon Coburn and Andrew MacDonald.
https://twitter.com/DStrehleTFP/status/527999483515527170
Tuesday's win over the Edmonton Oilers was yet another bright spot for the defenseman signed on a one-year deal. Del Zotto's ice time of 23:17 not only marked the fourth straight game in which he was used in 23 minutes or more, it was the sixth time out of seven games #15 received 20 or more minutes. This, of course, after logging that many minutes just once in the team's first five games.
Other standout performers for the Flyers included defenseman Michael Del Zotto and captain Claude Giroux. Del Zotto, who worked a give-and-go with Voracek on the sequence that ended in Voracek's second goal and played strong all-around hockey (six hits, three blocks, one takeaway, zero charged giveaways in a team-high 23:17 of ice time). Giroux got the secondary assist on Voracek's second goal and won 20 of 26 faceoffs (77 percent) on a night where the Flyers as a team went 44-for-67 on draws. — Bill Meltzer, Hockey Buzz
As Del Zotto's minutes continue to accumulate, so does the chemistry between he and his teammates. Since Oct. 25th, Del Zotto stands at a respectable plus-five rating. The recent surge in good things happening when he's on the ice is certainly no fluke. Through Tuesday's victory over Edmonton, Del Zetto has now gone five straight games with an even, or plus-rating.
https://twitter.com/BarstoolJordie/status/529798318910898176
"As each day goes on, [I am trying] just coming out with a good mindset," added Del Zotto. "Work hard and try to get better each day. I'm still new to the team trying to gain chemistry and get used to guys. Get some chemistry on and off the ice with them and that's pretty much my mindset. Getting better each day."
Isn't that what he should be focused on? Or are the victories and improvements made through the beginning of the marathon not entertaining enough? Michael Del Zotto may not be perfect, but let's face it, neither am and I, and neither are you.