"We're having a down year. It's unfortunate we're under review for one year."
Prior to the trade deadline, Boston Bruins general manager Peter Chiarelli was fielding questions regarding his job security. As the architect of a pedestrian squad this season, he was pegged with the responsibility of addressing two of his most pressing needs which were, and continue to be, a top-six right wingers and top-four defenseman.
After the 3 p.m. trade deadline had passed on Monday, the seat only got hotter. Acquiring Brett Connolly and Maxime Talbot did not sit well with fans who expected bigger moves from him.
These are troubling times for Chiarelli. His club sits in the final playoff spot of a weak Eastern Conference nearly a year after winning the Presidents Trophy. Thirty-goal scorer Jarome Iginla departed for Colorado in the summer and defenseman Johnny Boychuk was traded away to the New York Islanders for a trio of draft picks prior to the season. Trading away the 31-year-old blueliner was a result of Boston's salary cap woes that Chiarelli himself created. It was a trade that left the Bruins with a gaping hole on the blue line that has yet to be repaired.
When the Boychuk trade went down, everyone said, "before you bash Chiarelli wait & see what he does with the picks". Can we bash him now?

— Mike From Woburn (@MikeFromWoburn) March 3, 2015
Chiarelli may have a trove of draft picks this summer, but he has a checkered history evaluating young talent. In 2007, he passed on Logan Couture, David Perron, and Kevin Shattenkirk opting to select Zach Hamill eighth overall. The former Everett Silvertips center scored only four points in 20 games with the Bruins while the players Chiarelli passed on have developed into established professionals.
In 2008, he selected Joe Colborne with the 16th overall selection, passing over the likes of John Carlson, Michael Del Zotto, and Jordan Eberle. The six-foot-five-inch center never played for Boston, eventually being shipped off as part of the Tomas Kaberle trade in 2011. Chiarelli used his third-round pick to draft goalie Michael Hutchinson, who also never suited up for the Bruins. The 25-year-old is now enjoying a breakout season for the Winnipeg Jets with a 19-8-5 record with a goals-against-average of 2.34, 12th among qualified netminders.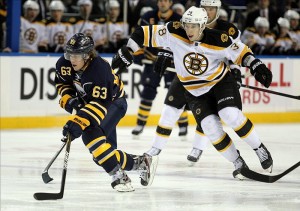 Drafting Jordan Caron in 2009 turned out to be a disaster for Chiarelli. The former winger for Rimouski in the Quebec Major Junior Hockey League scored only 12 goals and 28 points in 134 games over five seasons with Boston. Chiarelli gave Caron ample opportunities to justify his late first-round selection, but it never came to fruition. The Ottawa native has done well in recent drafts with slam-dunk picks in Tyler Seguin (2010), Dougie Hamilton (2011), Malcolm Subban (2012), and David Pastrnak (2014), but overall his performance at the draft has been mediocre at best.
The same can be said regarding Chiarelli's trade history. Some of the better trades during his tenure include the acquisition of Carl Soderberg from St. Louis, Andrew Ference from Calgary, Johnny Boychuk from Colorado, veteran Mark Recchi from Tampa Bay, and Dennis Seidenberg from Florida. Kaberle, Chris Kelly, and Rich Peverley were all acquired in 2011 as part of the club that won the Stanley Cup. In fact, Chiarelli did well by creating something out of nothing with a good chunk of these deals minus the Kaberle trade.
Two years ago, Chiarelli pulled the trigger on the most controversial deal of his tenure. The video above from the premiere of "Behind the B" outlines the process behind trading away 2010 second-overall pick Tyler Seguin to the Dallas Stars in exchange for Loui Eriksson, Reilly Smith, Matt Fraser, and prospect Joe Morrow. The 23-year-old Seguin has averaged better than a point-per-game since his move to the Lonestar State (66 goals, 143 points). Chiarelli's return on investment has been far from ideal after the blockbuster deal was made in the offseason. The decision to trade Seguin is coming back to haunt the Bruins as they are missing his ability to bury quality scoring chances, especially this season.
The Boychuk trade was caused by Chiarelli's mismanagement of the salary cap, specifically overpaying his "core" players. The two most glaring examples of this are the lofty contracts inked by Milan Lucic and Chris Kelly. The 26-year-old winger signed a three-year, $18 million contract with a modified no-trade clause after the lockout-shortened season of 2013. It seems a bit much for a player that has scored 14 goals (fourth on team) and 35 points this season with only three fighting majors.
After scoring a career-high 20 goals in 2011-12, Chris Kelly signed a four-year, $12 million deal with a full no-trade clause. The 34-year-old has scored 19 goals in the 152 games since signing the deal and is seen on the third line most nights. Chiarelli speaks of Kelly's locker room presence as part of his leadership ability, but a $3 million cap hit is far too much for a player that had one breakout season, despite being a locker room leader.
According to the Collective Bargaining Agreement, teams are offered two compliance buyouts during the summer to clear cap space. Even though he had little room to work with, Chiarelli refused to use the relief the buyouts would grant him. Instead, he waited until four days before the start of this season to clear space when he had four months to do so, eventually shipping Boychuk to Long Island for draft picks. Fans thought the picks would be used to acquire a piece at the deadline, but that was not the case.
Charlie Jacobs made it clear when he stepped into his new role of Boston Bruins CEO that missing the playoffs would come with dire consequences. "If you think about what has been put in this team…for us to be a team that's out of the playoffs is absolutely unacceptable," Jacobs said at his introductory press conference back in January.
Back in 2008, making the playoffs was considered a success. Much has changed since then with two Stanley Cup Finals appearances and a championship in 2011. Qualifying for the postseason has become an expectation for Boston. A first-round playoff matchup against the hated Montreal Canadiens appears to be inevitable should the Bruins make it and could be the series that decides Chiarelli's fate.
With eight straight playoff appearances, it has been easy to ignore the failings of Peter Chiarelli…until now.
Trouble is brewing in Boston. If things go awry, Chiarelli may not be around to dig himself out of the mess he created.