After attempting to sign free-agents Stephen Weiss and Valtteri Filppula, St. Louis Blues GM Doug Armstrong made a point to tell his fans that he was not going to just sign anyone.
"I truly believe you have to set your market and react to what you believe is proper market and not react to what's happening around you," Armstrong told Jeremy Rutherford of the St. Louis Post – Dispatch. "Unfortunately today we didn't get the couple of players we talked to, but my expectations were, for today, that we would go in and try do something that was good for the franchise short and long-term and if it worked out, great, and if it didn't, as I've said before, we like the core group of this team… we know that we have things to prove and we're going to come back with this group."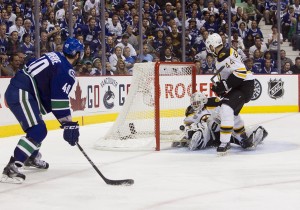 Armstrong then reached an agreement with grinding center Maxim Lapierre, formerly of the Vancouver Canucks. It was a two-year, $2.2 million contract that carries a $1.1 million cap-hit. The Blues also added checking forward Keith Aucoin and AHL forwards Alexandre Bolduc and Mark Mancari on July 5.
Day one of free-agency ended with the Blues still in search of a top-six forward to replace the recently retired Andy McDonald. The team just needed something to push their offense over the hump. After all, the Blues scored just ten goals in their six-game playoff loss to the Los Angeles Kings.
That's when Armstrong landed on a center who has battled injuries and has seen a dip in production, which took him off the highly coveted free-agent list. Derek Roy, a long time Buffalo Sabre, inked a one-year, $4 million contract with St. Louis. His deal is pending a physical.
Armstrong called the deal a "low risk, high reward" move. Roy, who's best season came in 2007-08 when he scored 32 goals and 81 points, has seen a steady decline since his career-best season. As a member of the Canucks and Dallas Stars last season, Roy posted just seven goals and 28 points. The decline could be partially contributed to a torn left quadriceps tendon suffered in December 2010.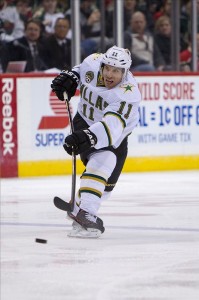 "It's a great opportunity for Derek to re-establish himself as a player he believes he can be and we believe he can be," Armstrong said.
While it plays out to be a potential career-saving move for Roy and a low-risk move for the Blues, is Roy what the Blues truly need at this point?
The signing leaves the Blues with about $9.16 million remaining in cap-space. The team has not finished signing its restricted free-agents, either. Top defenseman Alex Pietrangelo, 2012-13 leading scorer Chris Stewart and rookie-standout goaltender Jake Allen all remain without contracts at this point. With Pietrangelo and Stewart's market value each ranging in the $4-7 million per-season level, it will take a lot of mathematical figuring for Armstrong and co. to lock up both players, along with Allen.
[See related: Pietrangelo's Contract: What would you give him?]
Obviously, there is still some work to be done. After the inevitable re-signing of Allen, the Blues will head into the 2013 training camp with three NHL goaltenders. Jaroslav Halak, currently with one year remaining on his contract, has a cap-hit of $3.75 million and is the best candidate for a trade.
The $4 million to Roy could still prove to be a death sentence for the Blues to make moves up front, though. If he does not pan out, the Blues will likely be stuck paying his salary through the season as it would be difficult to find a trade partner to take on Roy's contract. With the salary cap dropping to $64.3 million this season, teams will have to be more cautious with their money as many are now closer to the cap than they would like to be.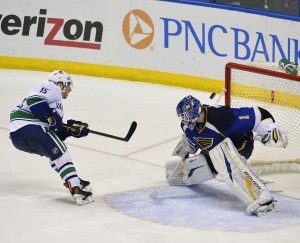 The shallow free-agent pool tied Armstrong's hands. The gross overpayment to mid-range talent this summer made Armstrong's job even more troubling. Snatching up a top-two center quickly became a priority as the few available forwards instantly found new teams when the free-agency period began.
Roy has proven in the past to be a talented, playmaking center in the NHL. If he can find a way to rekindle that magic instead of falling down the path he is on, this signing will prove to be underrated.
But the trending downward trail of Roy will say otherwise until training camp begins in September.