If you ask Peter Mueller of the Colorado Avalanche what he thinks about all this interest in concussions lately, he'd probably say he doesn't want to talk about it. It wouldn't be because he doesn't have interest in them or because he doesn't understand the severity of the situation. He does care, and he does know—all too well, in fact. Mueller is one of the unfortunate few, but growing, number of players who has been plagued with concussions and concussion-like symptoms for multiple seasons. Sadly, at only 23, he's already spent nearly 1/3 of his 5-year career out of the line up because of head injuries. With a history like that, the time comes when one must think about walking away from the game for the sake of quality of life and life itself.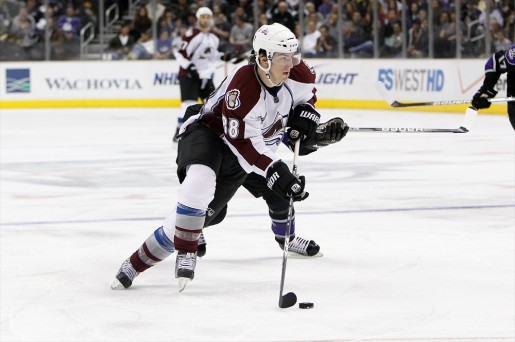 Mueller's first concussion came in January, 2009, while playing for the Phoenix Coyotes. He missed only seven games, but after he was traded to the Avalanche, he admitted that he returned to the game sooner than he probably should have. The Avs acquired him at the trade deadline, and he played some of his best hockey in years—at least until he met up with Rob Blake. A classic, if not a little questionable, hit from Blake sent Mueller awkwardly into the boards. The resulting concussion forced the forward to miss the last four games of the regular season and all of the post-season run against Blake and the San Jose Sharks.
The team maintained all off-season that Mueller was working out and would most likely be ready to go for training camp. Sadly, he suffered another concussion in the team's second preseason game against the Los Angeles Kings.  Before long, it became clear he wasn't going to be back at all for the 2010-2011 season. There was much optimism going into the 2011-2012 season, though, as a new helmet was in the picture, one that was supposed to be a significant upgrade in the prevention of head injuries.  Mueller looked great in camp, and it really seemed that his concussion woes were behind him. Unfortunately, an errant stick caught him in the temple during Colorado's first preseason game against the Dallas Stars. Mueller missed the rest of the preseason.
He returned for the opening night game, but he did not look very good. He was largely ineffective and seemed a step behind his teammates and opponents both in speed and reaction time. In the third game of the season, he took another awkward hit that sidelined him yet again. He was scheduled to return about a week later, but his symptoms flared up, forcing the team to put him back on injured reserve, effective October 20, 2011. He has yet to play another game this season.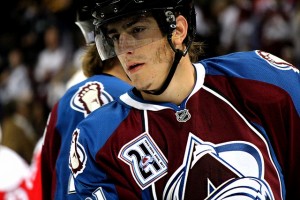 There's a constant reminder about Peter Mueller's battle against concussions when you watch him on the ice. He wears a tinted visor, one that helps reduce the glare of the lights which is something that can trigger symptoms. So even though Mueller has been skating with the team the past month—and looking quite good, too—the question of how good he's really doing always lingers. Moreover, the Avalanche have not given any indication about when they expect Mueller back. To many fans, though, the question has stopped being "when" and has become "if". If he does come back, for how long will it be? If he does come back, how much will he be able to help the team? If he does come back, will it end tragically? Although there's no evidence that getting a concussion means it's more likely to get another one, there is a case for compounded symptoms with each consecutive blow. Peter Mueller has officially had five major head injuries. The next one could not only end his career, but alter his life completely. Is any career really worth that? Marc Savard seems to have realized it's not. Perhaps it's time Mueller came to the same realization.