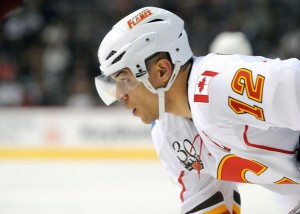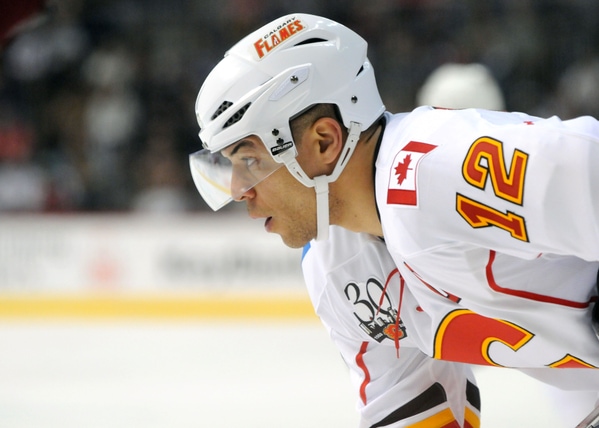 THE STATS LINE
15-15-4 record [22nd overall (in points percentage)]
2.47 goals-for per game [25th overall]
2.74 goals-against per game [15th overall]
16.8% power-play success rate [18th overall]
82.4% penalty-kill success rate [15th overall]
45.5% in the face-off circle [30th overall]
THE WEEK THAT WAS
December 15: The Flames lose 5-4 in overtime to Tampa Bay. The club was down 4-2 after 40 minutes but battled back to force overtime, only to give up the game-winner 30 seconds into the extra frame.
December 16: Rookie goalie Leland Irving makes 39 saves in his NHL debut, but the Flames lose 3-2 in a shootout against the Florida Panthers. Calgary ran out of gas in the third period in their second road game in as many nights.
December 18: Calgary gets soundly beaten by Chicago 4-2 at the United Center. A poor first 40 minutes negates a very strong third period.
December 20: In their first home game back, the Flames grind out a 2-1 win over the Minnesota Wild. Jarome Iginla led the way with a goal and an assist, while Olli Jokinen continued his four-game points streak.
FOUR GAMES AND HALF OF THE AVAILABLE POINTS

Heading into the week, the Flames were riding high. The past few weeks had seen the team put in several strong efforts and the efforts were translating into points. This week, they weren't quite so lucky.
December 15 vs. Tampa Bay: 45% on face-offs, scored a power-play goal, gave up a power-play goal, out-shot 34-27 but managed to grab a point. Not a terrible effort, but they were lucky to get that point with a strong third period comeback.
December 16 vs. Florida: 52% on face-offs, scored a power-play goal, perfect on the penalty kill, out-shot 41-26 but managed to grab a point. Based upon the team's history, aside from being shellacked by the Panther shooters, a textbook Flames "good effort" game.
December 18 vs. Chicago: 47% on face-offs, scored two power-play goals, gave up two power-play goals, out-shot 25-24. An uneven effort, particularly with a flat-out bad first period and a good third period.
December 20 vs. Minnesota: 59% on face-offs, no power-play goals, perfect on the penalty kill, shots were even at 30-30 apiece. If the Flames had a power-play goal, this would be a perfect "good effort" game.
Overall, the Flames got probably as many points as they deserved to given their play – a bad game against Chicago and a string of games where they played more or less good enough to win most nights. Hopefully the Minnesota game is a sign of things to come, rather than a blip on the radar.
IGINLA CHASING 500
Jarome Iginla, very quietly, is riding a four-game point streak. He's got five points over the last four games, including a pair of goals. The goals put him at 13 on the season, six of them since December 1, and 497 for his National Hockey League career.
Iginla sits 43rd in all-time goal-scoring, one behind Glenn Anderson and three behind Flames legend Lanny MacDonald (who retired with 500). It's safe to say that the Flames captain will retire with bigger scoring numbers than #9 did. In terms of overall points, Iginla is again in elite company. His 1,032 points is tied with Alexander Mogilny for 67th all-time.
In terms of active players, the numbers show just how far ahead of the curve Iginla is right now. Only four active NHLers have more points (Jagr, Selanne, Lidstrom & Alfredsson) and only Jagr and Selanne have more goals. Iginla has NINETY more goals than the next nearest player (Jason Arnott) and if he stopped playing tomorrow, it would take a few years before guys started approaching his numbers.
And he's not going to stop playing tomorrow.
IRVING'S NHL DEBUT
History was made on Friday night as 2006 first round draft choice Leland Irving made his NHL debut for the Calgary Flames. The 23-year-old tender made 39 saves in his first taste of the big leagues, earning the Flames a single point in a shoot-out loss against the Florida Panthers.
While Irving was very positive about his first start, he noted that since the team didn't come away with the win, he still sees room for improvement.
"Any time you're in there and getting experience and things go well, it gives you confidence," said Irving. "It's a stepping stone. You've just gotta keep building from there. It still wasn't enough for a win, so we've gotta look back and find out where we can improve and just continue to build and develop, try to get two points whenever I've needed."
Irving's NHL baptism came after three full seasons in the minor leagues. It just so happened that his primary defensive pairing in Abbotsford – T.J. Brodie and Joe Piskula – were called up to the NHL around the same time he was and got to share in the experience. Piskula, whose last NHL appearance prior to his early December call-up was April 5, 2007 with the Los Angeles Kings, shared a few thoughts on the young goalie's first start.
"It's exciting," said Piskula. "Like myself, he's waited a long time for this call-up. It was a great opportunity for him and he played really well. He kept the team in the game with some huge saves and it was a good first game for him."
Piskula noted that some of the factors surrounding a new goalie do impact how the team plays in front of them, at least to start. The success of Irving in the AHL, along with his weeks of preparation in practice with the Flames, definitely instilled confidence in the players that their goalie could hack it if called upon.
"When you have a guy like Leland, you know you can play the game the same way you do in front of your starter," said Piskula. "I mean, guys like him come in every day and work hard in practice, and you see him in practice playing well, you know it's going to translate to the game and that hard work just gives the whole team confidence."
Irving added that his first start was exciting, and great to share with some of the same players he's played with in Abbotsford, the important thing is taking the lessons away from his first start that will help improve the team's performance going forward.
"There was a lot of excitement," said Irving. "A lot of family and friends were very happy for me, especially the guys in the room. We were all wishing we could've got that extra point, but we were able to take one out of there. We'll take our positives, and all-in-all it's a pretty exciting time, but it's one game. It's a process that we've got to continue to work on and looking forward to trying to get two points whenever I get another opportunity."
DISPATCHES FROM THE FARM
World Juniors: Four Flames prospects are still in the hunt for spots at the 2012 World Juniors in Calgary and Edmonton. Switzerland's Sven Baertschi and Finland's Markus Granlund are virtual locks for spots on their respective clubs. In addition, Bill Arnold and John Gaudreau are currently at Team USA's evaluation camp, and it's likely that at least one of them will be on the final roster.
The WHL is off until December 27. Flames prospect Patrick Holland, playing with the Tri-City Americans, was named the WHL's Player of the Week. He amassed six points and a plus-four rating over a pair of games (Tri-City won both). It's the second time this year a Flames prospect has been named WHL Player of the Week.
AHL: Since December began, the Heat have yet to lose in regulation – posting a 6-0-1 record in that span. What's remarkable is that they've done so well without their #1 netminder (Leland Irving), veteran defender (Joe Piskula), top-six agitator (Carter Bancks) and missing a handful of other regulars from game to game. New goalie Danny Taylor is 4-0-1 since joining Abbotsford (posting a 1.57 goals against average), while Krys Kolanos (7 points), Ben Walter (6 points) & Dustin Sylvester (6 points) lead the team in December scoring.