NLA Update
Swiss hockey fans are definitely getting their money's worth in the 2011/2012 NLA season with 3 teams currently tied for top position and 2 teams only two points behind after 34 of 50 games played. This season has arguably been one of the most exciting in years, with all but 2 teams realistically still in the running for the play-offs.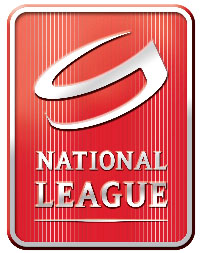 Current NLA Standings (As of Dec 20):
1- EV Zug               33 GP 65 PTS
2- SC Bern              34 GP 65 PTS
3- Fribourg            34 GP 65 PTS
4- Kloten                34 GP 63 PTS
5- HC Davos          34 GP 63 PTS
6- HC Lugano        34 GP 57 PTS
7- ZSC Lions          33 GP 46 PTS
8- EHC Biel             33 GP 46 PTS
9- Genf                     34 GP 41 PTS
10- Ambri                33 GP 38 PTS
11- SCL Tigers         34 GP 29 PTS
12- Lakers                34 GP 28 PTS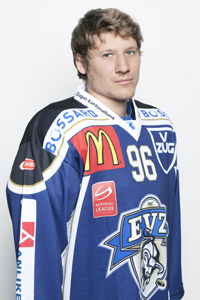 Surprise early leaders Fribourg have been caught in their quest for their first ever NLA championship by the widely supported SC Bern and  the back-in-form EV Zug, who currently have their strongest side possibly ever in the new NLA era, lead by the league's top scorer Damien Brunner. The two most dominant clubs in recent years, HC Davos and the Kloten Flyers sit in great positions to overtake the top 3 while Rob Niedermayer's HC Lugano and Jeff Tambellini's ZSC Lions can never be counted out.
The scoring race is currently a one-man show with Damien Brunner of Zug 10 points ahead of nearest rival Fribourg's Julien Sprunger. Brunner, who has produced more than 1 point a game for the last 3 seasons, has reportedly received some interest from NHL clubs, mainly after making his presence felt during a the Zug vs New York Rangers exhibition game on Oct 3, 2011. The 25-year-old Swiss forward would make an ideal player for any team looking for some pace and scoring depth.
NHL Update
Jonas Hiller is still the number one goaltender in Anaheim despite some recent poor performances, some of which can be blamed more on the team itself than the 29-year-old, Thurgau native. Hiller's teammate Luca Sbisa has become a staple on the Duck's blue line, playing in all 33 games so far this season with 6 assists to his name.
Defenceman Raphael Diaz has fit in well in with the Montreal Canadiens after moving from Zug last season, playing in 32 games and averaging around 20 minutes ice-time per game. Yannick Weber has also played in 32 games for the Canadiens this season with a smaller average ice-time of around 7 minutes a game while still scoring 3 goals and 8 assists for a total 11 points.
Injury prone Islanders captain Mark Streit finally has a chance to play regularly for the New York team and has performed well in his come-back season, proving to be an important leader for the Isles. Young 19-year-old winger Nino Niederreiter has had a tough start to his first season as an Islander regular, suffering a groin injury on Sep 30 and then a concussion on Nov 3, limiting him to just 1 goal in 8 games so far this season.
WJ Prospects
With the World Juniors only a few days away, Switzerland will be playing without the experience of Nino Niederreiter who was ruled out of the tournament due to a concussion. A lot will be expected of Calgary draft pick Sven Bärtschi, who will be seen as the new leader of the young Swiss team . Carolina's 103rd overall draft pick Gregory Hofmann, currently playing for Swiss team Ambri-Piotta, will also be heavily relied upon for the Swiss due to his current form in the NLA.
Goaltending will be an interesting topic with contenders Lukas Meili and Tim Wolf both playing for the ZSC Lions 'B' team, the GCK Lions and playing an almost equal number of games. Tim Wolf would have to be the current favorite for the number one spot due to his experience as back-up with ZSC last season.
As well as the two GCK goaltenders, the top ranked draft eligible prospects on the Swiss World Junior team are winger's Joel Vermin and Dario Simion as well as centre's Christoph Bertschy and Sam Walser, all currently ranked in the top 5 draft-eligible skaters for Switzerland.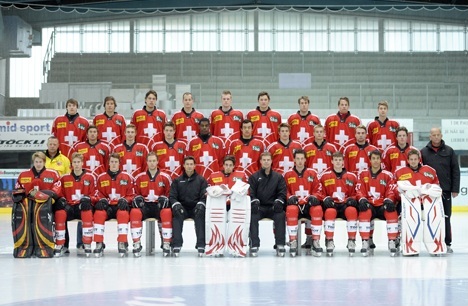 Swiss World Junior's roster (current team):
Goaltenders: Boltshauser Luca (Färjestad BK/SWE), Meili Lukas (GCK Lions), Wolf Tim (GCK Lions)
Defenceman: Antonietti Eliot (Genève-Servette HC), Baltisberger Phil (GCK Lions), Hächler Cédric (Malmö Redhawks/SWE), Kukan Dean (Lulea/SWE), Marti Christian (Kloten Flyers), Orellana Kevin (SC Bern), Sutter Dave (Seattle/WHL), Trutmann Dario (Plymouth Whalers/OHL), Vermeille Mike (Genève-Servette HC)
Forwards: Amstutz Reto (SC Bern), Andrighetto Sven (Royen Noranda Huskies/QMJHL), Bärtschi Sven (Portland Winterhawks/WHL), Bertaggia Alessio (Brandon Wheat Kings/WHL), Bertschy Christoph (SC Bern), Grassi Daniele (HC Ambri-Piotta), Haas Gaëtan (EHC Biel), Hofmann Gregory (HC Ambri-Piotta), Martschini Lino (Petersborough Petes/OHL), Muller Devin (Salmond Arm/BCHL), Rexha Alban (SCL Tigers), Richard Tanner (Guelph Storm/OHL), Schneuwly Cédric (EV Zug), Simion Dario (HC Lugano), Vermin Joël (SC Bern), Walser Samuel (Kloten Flyers)