Tinordi For a 2nd Round Pick?
With rumours swirling around Montreal Canadiens defenceman Jarred Tinordi, the consensus is that Marc Bergevin is hoping for at least a second round draft pick in return. Is this enough for the former first round pick? Can Tinner even bring in a second round pick?
Jarred Tinordi was drafted 22nd overall in the 2010 NHL Entry Draft. Listed at a towering height of 6'6, Tinordi plays a heavy game at 230lbs. Known for delivering absolutely thunderous hits at times, Tinordi is a player to look out for on the ice if you are an opposing forward. Here's one example of a body-check made on Ales Hemsky:
Waiver Route is Too Risky
Marc Bergevin seems to be quite confident that if placed on waivers for AHL assignment, Tinordi will in fact be long gone. With the NHL club this year, Tinordi has not played a single game yet, simply because there is no roster spot available for him. Montreal's crowded blueline has been one of the few issues they've had to worry about so far in their impressive start to the season. Defenceman Greg Pateryn only got his first taste of NHL action this season on Saturday night against Colorado.
Not That Simple
Looking at this scenario it is not as simple as saying "well Tinordi was a first round pick, therefore the answer is no, a second round pick is not enough return for him." People change. They grow. Some mature. Some players don't hit their stride until their mid or even late twenties in some cases. Just look at the trade Montreal made last offseason, sending their 18th overall pick Louis Leblanc to the Anaheim Ducks for a conditional fifth round draft pick. Was it a bad trade? No. Leblanc did not have a future in Montreal. He did not shape up to be what the Canadiens had hoped they were getting with their first round pick in 2009.
The Incident
Tinordi has been known to drop the mitts with opposing players with little to no hesitation. But, on January 9th, 2015, while playing in the AHL for the Hamilton Bulldogs, he engaged in a fight with Utica Comets' defenceman Andrey Pedan. Tinordi was knocked out and suffered a concussion in this scary incident. Ever since, questions have arisen about Tinordi's future health. Hockey analyst and insider Pierre McGuire is quoted in saying, "Tinordi's concussion will follow him throughout his career." Former Montreal Canadiens player Chris Nilan, who fought over 250 times in his NHL career, is quoted in saying, "This looks bad. It looks like the kind of thing that can break a player."
It's Time to Act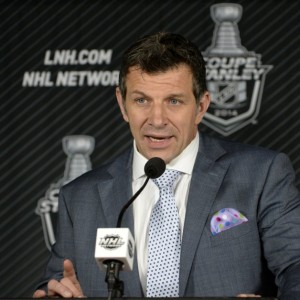 Only time will tell if Tinordi can regain his confidence and develop into a fulltime defenceman on an NHL blueline somewhere. I have to think that Marc Bergevin would pull the trigger on a deal if one of the league's weaker teams offered the Canadiens a second round pick for Tinner, seeing as that would be a pretty high pick. But what about a third or even fourth round pick? It all depends on how much faith the Canadiens management has in their young defenceman. Tinordi hasn't been the same since the incident on January 9th, 2015 and the Canadiens are aware of how serious his head injury was. It is probably safe to say that Tinordi will not be able to bring in a first round pick for the Canadiens. If I were Marc Bergevin, I would at least consider all offers on the table for their former first rounder, who is currently watching Habs games from the press box. Needless to say, something should be done, whether it be playing him or trading him. The current situation is not ideal for the team or the player. A fresh start for Tinordi could benefit both sides.