Every second-year player fears the dreaded "Sophomore Slump." The player may have set the league on fire after a great rookie season, but that same player is facing an uphill battle to regain the form that made others take notice of him.
Nashville Predators second-year forward Filip Forsberg is mired in that dreaded second-year funk after a rookie season that some felt should have had him nominated for the Calder Trophy for top rookie.
As of Nov. 15, the young Swede has only scored twice this season and has gone goalless in his last 12 games, which has matched his longest career scoring drought. That's a far cry from the sizzling first half he had where he led the league in rookie scoring at last year's All-Star Break with 40 points.
Forsberg did slow down a little in the second half of his first full rookie season with only 23 points in the final 37 games; though he did have a strong postseason with four goals in six games, including notching the first-ever playoff hat trick in franchise history.
The goals haven't come easy for the top-line forward this season, so the question has to be asked.
What's going on with Filip Forsberg and why exactly has he struggled in his second season?
Stuck in a Slump
There was hope that Forsberg would build on his outstanding rookie campaign, but there were concerns early on that he might suffer from the dreaded second-year swoon. Teams had more information on his skill set and how to defend against him.
He did have a slow second half last year that might have cost him a shot at the Calder. Some thought that he slowed down in the face of his first 82-game season, but that looked to have rectified itself with a promising a great playoffs and preseason.
RELATED: Preds End of the Year Report Card: Filip Forsberg
Forsberg also carried over his great postseason play into a solid 2015 IIHF World Championships. He started the season with two goals in his first four games and it looked like he would repeat his brilliant rookie season. However, that marker on Oct. 15 at the New York Islanders was the last time Forsberg picked up a goal.
In the last 12 games, Forsberg has been held off the score sheet completely. He has had a couple of multiple assist games, but was quiet in most of the others.
http://gty.im/496177680
Forsberg's problems were not just all on him as Nashville's top six forwards only had 10 even-strength goals (most of them via James Neal) between them before the Predators top two forward lines erupted in their 7-0 rout of the Winnipeg Jets on Saturday.
Head coach Peter Laviolette summed up the frustration of the top-six forwards when he talked to team beat writer Adam Vingan of The Tennessean late last week.
"There's no question, I think, that from a production point up front (from) our forwards, we need to get more five-on-five play," Predators coach Peter Laviolette said. "It seems like there's opportunities and attempts there. Right now, they're not dropping probably as much as anybody would like — them or me or the team. And Filip falls into that category at times as well."
Luckily, the bottom six, defense and goaltending have helped Forsberg and the top two lines keep pace in the very tough Central Division.
The Bright Side
However, it's not been all doom-and-gloom for Forsberg. He's still making contributions in spite of not lighting the lamp. He's been handing out assists, he's still putting pucks on the net and still generating chances.
He's not necessarily potting in goals the way he did, but he continues to hustle and put himself in the right position. When I complied the list of top five goals for Predators, 2014-15 season, Forsberg ended up being on the list twice. Many of the goals came via his skill, but most came out of the fact that he hustled and put himself in position for a second chance. He's still doing that despite his scoring woes, and players like that will usually be rewarded eventually for their hard work.
RELATED: Top 5 Nashville Predators Goals From the 2014-15 Season
He's easily been the best possession forward and had an even-strength shooting percentage over 57 as of Saturday. He also has been generating plenty of scoring chances according to War on Ice. His HERO Chart (which is on the THW main site) also shows him in favorable light as a top-tier player.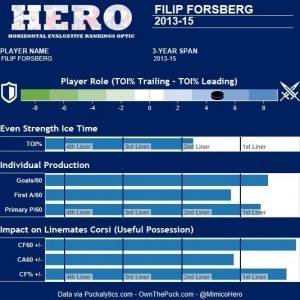 Forsberg has also picked up an assist in his last three games, so it's not like he's disappeared completely from the Predators' offense. He's just going through a bit of a dry spell, which happens to even the best of goal-scorers.
The Verdict
Forsberg may not have been in on the Nashville goal party on Saturday against Winnipeg, but he did make himself a factor in the game. It should only be a matter of time before the sophmore heats up and makes me write the obligatory "How Did Filip Forsberg Turn it Around?" story.
Forsberg will continue to work hard, put himself in a position to score and make his linemates and teammates around him better.
Dan Mount is a Nashville Predators staff writer for The Hockey Writers. You can follow him on Twitter, @DanMountSports.
Covered hockey since attending SUNY Oswego in Upstate New York in the early 2000s. Has written about college, major junior and professional hockey for the last five years.
Resides in Watertown, NY.