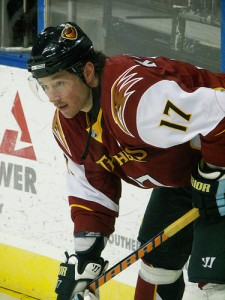 Hearing about the report on TSN by Darren Dreger that the Islanders had offered Ilya Kovalchuk a contract Friday night was confusing to me. Seeing it for myself made me realize that something had to be up. But what surprised me the most is that the Islanders would possibly consider someone for a 10-year contract worth $100 million with DiPietro's current status and Alexei Yashin still collecting checks to pay off his bought out salary. It almost seems crazy since there isn't any luck on this peninsula when certain players are signed long-term. Granted, Kovalchuk and Yashin are two entirely different players and Rick DiPietro's injuries are a result of pure misfortune, but wouldn't that steer Wang's wallet into a more affordable and reasonable direction?
When looking back on the past, the majority of Islander fans were pleased when Yashin was signed to that ridiculous contract, even though he only had two 40-goal seasons previously in his career. More fans were skeptical about signing a goaltender to a 15-year deal since Yash's contract wasn't proving it's worth, allowing the Islanders to become a carousel of hilarity with their poor decisions. Hockey fans around the world poked fun and laughed at these life-time contracts for days, months and even years. DP is still thrown in my face to this day and probably will be even after he is long retired.
But then I ask, why is it okay for the Flyers to sign Mike Richards to a 12-year deal? For the Hawks to sign Hossa to a 12-year deal? For Ovechkin to get a 13-year deal? For Duncan Keith to get a 13-year deal? Even if fans disagreed with the length of these contracts, they did not garnish close to half of the humiliation the Islanders and their fan based received. Sure, Ovechkin and Richards are players any team will want to keep for a long time. But organizations may handcuff themselves in the future as long as the NHL exists in the salary cap era. Regardless of how talented a player might be, finances and assuring your team's success beyond the present season goes further than one player.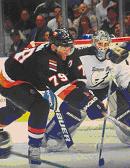 And then the Kovalchuk rumor emerges and the Islanders are back on track with being the laughing stock of the league. Why? Isn't Kovalchuk a superstar? Isn't he a player that any team would want for years and years? If he signed in L.A. for ten years, would anyone find it as crazy as the Islanders doing it? It seems as if DP's bumps in the road and the Yashin-mistake have placed a Scarlet Letter on the Islanders for years to come. Don't believe me? Read this article here http://tsn.ca/nhl/story/?id=326429. It's the story broken by TSN about the Isles rumored offer to Ilya. Then go down and read the comments. According to the majority, the Isles would be crazy for this contract based on Yashin and DiPietro.
What do the Islanders have to do to demand respect?
They have stuck to the plan of a rebuilding franchise by drafting players at the top of their class. Some of them, such as Tavares, Okposo and Bailey, are starting to blossom. Other picks such as Travis Hamonic and Calvin de Haan are just a few steps away from becoming NHL players. This team is on the forefront of establishing themselves as a playoff contending hockey team. So is Garth Snow really foolish for looking to sprinkle an elite talent into his line-up that can help elevate the pressure of scoring goals on a regular basis?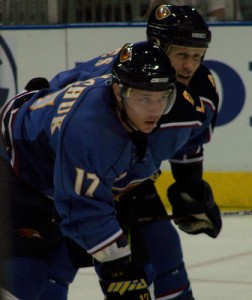 Nope. Not one bit. As Garth stated in an article in Newsday reported by Katie Strang, he is just doing his job. Snow feels that if he didn't make one preliminary phone call, which he admitted to doing only that, he would not have been doing his job as General Manger during the free agency period. He's right; how could any GM not call the most attractive player on the market and see what it's going to take to sign him?
But that's all that Snow admitted to doing and suddenly the flood gates opened: This will save the Islanders! This will bring us the Lighthouse Project! This will bring us the playoffs!
Let's calm down for a second. Do you think Kate Murray, the Town of Hempstead Supervisor, who has yet to provide her counter proposal of the Lighthouse, even knows who Ilya Kovalchuk is? Doubt it. Yes, Ilya would make season-ticket holders run to the box-office and put fans in the stands. But he won't have a major effect on the building process. Nassau County politics and financial disagreements revolve solely on the people involved: Charles Wang and Kate Murray. Not Ilya Kovalchuk.
Will it bring the Isles into the playoffs? It certainly will increase the chance. But Ilya didn't carry the Thrashers into the playoffs every year and probably wouldn't do so with the Islanders either.
The only thing Kovalchuk would guarantee the Islanders is a prolific goal-scorer that is ready to contribute. That hasn't been said in years and that's why fans are excited. But fans need to stay focused. Snow is all about the rebuild and developing his players that he's drafted and was given when he stepped in as General Manager.
Keep in mind that Kovalchuk turned down huge offers from the Thrashers because he desired to sign with a contender. The Islanders don't fall into that category. They are building into a winner, but they aren't yet. Are they ahead of the Thrashers? I would say they are. But teams like L.A. are a few more steps ahead. There is just as much of a chance of Kovalchuk not signing with the Isles as much as there is one. So don't get your hopes up and start calling for Garth Snow's head if this fails.
And if Ilya does decide to go elsewhere, the Islanders still can inquire about players such as Alexander Frolov, Lee Stempniak, Alexei Ponikarovsky and Paul Kariya. These forwards are a far cry from Ilya Kovalchuk but they all have something to contribute to a team of youngsters that are looking to make their first post-season run. And I hate to admit, any of these four forwards are more realistic for Garth Snow's plan.
Either way, it will be a fun hodge podge of mixed emotions until Kovalchuk signs with an NHL team. And if it's not with the Islanders, I'm sure you can expect Garth to still sign one more top-six forward, possibly one of the aforementioned above.
But what do you think, should the Isles be offering Kovalchuk a lucrative contract and do what they can to sign the talented forward?