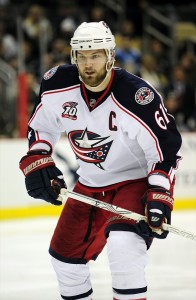 It's really no surprise that the Columbus Blue Jackets have made their team captain and franchise player Rick Nash available heading into the 2012 NHL trade deadline. The team is struggling and while Nash has succeeded in Columbus, he hasn't been able to lead the team over the hump it has faced since its entry into the league.
It was recently reported that Nash is officially available for the right team. ESPN's Pierre LeBrun believes that the Toronto Maple Leafs, Los Angeles Kings, Philadelphia Flyers, New York Rangers and Vancouver Canucks have all reached out to the Blue Jackets about Nash, while he and Darren Dreger of TSN claim that those are the five teams most likely to be on the short list of teams that Nash supplied the Blue Jackets with earlier this week.
That list of teams, of course, stated which ones he would accept a trade to. Remember that Nash currently has a no-movement clause in his contract.
Take note of one of the teams on that list: the Maple Leafs. Not surprisingly, this news has added to the loud buzz that already circled around Toronto regarding Nash.
It's certainly easy to see why fans would jump out of their chairs at the possibility of Nash becoming a Maple Leaf; he is the perfect player to fill a hole that the Leafs currently have. That is, of course, a top-line forward with size. As always, though, this must be looked at from every point of view.
Obviously the most important point of view is that of the team. How does this affect their current standing? Will it mess around with chemistry? Can the Leafs afford to acquire Nash under the salary cap? Just how much would they have to give up? Those are only a few questions that must be answered. But with time ticking down and other teams in pursuit of Nash's talents, decisions must be made quickly.
What exactly would the Maple Leafs have to surrender anyway?
It's believed that the asking price for Nash is as much as a roster player or two, legitimate prospects and draft picks. If you look at what the Maple Leafs have and what the Blue Jackets would likely be most interested in, you really have to wonder if acquiring the 27-year-old would be worth it.
Jake Gardiner, Carl Gunnarsson, Clarke MacArthur, Nikolai Kulemin and Mikhail Grabovski are all players who would probably be involved in trade discussions between the Leafs and Blue Jackets. Two of those players, Gardiner and Grabovski, are crucial to the team's current success and are about as close to 'untouchable' as a player can get.
MacArthur is another one that would be tough to move, although trading him would be easier to justify. Why? For one, Nash is a winger that would be simple to move from side to side, giving him the chance to play on the first unit with Phil Kessel. He could not only replace MacArthur, but he could go beyond what MacArthur currently contributes to the Leafs offensively, only on a much larger contract.
With six more seasons on his current deal after the 2011-2012 campaign, Nash's contract is a lengthy one. It's also very lucrative at a $7.8 million cap hit. Based solely on his statistics, some would say that Nash is rather overpaid. However, what many don't realize is that he is very strong at six-foot-four and 219 pounds. He also brings tremendous leadership abilities and sees odd minutes on the penalty kill to go along with regular minutes on the man advantage.
That's all great, but wouldn't the Leafs be acquiring Nash not only to help them make the playoffs, but to succeed once there? One of the largest questions surrounding Nash concerns his playoff abilities.
Despite this being his seventh season in the NHL, Nash has only appeared in four playoff games. He managed three points in those four games, but his rather low numbers of appearances in the post-season along with his minus-4 rating in those two games is enough to worry. Think: What would Nash be able to accomplish over a full playoff season? No one really knows.
His inexperience in the playoffs, his contract and what the Leafs would have to trade away in order to acquire him are just three variables that make bringing Rick Nash to Toronto risky. The bottom line is that it only makes sense to pull the trigger on a deal that would bring a superstar to the team if the deal is right.
All things must be considered.
Salary and cap information provided by Cap Geek.
Twitter: @LukasHardonk | Email: lukas.hardonk@gmail.com | Lukas' archive
For every Leafs article on THW, follow @THW_MapleLeafs on Twitter.