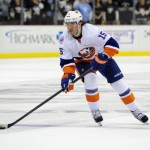 With a big 3-1 victory over the Winnipeg Jets on Tuesday, the Islanders have found themselves just 6 points out of the 8th and final playoff spot with a game in hand on Toronto who currently holds that position.  With 26 games remaining, that is certainly an attainable feat, even for the New York Islanders.  However, the February 27th trade deadline is looming and the Islanders need to make a decision on what direction they plan on heading.
As it stands, the Islanders seem to be pushing for their first playoff bid since the 2006-07 season.  In a recent interview with Islanders play-by-play man Howie Rose, GM Garth Snow spoke of their intentions.  When asked about goalie Evgeni Nabokov and his future with the team, Snow blatanly said he was not being shopped.  And why should he be shopped?  Nabokov is absolutely en fuego right now and has single-handedly carried this team in the month of February.  Another possible trade chip is P.A. Parenteau who is having a career season.  A recent report by TSN's Darren Dreger showed that Parenteau and his agent are holding off on contract talks until after the season.  This isn't necessarily a great sign for the Islanders but Parenteau continues to talk about how he wants to stay with the Islanders long-term.
With all of that said, where do the Islanders fall?  Unless the wheels come off these next few games and they go on a losing streak, I don't see the Isles trading either Nabokov or Parenteau.  If things got worse and they did shop either of these two players, rest assure Garth Snow will not be willing to move either of them for a 4th round draft pick.  They are going to look for an asset (or two) to help this team in the near future.  However, as long as the Islanders are within a sniff of the final playoff spot, I would imagine Garth Snow will either stand pat or maybe even try to add a small piece or two to help this team get over the hump.  I wouldn't predict any significant play for guys like Rick Nash or Jeff Carter (although we all know they have the assets and cap space), but maybe a puck moving defenseman with some size?  Or a depth forward to help provide some balanced scoring?  I could certainly foresee a move of that nature and Islanders fans would have to be happy to see the team making an effort to improve it's current roster.  By this time next week we will know a lot more about how the Islanders season will play out.  Their next 3 games are at St. Louis, and home against Carolina and Ottawa.  If they can come away with 4 or 5 pts from those 3 games, then all eyes will be on Snow to make a move.