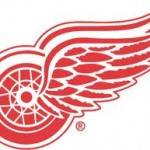 "The free agency era", as most sports have used to coin in, refers generally to the current structure of the industry. No longer will teams be able to dominate like the Boston Celtics did, winning 13 straight NBA titles. Teams who perennially are at the bottom of the standings can buy one or two valuable pieces, and become a contender for as long as those contracts exist (i.e the New Orleans Saints and Arizona Cardinals). Even more restrictions occur when salary caps are placed on a team, so the New York Yankees or Boston Red Sox cannot simply buy free agents they may not even need to stop another franchise from competing against them.
The NHL itself is no stranger to these problems that arise. Teams like the Carolina Hurricanes or Anaheim Ducks seem constantly struggling for consistency. You'll hear stories of the "Cinderella" teams that make their way to conference or even Stanley Cup Finals, but then struggle to keep their core players from leaving for bigger and better things.
In the grand scheme of professional sports, there's one team that has managed to keep consistency throughout the last 20 years. When an NHL fan looks at the standings everyday, one thing never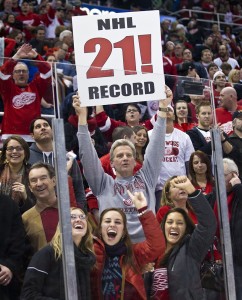 changes: those Detroit Red Wings never, ever lose.
Granted, for about 40 years, the Wings were (not so) affectionately referred to as "The Dead Wings" by fans around the league. In fact, Since their last cup win in the 1954-55 season, Detroit went 42 years without lifting Lord Stanley's Cup.
Then came the 1983 NHL Entry Draft. The Detroit Red Wings selected Steve Yzerman that year. By 1991, The Red Wings would be a consistent playoff team, competing for a cup every season. In fact, the streak stands at 20 consecutive seasons, and likely 21 straight as the Wings sit 1st in the Western Conference as of February 15th. Yesterday night, Detroit added yet another record to their list, winning an impressive 21 consecutive games in their home rink, Joe Louis Arena.
Winners of 4 Stanley Cups in those 20 seasons, 6 cup final appearances, and a staggering 32 playoff series wins, there's not much the franchise hasn't accomplished in the last two decades. In the 1995-1996 season, The Red Wings set an NHL record for regular season wins (62) and points (130), before being upset by the Colorado Avalanche in that year's playoffs. The Wings have won the President's Trophy 6 of the last 20 years, an award given to the league's best team in the regular season. Another notable achievement is the dominance of the league's Selke trohpy, given to the player considered  the league's best "two-way" forward, meaning they play exceptional offense and defense. Detroit has won the Selke 7 times between four different players: Sergei Fedorov, Steve Yzerman, Kris Draper, and Pavel Datsyuk. Nicklas Lidstrom, widely considered one of the NHL's all time greatest defenseman, has also won the Norris trophy 7 times in that span, and Paul Coffey added the team's 8th.
Sure, the Red Wings have added their share of high-profile free agents, including: Dominik Hasek, Brett Hull, Luc Robitaille, and Marian Hossa. However, perhaps the most impressive aspect of Detroit's dominance the last 20 years is the ability to draft well, especially in very low rounds, where you'd expect talent running thin. Here are just a few of the impressive late round picks that Detroit has made in the last few decades.
Pavel Datsyuk– 171st overall, sixth round
Tomas Holmstrom– 257th overall, tenth round
Henrik Zetterberg– 210th overall, seventh round
Detroit also has a tendency to take players from other teams and turn them into valuable pieces for their cup runs. There is a famous story in which the Red Wings bought Kris Draper from the then Winnipeg Jets franchise for one whole dollar. The rest is history, as Draper became one the teams most important players as a defensive specialist who could match up against any teams top line.
There are very few teams in professional sports who have built dynasties like Mike Illitch, Ken Holland, and the Red Wings organization has. Almost all teams will go through a span of several years in which the compete for their respective championships. To do so for over 20 years in almost unheard of, especially in today's current sports climate.
All record numbers courtesy of Detroit Red Wings.com
Draft order courtesy of QuantHockey.com