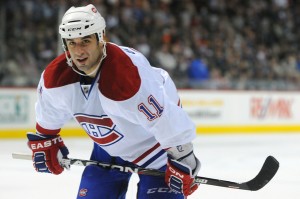 Winston Churchill once said that a pessimist sees the difficulty in every opportunity, while an optimist sees the opportunity in every difficulty.
It's no secret that Habs' fans have seen their share of… ahem, opportunities… this season, but no situation has been more difficult than that of Scott Gomez.
Following a verbal exchange with assistant coach Randy Ladouceur at Habs' practice this week, all eyes are upon Gomez once again.  After snapping his now infamous goal-less drought at just over a calendar year last week, Gomez has been lacklustre; logging just 7:49 of ice-time in the Canadiens' Monday night loss to the Carolina Hurricanes and following that up with a pointless effort against Boston yesterday.
Fans have a seemingly infinite list of reasons to pessimistic about the Scott Gomez situation, and they certainly haven't been shy about sharing their opinions. With a cap hit of 7.35m per season, it's easy to understand why he has become a target for the struggling Canadiens, whose sub-par performance this season has them sitting 12th in the Eastern Conference.
The odds of Scott Gomez recapturing his days as an elite scoring centre in the NHL may be somewhere between slim and none, but for those in need of something… anything, to kick-start to their optimism, here are:
The Top Ten Reasons to Be Optimistic About The Scott Gomez Situation
10. Busted. Ok, let's be honest… there aren't ten good reasons to be optimistic about the Scott Gomez situation. It's a miracle there are nine on this list.
So let's just say that even if nothing good happens, it will be better than it is now. If things continue along their current path, the contract will either have to be buried in the minors or picked up by a cap-floor team, leaving the Habs to pay half the tab. With pockets as deep as the Canadiens', it could make more sense to just pay out the cash and cut their losses. Either way, it would be off the books and the team could move along.
Now, the reasons to optimistic…
9. Gomez is a Stanley Cup champion. He brings experience and understanding to a Canadiens squad that will sorely miss the likes of Travis Moen and Hal Gill, should certain trade deadline whispers come to fruition. The added leadership presence required of him next season could light a fire and help to redefine his game.
8. The healthy return of Brian Gionta. Rumour has it that part of the reason Bob Gainey was willing to take such an enormous risk on the Gomez contract was to sweeten the pot for then-future captain Brian Gionta's signing. The former New Jersey teammates won a Stanley Cup together in 2003 and remain good friends off the ice. When Gionta returns to the line up next fall, Gomez will look to benefit from the rekindling of some old chemistry.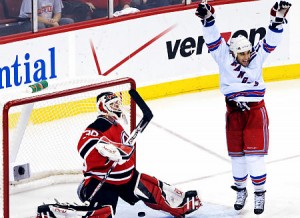 7. His age. It seems like Scott Gomez has been in the league forever, which can be a major factor in people's decision to brand him as over the hill. But at 32 years of age, Gomez still has plenty of time left on the clock to turn things around. Remember, the Alaska native was taken in the first round of the 1998 Entry Draft, the same year as not-so-washed-up players Vincent Lecavalier, Simon Gagne, and Mike Ribeiro.
6. The injuries. Let's face it, the past year has been a disaster in terms of production. There's no hiding that, but there is something more to the story than Gomez simply forgetting how to play hockey. During his "year-long" scoring slump, he appeared in just 53 games, less than two thirds of an actual season. And about half of that time, he was fresh off of injury and clearly not at 100%. He and Gionta could use the services of health centre directory or something similar. Surely, his luck will turn for the better at some point, and more quality appearances can only help Gomez to find some scoring consistency.
5. The pre-season.  Meaningless as it may seem, the 2011 preseason may be one of the best reasons for optimism concerning Scott Gomez's future. Coming into training camp, word was that Scott Gomez had spent the summer working relentlessly and was in the best condition of his career. He was saying all of the right things and beaming confidence. In four appearances, he scored three times and was noticeably quicker on the ice. If not for the aforementioned injury bug, who knows how the season might have played out… hopefully we'll get to find out next year.
4. His teammates. Anyone who has played team sports knows that the relationships within that environment are often defined by the level of effort on the field of play. Even throughout one of the most publicized scoring slumps in recent memory, no member of the Montreal Canadiens was quoted as saying a single disparaging word about Scott Gomez. There were no on-ice skirmishes at practice or half-jokes at his expense. He has been treated with nothing but the utmost respect by the people who see the work he does on a day-in, day-out basis. And if Gomez is working hard enough for them, he's working hard enough for me.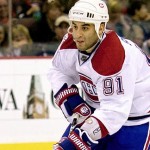 3. The coaching situation. If you were a high-earning, low-producing, scoring centre coming back from a major injury, under the scrutiny of the largest media spotlight on the planet (and desperately needing to score a goal), how would you feel about playing Jacques Martin's system? Or maybe you'd prefer to play for his defence-first, Anglophone rookie replacement?
Whatever happens with the Canadiens' coaching and management situation, the immediate result will be at least short-term stability. Simply knowing what to expect and having a full off-season to prepare should allow Gomez, along with a few others in the organization, to step up their game.
2. The development of the players around him. Let's face it, Scott Gomez is a puck-possession type player who does his best work in the neutral zone, with a full head of steam. He is not exactly known for his propensity to drive the net or unload the big shot. He needs to be surrounded by players who are big, strong, and know how to get to the difficult areas on the ice. With the continued development of Max Pacioretty and Mike Blunden, as well as the addition of Erik Cole, the Canadiens find themselves with more sandpaper among the forward ranks than they have had in years. Finding a combination that suits Gomez's skill set should, at least in theory, be getting easier.
1. It has to get better. The number one reason for having optimism about the Scott Gomez situation is that it simply must get better than it is right now…mainly because it can't get any worse. Even a return to Gomez's disappointing 2010/11 numbers would represent a significant improvement over the disaster that has been 2011/12. 7 goals and 31 assists may not seem like a lot of production for what Gomez is being paid, but it's a whole lot better than a goal and 7 helpers for the same price.
At this point next year, the Montreal Canadiens will simply not be paying a player $7.35 million in exchange for 1-7-8 score line. One of two things will happen; the player will improve or the contract will be dealt with (buried, bought out, claimed on waivers, etc.).
Either way, Habs fans will be happy to toast to closure with a glass half-full.