Are the Flyers really sold on Steve Mason? Forgive me for being skeptical, but the Flyers' goaltending misfortunes has been a series of ongoing horror movie sequels with the villain still at large. It seems as though, however, that the Flyers finally have their man in Steve Mason. But is Mason and his .907 career save percentage really the answer in Philadelphia?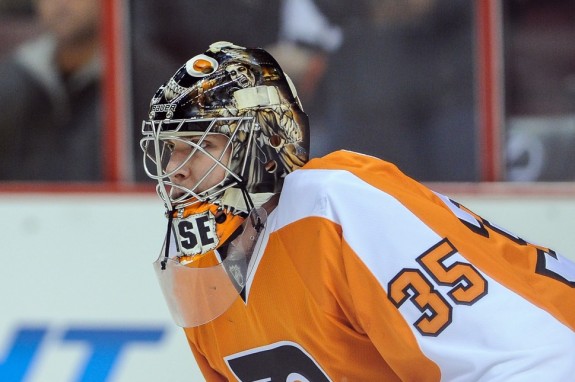 Is Mason's Change In Scenery The Answer In Philadelphia?
When something is too good to be true, it usually is. No organization knows this better than the Flyers, who changed the entire landscape of their organization to accommodate Ilya Bryzgalov's nine-year, $51 million contract in 2011. So when GM Paul Holmgren acquired Steve Mason from the Columbus Blue Jackets for Michael Leighton and a third-round draft pick, the Flyers were finally getting a goalie with lowered expectations, despite Mason's 2009 Calder Trophy.
Although Mason never found his rookie form in Columbus, Philadelphia's front office still saw potential. Columbus, on the other hand, was fed up with Mason's declining production, which included a save percentage that dipped every year in Columbus. Mason, who went 1-1-0 against his former team this season, appeared to be equally frustrated with the Jackets.
Yes indeed, Steve Mason allowed at least four goals SEVENTY SIX TIMES with the Blue Jackets. http://t.co/9WkoiGcgd6

— Sean Gentille (@seangentille) December 7, 2013
"As this season has gone on, it's not something I've really looked ahead to," said Mason before his first start against Columbus. "I have nothing to prove to that organization. They gave me this chance to come here. To have that fresh opportunity, there's no hard feelings whatsoever."
Since being granted a fresh start, Mason has appeared to finally be the answer in Philadelphia in net. In 66 appearances, including last season, Mason has posted a 36-20-7 record, while he finds himself in a playoff hunt for the first time since his only other 30-plus win effort. The 25-year-old is now one win shy of equaling his career best in wins, where Mason ended his rookie campaign with a 33-20-7 record.
"We've done a great job of going up against some of the best teams in the league and coming out on top," explained Mason. "Finding ways to win hockey games that aren't easy to win. It says a lot about the guys in this room. And the claim they have in Chief's [Berube] system.
"To be in this position is something to be proud of but no one is going to be happy until we get into the playoffs securely and start making some noise."
With a re-birth to his career, why the skepticism? After all, Mason and his 59 appearances this season show how heavily the Flyers have relied on the 6-4, 217 pound goalie. And while the jury is still out on Mason, there is a reason why Holmgren has taken it slow with locking him up longterm.
https://twitter.com/FredPoulin98/status/321358055159762944
https://twitter.com/NHLSourcesSay/status/352197192766853120
After going 4-2-0 for the Flyers last season, Mason signed a one-year deal, worth a modest $1.5 million. In January, Holmgren again gambled on Mason, giving him an extension that will pay Mason $12.3 million over three years. And while the money may seem like a bit much, it is only a $4.1 million cap hit for a shorter term than the average NHL starter.
"Considering Mason's lengthy struggles in Columbus, many will mock this extension. Still, Flyers GM Paul Holmgren didn't seem too concerned with the snickers he received for acquiring the former Calder Trophy winner when his value was at an all-time low, and Mason paid off handsomely for the team.

"We'll see over the next few years if this was another costly gamble in net for the Flyers or if he might provide the affordable answer they've been seeking." — ProHockeyTalk
Trading The Answer In Philadelphia?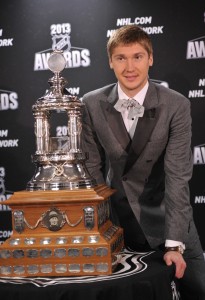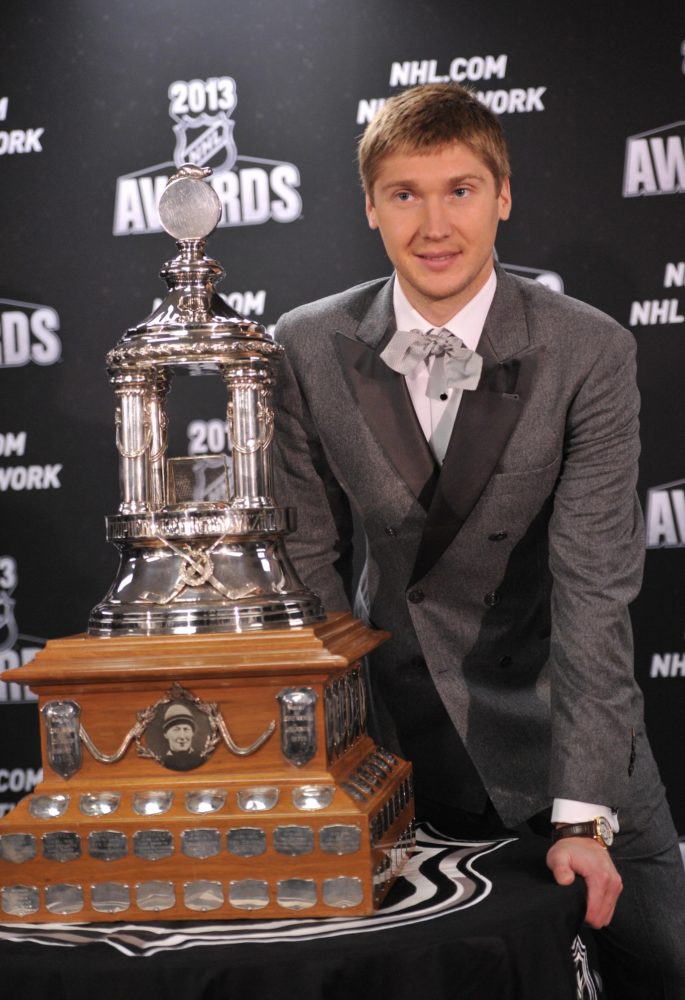 The Columbus Blue Jackets, of course, didn't give Mason away for a bag of pucks without a plan. In 2012, the Jackets acquired Sergei Bobrovsky from the very team that took Mason off their hands a year later. And while the change in scenery appeared to benefit both goalies, it was Bobrovsky who would go onto win the Vezina Trophy with a 21-11-6 mark with the Jackets last season.
"'Bob' received 17 first-place votes, eight seconds and a third. He totaled 110 points, doubling the total of the Rangers' Henrik Lundqvist, who finished second with 55 points.

"The 24-year-old Russian goalie also finished fifth in the MVP voting.

"In other words, the Flyers' impatience turned into gold for the Blue Jackets." — philly.com
Yes, the Flyers may have given up on Bobrovsky too soon, especially when it was in lieu of the league's most prolific philosopher, Ilya Bryzgalov. But that's simply hindsight; furthermore, Bobrovsky and Mason share more in common, as in number of playoff wins. Both goalies are not only winless in postseason play, they also have a career playoff save percentage below .900.
But while Bobrovsky has continued to thrive in Columbus, Mason has cooled the annual goaltending outrage in Philly so far. The former scapegoat of Columbus has three more wins than Bobrovsky in as many more starts; that's six more points Mason has given his team than "Bob" has given the Jackets. And although Mason has given up 17 more goals than Bobrovsky, he's also seen 91 more shots on goal.
"Right away when he got traded you could see the fire in his eyes," said Flyers teammate Jakub Voracek, who played with Mason in Columbus. "When I saw him the first time [with the Flyers], it was like he got released from prison. He was excited to play hockey."
"The last three years in Columbus have been a drain from a mental standpoint," Mason said.
"There have been so many negatives there, so to come here and get a fresh start with a new organization and new teammates, it's just a breath of fresh air," admitted Mason. "I'm really looking forward to it and savoring it."
The Final Answer In Philadelphia
Throughout his brief tenure in Philadelphia, Steve Mason has seemed to have found his rookie season form. Mason, nicknamed "Stone Cold," has strung together five separate winning streaks of three or more wins, while suffering three different consecutive regulation losses. Not only has Mason defeated Metropolitan Division rival Pittsburgh twice, his 25 save performance on Mar. 15th contributed to one of his four shutouts on the season.
But the number of goals Mason has allowed isn't the issue that should raise eyebrows in the city where goalies go to get devoured. It's the number of soft goals that Mason has given up throughout his career, which has carried over into Philadelphia.
Soft goals in games against Boston and St. Louis, just to name two off the bat, have prevented Mason from increasing an average .916 save percentage. And since the Olympic break, Mason has given up three or more goals in seven out of 15 games. Despite the Flyers touting the league's sixth best penalty kill unit, thanks to the emergence of Sean Couturier, Mason's .891 save percentage on the kill is even more disappointing.
In Mason's last 15 appearances, Stone Cold has been ice cold on the PK. Not only has he given up nine power play goals throughout that span, he's also given up a goal when down a man in three-straight games. But despite Mason's 4-7 overtime record, which includes his 3-5 shootout mark, Philly's beat up defensive unit has taken their brunt of the blame.
"The Flyers are one of the worst shootout teams statistically, they rank 22 out of the 30 teams for shootout statistics. The Flyers have not won one single shootout at home this season; all of their wins have come on the road.  The Flyers rank 23rd in home save percentage with .583 and rank 27th in road save percentage with .590. At home, the Flyers have scored only 3 shootout goals and on the road, have scored 11. That's a big difference in goals scored." — FanSided
With all of these concerns surrounding their new number one, Mason still stands as one of the most applauded Flyers this season. Mason's skill set and past success has given him a second chance to resurrect his career, a chance he's cashed in on to this point.
Since having a talk with Bernie Parent last Sunday, Steve Mason has a 1.34 GAA and a .968 SP _ and two shutouts _ in three games. #Flyers

— Sam Carchidi (@BroadStBull) February 4, 2014
"Well I think if you look at this season in a nutshell, he was good when the team was real bad early in the year," said Holmgren. "In the last little while as the team's gotten better, I think Steve's been up and down a little bit. We certainly expect him to get better over the next three-and-a-half years, or three-plus years, whatever this is, with the team and grow with the team. He's a good goalie and we believe he's going to get better. That's why we did what we did."
If Steve Mason isn't the answer in Philadelphia, he's done a fine job of fooling a lot of people. Unfortunately, I'm not one of them. I'm just tired of the goalie carousel in Philadelphia. Here's to hoping he changes my mind.