On March 5th 2014 Lightning captain Martin St. Louis was swapped with Rangers captain Ryan Callahan along with a first round pick in 2015 and a second round pick in 2014 from the Rangers causing much controversy in Tampa Bay. Although much of the hype has died down by now, the deadline deal stunned many.
How It All Happened
Rumors of began after sources discovered that St. Louis had a talk with Lightning general manager Steve Yzerman after being left of the Canadian Olympic team. Yzerman was also the general manager of team Canada. St. Louis was eventually added to the roster after it was discovered his teammate Steven Stamkos would be unable to recover in time from his broken tibia before the Olympics.
The rumors had no way to be confirmed as Erik Erlendson, beat writer for the Tampa Tribune wrote "Neither St. Louis nor Lightning general manager Steve Yzerman, also the GM for Team Canada, has addressed the validity of the reports, with St. Louis offering only that he 'discussed his future with Steve.'"
With St. Louis' no-trade clause, it made sense that he would go to New York, the city of his home. The deal went through only hours before the trade deadline, even though speculation of the captain swap had been going on for over a week before.
Callahan Shows Promise
Callahan has been shuffled in with various lines but has shown success in almost every situation with the bolts. Since joining the Lightning Callahan has had 6 goals and 5 assists in 16 games averaging 0.6875 Points per game. With Tampa Bay, St. Louis was averaging 0.9838 points per game over 62 games. One very large factor as to why Marty was averaging more points than Callahan was the injury to center Steven  Stamkos. St Louis played the majority of his games averaging almost 22 minutes per game on the first line with Johnson and Palat. With Stamkos back in the lineup, Callahan is being forced to produce on the 2nd and 3rd lines with less playing time than St. Louis.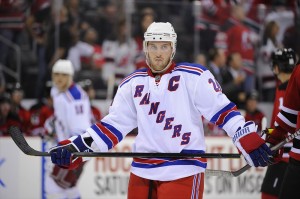 Callahan also adds another aspect to the young bolts team that St. Louis could not provide, physicality. This season he has averaged almost 9.44 hits for every 60 minutes he plays, ranking him 31st among NHL forwards according to ESPN's hit statistics. With the small, agile team the Tampa Bay has now it helps to add a forward with a physical presence to add variety to the lineup.
Was Yzerman Right?
With a lack of production from St. Louis in New York, and an equal caliber player coming to Tampa with two draft picks, it looks like the Lightning won this trade, or did they? Callahan may only be a rental for the bolts. With his contract expiring, the veteran forward will become and unrestricted free agent at the end of the season. It is believed that the former captain of the Rangers will be looking for a monster contract that the Lightning will likely be unwilling to offer him. Also, if Callahan re-signs with the bolts, they will be forced to give up a 2nd round draft pick to the Rangers. With Tampa being a long shot for the cup due to inexperienced players and questions at goaltender, renting Callahan for a quarter of a season may not have been the right move to make.
LastWordOnSports sums it up very well in this article.
While it may not have been the right move for Yzerman, it may have been the only move. With St. Louis asking for a plane ticket to New York, and time closing on the trade deadline, Yzerman didn't have many options. Only time will tell whether or not Yzerman made the right decision with the captain swap.