It was only a week ago when fans of the Boston Bruins had visions of an unlikely Atlantic Division lead.
The Montreal Canadiens were plummeting back to Earth after a string of four straight losses gave Boston hope they could claim top spot thanks to an 11-1-3 run. With three games in hand, it was a question of when they would take the lead instead of if they would.
One week later, the Bruins trail the Canadiens by three points with the Florida Panthers and Detroit Red Wings ahead of them in the standings. Things have gone cold for the Black and Gold with three straight losses to St. Louis, Buffalo and most recently Ottawa on Sunday night.
Krug is now day-to-day w/ an undisclosed injury; Krejci is week-to-week w/ an upper body injury, per Julien.

— Boston Bruins (@NHLBruins) December 28, 2015
To rub salt in the wound, defenseman Torey Krug and first-line center David Krejci are both currently battling the injury bug. While things look good for Krug ("Day-to-day") to return to the lineup fairly soon, the news of Krejci's "week-to-week" status is one of great concern to the Bruins.
With some difficult opponents facing the B's in the days and weeks ahead, things in Boston are starting to trend in the wrong direction at a very inopportune time.
The Czech Effect
http://gty.im/498961436
It's no secret that Krejci is an important cog in the Bruins offense.
The 29-year-old center has motored along this season with a team-leading 33 points in 35 games. He has factored in over 30-percent of Boston's 108 goals scored this season, scoring 11 and assisting on 22 more.
However, things will be different as Krejci will miss some time due to a "upper-body injury". What appeared to be innocent-looking contact by Senators forward Bobby Ryan during Sunday night's tilt is now something that will keep the Czech forward out for the foreseeable future.
If last season was any indication, the Bruins offense may suffer a bit in Krejci's absence. In the 35 games he missed last year, Boston was 16-13-6 averaging 2.40 goals-per-game while allowing 2.63.
The Black and Gold were noticeably better with Krejci in their lineup, going 25-14-8 and averaging 2.75 goals a game in the 47 games he played.
Spoonman?
Julien on Spooner: "You're given an opportunity here to step up for your team & to step up for yourself & say, 'Listen, I can do this job.'"

— Boston Bruins (@NHLBruins) December 28, 2015
In his absence, Ryan Spooner will likely occupy his spot centering Matt Beleskey and Loui Eriksson. While the young center has posted 22 points in 35 games primarily on the third line and should improve his point total, the real question is whether Spooner can improve on his possession numbers.
The 24-year-old has only won 41.7-percent of his faceoffs this season (compared to 49.8 for Krejci) and has a Corsi-For of 47.2-percent (51.4 for Krejci). Spooner is not exactly the most reliable player in his own zone and is a downgrade from the two-way consistency Krejci offers night in and night out.
Can the Bruins' third-line center serve as a serviceable replacement for their top playmaker in all three zones?
Third Period Woes
One of the many keys to Boston's recent success prior to their current form was shutting down opponents in the final 20 minutes. Prior to their game against the Blues last Tuesday, the Black and Gold allowed just eight third-period goals in their previous 19 games.
They have allowed as many goals in the final frame over the last three games. Yes, three of them were scored without a goalie guarding the net but it speaks to the breakdowns in coverage that have taken place.
As an example, it's probably not a good idea to give Blues' sniper Vladimir Tarasenko a breakaway when he's one of the up-and-coming goal scorers in the game. Sure enough, his goal proved to be the game-winner.
Rookie Jack Eichel factored in on three of Buffalo's five third-period goals on Saturday night. Boston had kept the former Boston University Terrier fairly quiet for most of the night and then strayed away from what had worked for the first 40 minutes. That cost the Bruins dearly as they got sucker-punched and couldn't recover.
Old habits that dragged them down in the first three games of the year have reared their ugly head again, costing the Bruins precious points in the standings.
Now What?
Boston faces some formidable foes over the next few weeks.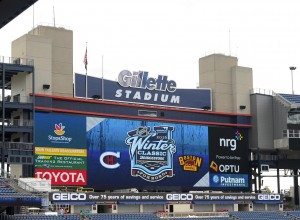 The back end of their home-and-home with Ottawa kicks things off Tuesday night as the B's will look to end their slide and gain some traction just in time for their New Years Day date with the Canadiens at Gillette Stadium. The Winter Classic between these two hated rivals is a massive matchup between two teams who are looking for that signature victory to potentially turn their seasons around.
Boston would ideally love to go into that game on Friday with confidence as they meet a Montreal side who is falling like a stone without star goaltender Carey Price.
Three nights later, a date with the Eastern Conference leading Washington Capitals await the B's. The Caps are one of the NHL's hottest teams with a goaltender in Braden Holtby who has owned the Bruins in his career. In addition, they have a lethal offense led by Alex Ovechkin, Nick Backstrom and Evgeny Kuznetsov.
Boston then sets sail on a five-game road trip with key visits to Ottawa, New York to face the Rangers and Philadelphia. It will be a good test of the Bruins' credentials without the services of arguably their top playmaker in Krejci.
It's not time to smash the panic button yet on Causeway Street but Boston's recent slide should have fans a little concerned about where they will go from here. In such a tightly packed division and conference, a prolonged losing streak could be the difference between participating in postseason hockey at the Garden or merely watching it from the couch.