by Eldon MacDonald (edited by @ChrisRalphTHW)
NHL Draft War Room: Zach Werenski
Ranked #9 – March 2015 Rankings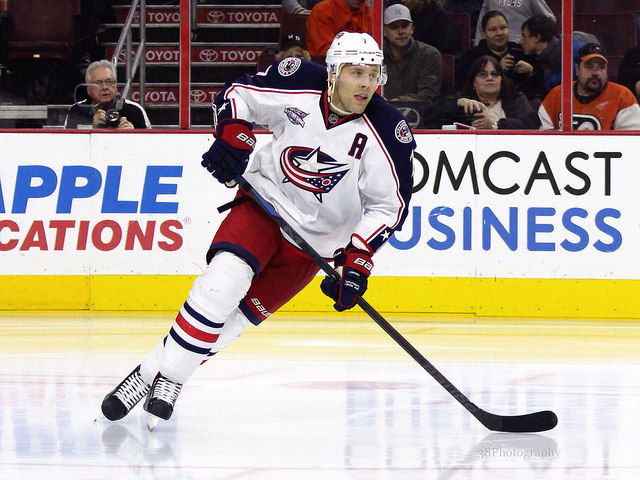 Hashtag: #MrPotential
Team: 13, University of Michigan, Big Ten
Position: Defense
Shoots: Left
Height: 6'2
Weight: 214 lb.
Born: Grosse Pointe, MI, 19-Jul-97
Twitter: @ZachWerenski
Stats
Other Rankings
THW's Draft War Room: Mr. Potential
Eldon MacDonald, THW:  A few words on Zach Werenski:
Mr. Potential: As Yogi Berra, the legendary New York Yankee Catcher and General Manager once said, "It's like déjà vu all over again". Remember the 2012 draft, there was this top two-way defenseman who was really rock solid and was projected to go in the top three in the draft. He actually went number two (Ryan Murray to Columbus). Does this sound like the description and situation in this year's draft of one Mr. Noah Hanifin of Boston College – yes, it does!
There was this other defenseman in the 2012 draft, a 6'2, 200 lb. offensive defenseman (played with the Team USA U18 NTDP) with a big shot who was ranked in the 9 to 12 range for the most part and went on to play for the University of Michigan. He ended up going 9th overall and you would know him today as Jacob Trouba of the Winnipeg Jets. Is this sounding like Zach Werenski – yes it does!
Ryan Murray (although plagued by injuries) is likely to be that rock solid defenseman for Columbus. It is Jacob Trouba, however, that is likely to become the bigger star as the power play quarterback with the big shot and the ability to throw the big hits. Like Murray, Noah Hanifin is rock solid and will no doubt be a solid defenseman in the NHL. However, it is Zach Werenski that has the potential (I use the word potential because there are no guarantees it will happen) to be that big star type – size, skating, big shot, high energy, wants to be a difference maker. Noah Hanifin is far ahead of Zach Werenski today in the defensive side of the game; however, it is Zach Werenski who shows the most promise as that offensive defenseman who runs the big, successful power play for your team. Personally, I felt Zach showed more on offense at the IIHF U20 this year than Noah Hanifin and is continuing to show excellent offense at the University of Michigan (25 points in 35 games and a +9).
Keep in mind Zach Werenski is the youngest player in the NCAA this year and the youngest player ever to play for the 75 year-old Red Berenson in his 31 year remarkable stay at the University of Michigan. I don't think Zach has reached anywhere near his full potential – game on, Noah!
Five Reasons Why Zach Werenski Could Be the First Defenseman Selected in the 2015 NHL Draft
Power-play quarterback: You want a big power-play quarterback with all the shots, high-end skating and agility, the ability to excel under pressure, the energy to pour it on when it counts and the willingness to be a difference maker – you want Zach Werenski.
Difference Maker: Shows the passion to succeed that all difference makers seem to have.
High energy: Loves to push the play.
Pressure Resistant: Cool under pressure; he seems to excel when the game is on the line.
Decision Maker: Dictates the pace of the game.
https://twitter.com/ShawnTHW/status/577219371292065792
Offense
Shooting: One timer, wrister, slapshot – elite; accuracy and release as well.
Skating: Fast and agile – a major strength.
Hands: Strong puck handler
Stickhandling: Loves to go for the deke or make the feint – it is a natural ability for him.
Breakouts: Good outlet passes plus an ability to carry the puck.
Defense: Ask him, he will likely tell you that he has gotten by so far as an offensive defenseman. His main assets on defense have been an active stick, a good breakout and the ability to read the plays. However, he will also likely tell you that his core defense (physicality, one on one, gap control, positioning, angling) is nowhere near that of his frequent defensive pairing and roommate on the road of last year, Noah Hanifin. He has worked hard to bring up this side of his game. Don't be too fooled by his modesty as his defense right now is really not that bad. What scouts will be looking for with Zach is a progression because that is what becoming a defenseman is all about, a progressive learning experience.
http://t.co/XjymQcv3NG
#10 Zach Werenski @ZachWerenski
2015 – 13GP 5G 6A 11PTS. Heavy offensive weapon & able to read the developing play.

— ISS Hockey (@ISShockey) March 12, 2015
Awards and Achievements
2013-14 – Gold Medal – World U17 Hockey Challenge – Team USA
2014-15 – Youngest player to play for Red Berenson (1984-2015) at the University of Michigan
2014-15 – Big Ten – University of Michigan – First All-Star
Improvements to make: Zach is still very raw on the defensive side of the ledger as mentioned previously. The three biggest issues he needs to continue to work on are:
Physicality – Zach's could make an exponential upgrade to his game if he were to increase his physicality and aggression in one on one and puck and board battles.
Defensive game – The defensive side of Zach's game is still quite raw. He is working hard to improve upon the technical side of his defense.
Leg strength – Zach needs to improve his leg strength so that he is more stable on his skates and can be more successful in moving opposition players from in front of the net or along the boards.
NHL Projection: Zach looks to be a go-to option as a successful power-play quarterback in the NHL. If continues to progress at his current rate, a first pairing is likely as well – top 4 as a floor.
Draft placement: This is where it gets exciting. I currently have him at 9th (where Jacob Trouba went). Most others have him bunched in the 6 to 10 range. Could one team take the plunge and select one Zach Werenski as the top defenseman in the draft believing that they had snagged an elite power play quarterback. Stay tuned for the draft in June. As Yogi Berra once said, "It ain't over 'til it's over."
Quotable
Interviews
Interview 1: Maizonbrew.com – David Malinowski – 1-Mar-15
Interview 2: The Pipeline Show – 17-Feb-15 (Audio)
Interview 3: MI Hockey – 29-Sep-14 (Video)
Draft-eligible defenseman Zach Werenski of Michigan earns first team All-Big Ten honors. Still only 17 years old.

— Ryan Kennedy (@THNRyanKennedy) March 16, 2015
Profiles
Videos
[catlist categorypage="yes" numberposts=3 excludeposts=this]
Chris is THW's senior draft/prospect analyst and a Managing Editor. Watch for "The Next Ones" Prospect Profile series, exclusive rankings, mock drafts, as well as the annual THW NHL Entry Draft Guide. Follow @ChrisRalphYQ on Twitter as he infiltrates, dissects and analyzes all happenings of hockey prospects and the NHL entry draft. Email: cralph[at]thehockeywriters[dot]com