Zach Werenski THW Close-Up:
Date of birth: 7/19/1997
Place of birth: Gross Pointe, Michigan
Ht: 6'2″     Wt: 214 lbs
Shoots: Left
Position: D
NHL Draft Eligibility: 2015
Twitter: @ZachWerenski
THW The Next Ones Rankings (February): 10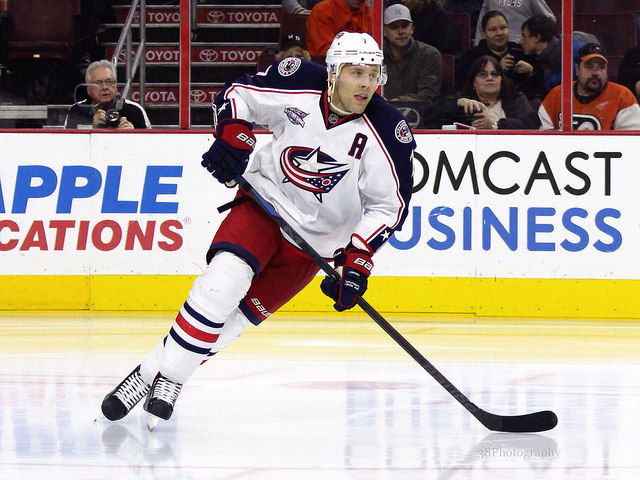 Other Rankings:
THW War Room Rankings (January): 9
HockeyProspect.com (February): 9
Last Word On Sports (February): 6
Craig Button (March): 6
CS Final Rankings for North American skaters (January): 6
***
This isn't the opinion of the majority, but I feel that Zach Werenski is the best defensemen available in the draft. That's not a shot at Noah Hanifin, however, from what I've seen from Zach Werenski in the NCAA and at the World Juniors, for my money he's your best bet in bolstering your blueline.
Werenski is a Michigan native and decided to stay close to home and play for the powerhouse Michigan Wolverines. As a freshman, he leads all defensemen in points and is starting to pick up momentum leading into the draft. Werenski is a prototypical two-way defenseman that can rush the puck up the ice, but also shut down the oppositions best lines in the defensive zone.
He could stand to gain a few more pounds, but overall he has the size NHL teams will be looking for on the backend. Zach is fine carrying the puck, but his best asset is being able to slow the game down and control the pace. He excels in passing out of the zone and maintaining offensive pressure.
Not one to shy away from using his body, Werenski works hard in the corners and in front of the net clearing lanes for his goalie to get a good sightline on pucks. Defensively, his skating allows him to get back into position. A very polished defender with excellent hockey sense, Werenski will make smart decisions in cutting down angles and breaking up plays.
I wouldn't be the least bit shocked if he ends up being the first defenseman off the board. He's that good.
Where Will He End Up In June:
Werenski could very well be a top five selection in the draft, but I'd peg him in the 6-8 range.
Scout's Honor:
"Smart and reliable two-way defenseman…shows skill at both ends of the ice…is a good skater with a smooth stride and fluid movements…handles the puck well with decent hand-skill, good strength and some elusiveness with it as he moves through the neutral zone…makes a great first pass and outlet…has good poise and vision with the puck on his stick…has a decent wrist shot, which he'll take from the point…isn't overly physical on defense and he needs to play tougher and meaner than he does…has good reach and he uses his stick well to take away lanes and force players wide and off the puck…poised on defense and recovers well. (August 2014)"
"A slick, mobile defender who plays a pressing offensive style. Accelerated his schooling in order to attend the University of Michigan as a 17-year old, which is a rarity. Already seeing prime ice time, including top powerplay minutes and a regular top four shift with Florida Panthers prospect Michael Downing. Strong puck handler and a resourceful, heads up puck mover. Eats up the ice with an effortless and powerful stride. Boasts clever one on one feints plus a natural ability to escape. Senses how to create time and space to feed the breakout with smart outlet plays. Fuels quick transitions when sticking to a simple play on attack. Overextends himself at times and fails to properly let plays develop, and will force things. Always eager to bolt into the rush, acting as a third man high. Will need to learn to be more sensibly when on the attack, showing an ability to operate into the teams system. Not overly big or hostile, but brings a fairly steady compete level, needing to increase it with more aggression in puck battles. Loses structure defending, gravitates towards the puck and leaves the crease unprotected. Gaps are an area of development, struggling with his appreciation for time and space, will fail to step up and take away prime routes to the net. Despite that, he does show impressive tools and should adapt his game once he has a better feel for the speed of the NCAA. Possesses all the tools that you look for in a top four offensive defender at the next level, one who has the tools to positively impact the powerplay while managing the puck smartly in all four zones. Enjoyed some impressive early success at Michigan despite some issues. Owns the ability and pedigree to make some slight improvements in his game-reading ability and makes adjustments to the speed at this level."
"With 18 points in 22 games as a freshman, and playing some big minutes for the Wolverines, Werenski is settling in nicely at the NCAA level. Like Noah Hanifin, he is another 17-year-old who accelerated his education and is one of the youngest players in the NCAA, making his output even more impressive. Werenski was also part of the United States team at the World Juniors this winter.  He is a mobile, two-way defender who is not afraid to be physical in his own end of the rink.  He can battle in the corners and works to clear the front of the net.  He's also been known to throw a hit if a forward comes down his side of the rink with his head down, though does not go out of his way and get himself caught out of position to do so.  Werenski possesses high-end offensive ability with good passing skills, and strong ability to handle the puck and quarterback things from the blueline on the powerplay."
Ben Kerr – Last Word On Sports
Statistics:
Bio/Interview(s)/Links:
International Tournaments:
Werenski has played for Team USA twice in his career and has won a gold medal.
ETA:
1-2 years
Risk/Reward Analysis:
Risk: 1/5   Reward: 4.5/5
NHL Potential:
Top-pairing two-way defenseman
Strengths:
Smooth skating
Great outlet passes
Carrying the puck
Dictates the pace of the game
Passing
Two-way play
Cutting down angles
Defensive awareness
Can quarterback a powerplay
Hockey IQ
Flaws/Aspects He Needs To Work On:
Adding more muscle to his frame
Fantasy Hockey Potential:
Offensive: 6.5/10    Defensive: 6/10
NHL Player Comparison:
– NHL comparison: Jack Johnson
Video(s):
***
THW's The Next Ones prospect profile template design architect: Chris Ralph