The Islanders have ridden terrific goaltending to Eastern Conference prominence, but their greatest asset will be diminished as the Christmas recess concludes.
Starting goalie Jaroslav Halak was placed on injured reserve Dec. 27 with an upper-body injury, meaning primary goaltending duties will fall to backup Thomas Greiss for the next week. (Halak's IR stint is retroactive to Dec. 21.)
The Isles have called up Christopher Gibson from Bridgeport to take Halak's place on the roster, but make no mistake: this is Greiss' torch to carry.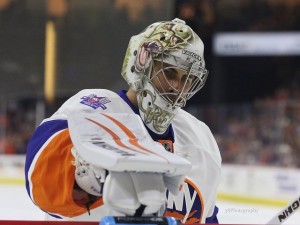 For some teams, the prospect of asking the backup goalie to assume the starter's role would be daunting. For the Isles, it's hardly a concern. In fact, there's a case to be made Greiss offers the Islanders an upgrade in goal over Halak, but the team is compromised nevertheless: there's no longer an insurance policy between the pipes.
As long as Greiss stays healthy over the next few games, the Isles should march on without skipping a beat. The 29-year-old netminder has been a revelation so far this season, posting a 9-4-2 record with a 2.03 goals against average and .933 save percentage. It's the first time the Islanders have had a serviceable backup since the days of Chico Resch (a lesser case to be made here for Kelly Hrudey), and the results speak for themselves.
The test, with Halak out, doesn't necessarily concern the Isles as a whole. It's not as if they need to account for a liability in goal by suddenly playing a better all-around game – what critics asked of the Canadiens when Carey Price went down early this season. (And boy, did the Habs answer.) The Islanders have relied on strong goaltending all year, and will continue to receive it with Greiss stepping in.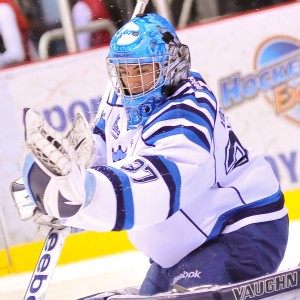 The burden of proof is more squarely on Greiss. He has put together an excellent season to date, but almost exclusively as Halak's backup; his entire career, in fact, has consisted of fill-in assignments and stopgap work. He's never started more than 20 games in a season, and rarely more than three in a row. Now, thrust into the starting role, it's up to Greiss to validate what he's accomplished so far for the Isles.
His results so far suggest he's up to the challenge, but it won't be easy. Including Sunday night's game against Toronto, Greiss will likely start the next five games for the Islanders, a stretch that culminates in a back-to-back against Pittsburgh and Dallas next weekend. By then, Halak will be ready to return and Greiss will either be exposed or validated.
Ultimately, it's a small chunk of a big season. Come April, this week will be but a footnote, a distant memory, an indistinguishable string of games that blends into so many others like it.
But right now, the implications seem larger. It's up to Greiss to determine the outcome.