Our first big trade of the 2022-23 season went down early yesterday evening. The Vancouver Canucks dealt Bo Horvat, who had long been in the rumor mill, to the New York Islanders in exchange for a conditional 2023 first-round pick, Anthony Beauvillier, and the Islanders' top prospect — Aatu Raty. The first-round pick the Islanders gave up is top-12 protected and becomes an unprotected 2024 first if the Islanders end up with a top-12 selection in 2023. Who came out as the winner in this trade? Let's take a look. 
Islanders' Gamble Could Backfire
The Islanders have needed a scoring upgrade for quite some time. Aside from Mathew Barzal, the team lacked any true game-breaking offensive producers, and even then, he only has 12 goals and 43 points in 51 games this season. He's far from the elite shooter and scorer that the Islanders have been seeking. 
---
---
In acquiring Horvat, general manager Lou Lamoriello addressed that need. He has 31 goals and 54 points in 49 games at the all-star break. Granted, he's shooting an unsustainable 21.7 percent, but he's still a plus-finisher. In his previous two seasons, he shot 15 percent, so he can put the puck in the back of the net. He ranks in the 96th percentile in finishing over the last three seasons, though his shooting bender in 2022-23 has some to do with that: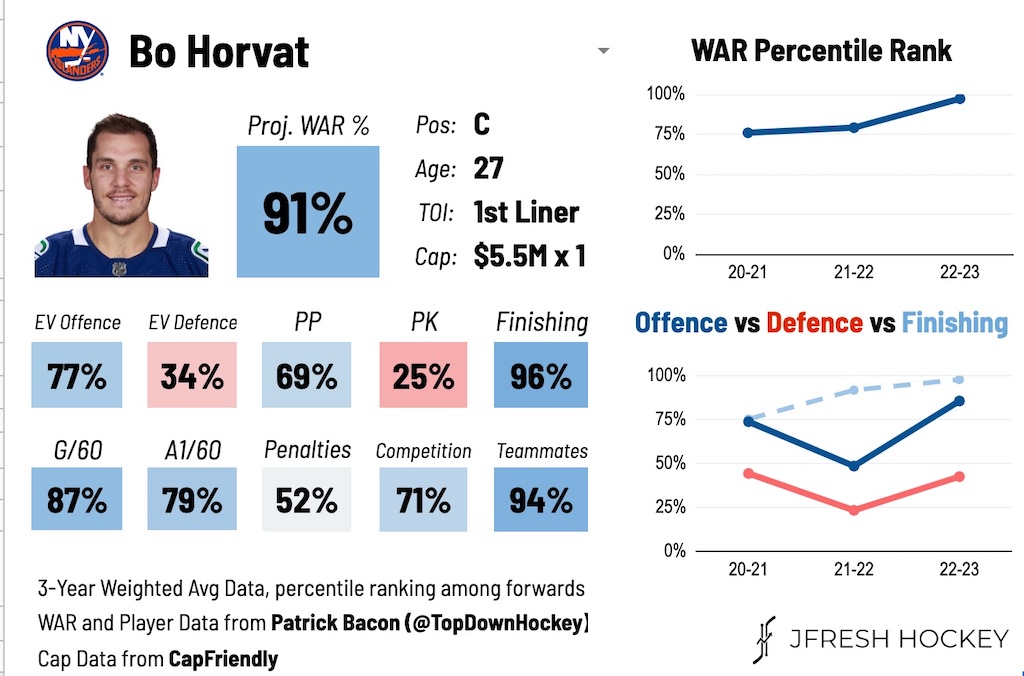 The Islanders did address a need, but was it really a move they should've made ahead of the trade deadline? They're two points behind the Pittsburgh Penguins for eighth place in the Eastern Conference, but Pittsburgh has three games in hand on the Islanders. In Dom Luszczyszyn's model at The Athletic, the Islanders' playoff chances only increased from 14 to 19 percent. In Micah Blake McCurdy's model over at HockeyViz, they'll likely only jump a percentage or two. 
Though a heater coming out of the all-star break would change those odds, their playoff chances for this season look grim. However, Lamoriello said this move isn't just about this season and that they're looking to re-sign Horvat, but is that a good thing? Horvat is going to cash in on an outlier year that could see a new contract pay him close to $8 million annually. That would tie $17-18 million combined between Barzal and Horvat on the Islanders' salary cap each year.  
Related: Islanders' Lamoriello Makes Big Move in Adding Horvat
---
Latest News & Highlights
---
To me, that seems like a lose-lose scenario. For starters, the Islanders — a team that needs futures — gave up a first-round pick and their most intriguing prospect in Raty. Horvat will help address their offensive needs, but it might not be enough to make them a playoff team. If they re-sign him, it'll be an overpay for a player who'll likely regress back to being a 60-point forward. And if they don't make the playoffs next season and lose an unprotected 2024 first…it's just hard to see how this works out well for them. 
Grade: C
Canucks Fared Well
Almost nothing has gone right for the Canucks this season, but this trade was at least a bright spot for them. They received an NHLer, a first-round pick, and a top prospect for a rental that had zero chance of re-signing with them beyond this season. Considering that most organizations knew Horvat was on the way out, that's a solid return. 
Related: THW's 2023 Trade Grade Series
The condition on the first-rounder is important to note, and it wouldn't surprise me if the Canucks looked at what happened with a deadline deal last year. The Florida Panthers gave up an unprotected 2023 first when they acquired Ben Chiarot from the Montreal Canadiens a year ago, and look how that's worked out. Though the Panthers are still firmly in the playoff race, they have long odds and could forfeit a potential lottery selection to the Canadiens if they miss out.  
With the Metropolitan Division improving, the Islanders may have even longer odds of making the playoffs in 2023-24. If that happens and the pick slides to 2024, the Canucks could have themselves a lottery pick in a 2024 draft that features Macklin Celebrini, Cole Eiserman and Aron Kiviharju as some of the way-too-early top prospects. That's not a bad bit of business by Jim Rutherford and Patrik Allvín. 
I'm not going to pretend as if I've seen much of Raty play since the Islanders selected him in the 2021 draft. But judging by his counting totals in the Finnish Liiga and the AHL in subsequent seasons, he's made some noticeable improvements. Elite Prospects' Cam Robinson, who Canucks fans are likely familiar with, seems to like what Raty has done in his time since getting drafted: 
The final piece of the puzzle for the Canucks is Beauvillier, who once looked like a budding second-line winger. He finished the COVID-shortened 2020-21 campaign with 15 goals and 28 points in 47 games — a 26-goal, 48-point pace over 82 games. But since then, his game has regressed quite a bit: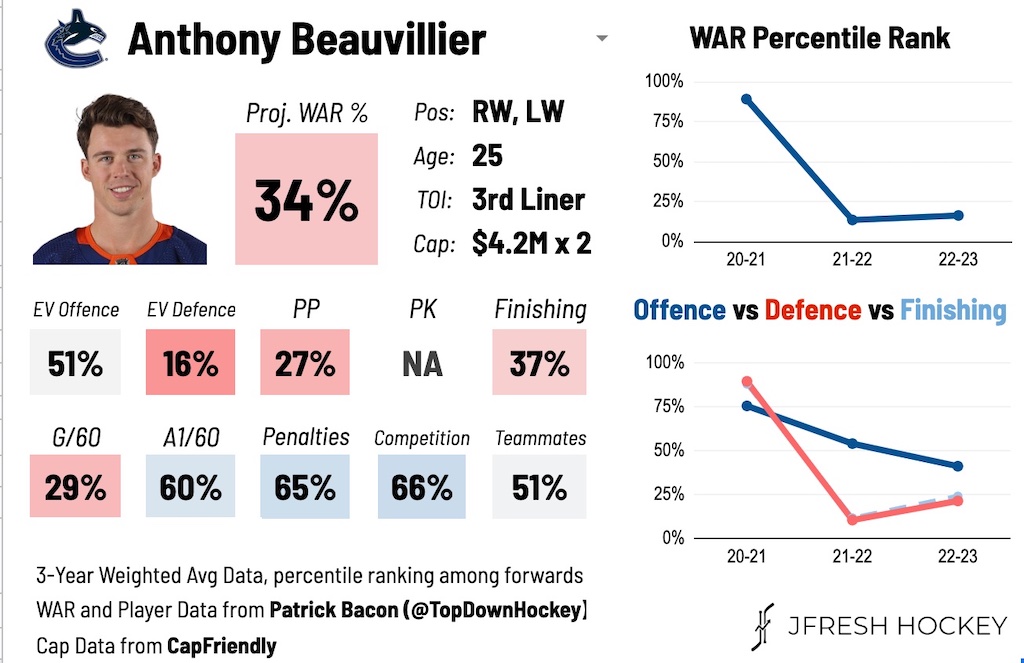 Though it may feel like Beauvillier has been in the league forever, he's still only 25 years old. If he turns it around with the Canucks, he can help them get closer to their goal of being competitive as soon as 2023-24. If not, they can flip him at next season's trade deadline since his contract expires at the end of the 2023-24 campaign; it has a $4.15 million cap hit. But they do need him to get back to the player he was in 2020-21. 
Overall, the Canucks seem to be the early winner of this trade. They got a solid prospect in Raty, an additional first-round pick in either 2023 or 2024, and someone who still has upside in Beauvillier. Could they have gotten a better return? Perhaps. Are there a lot of ifs? Sure. But given previous trades involving rentals at the deadline, they made out fairly well. And at least they put themselves in a position to have those ifs pan out. 
Canucks Grade: B+