Last season, even though he spent some nights in press box watching early on, by the end of the season Brock Nelson had made quite an impression on fans and media alike that he would be someone who people should watch going forward.
Early on this season, he is living up to the expectations he set for himself as through 14 games he is emerging as a potential star in the making.  With 14 points, Nelson is tied with Kyle Okposo for second on the Islanders, just one behind John Tavares for the most on the team.  Those 14 points also put him in a tie for 20th in the entire NHL in scoring.  Additionally, Nelson leads the team in goals with 7 in just 14 games.  If Nelson was able to keep up on this pace he would net over 40 goals this season.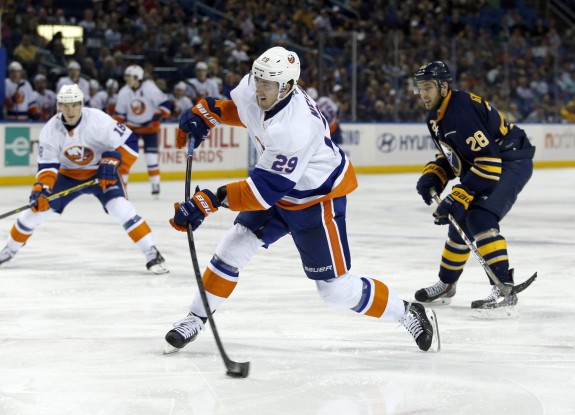 Nelson has been able to maintain his steady production even though he has been juggled around the lineup playing with nearly everyone on the team except for the fourth liners.  While the lack of consistent linemantes might frazzle some players, it hasn't done that with Nelson who has just continued to produce.  Nelson is also being used both on the power play and penalty kill, becoming a staple on each unit.  His use in these spots on top of at even strength shows that he has really gained the trust of the coaching staff after being a healthy scratch at points early last season.
While Nelson has been impressive no matter where he has been in the lineup, his best efforts early on have come as a member of "the kid line" as Butch Goring calls them.  That line consists of Nelson in the middle of Anders Lee and Ryan Strome.  Having played together in Bridgeport the trio have a built-in chemistry that really shows when they are on the ice with one another.
Fans Excited By Nelson
Nelsons play early on this season has really excited fans as well.  When asked about Nelson, Douglas Williams, 64, from Middletown NY said, "He got bigger and defense has a harder time stopping him like they did before…But his talent is showing itself."  Meanwhile, Adam Corbett, 43, a lifelong Islanders fan from Mt Olive NJ was rather sure of himself when he said, "By the end of this season, the league will know who he [Nelson] is."  Timothy Gebby, 35, from Valley Stream had high praise for Nelson as well.  "His hockey IQ is evident and fun to watch" Gebby said.  He continued, "He [Nelson] seems to have an idea on how the goalies technical weaknesses can be exploited with a hard accurate clean shot with an effortless release."  Nelson's hot start has given Islanders fans an added reason to be excited beside the teams play which has been more effective than in previous seasons.
I was fortunate to see Nelson many times during his one season in Bridgeport two years ago.  Every time I saw him I always came away impressed.  His most impressive attribute for me was always his wicked shot.  Having seen him so often in the minors, I am not at all surprised that he is emerging at this level like he is.