The New York Islanders checked one goal off their list by punching their ticket to the Stanley Cup Playoffs. They finished in the top wild-card spot and faced the Carolina Hurricanes in Game 1 of their first-round series in Raleigh on Monday. It didn't go as expected. The game was very similar to the regular-season matchups between the two teams, with a tight-checking game with limited space. The Islanders struggled to produce much of anything offensively, while the Hurricanes scored two power-play goals, and the Islanders couldn't recover.

On paper, the Hurricanes are the better team. They have a better defense core, better coaching, and more skill up front, even with injuries to key players like Max Pacioretty and Andrei Svechnikov. They have a relentless forecheck and are a tough team to play against. They suffocated the Islanders every time they touched the puck last night. The Islanders did have their fair share of chances on the power play, but they weren't able to generate any scoring, much like in the regular season.
Although the Islanders were outplayed in Game 1, this series has a long way to go. They have the advantage in goal. Ilya Sorokin is an elite goalie capable of stealing the series, and he proved that Monday night. He was the only reason the game was close. He's had a Vezina Trophy-caliber season and will be relied on heavily against the Hurricanes.
Islanders' Power Play Needs to Improve
Throughout the season, the Islanders had one of the worst power-play units in the league, finishing 30th with a 15.77 power-play percentage. On the man advantage, the Isles are extremely predictable, and they mostly take shots from the perimeter. Head coach Lane Lambert tried different tactics throughout the season to inject some life into it, but they haven't found any sort of rhythm.
Related: Islanders Sorokin Having Vezina Caliber Season
---
Latest News & Highlights
---
Game 1 was just another example of a power play that couldn't find its way. The Islanders had four power-play chances, including one in the final five minutes, but weren't able to capitalize. The Hurricanes had one of the league's best penalty-killing units all season, and it showed. "We played some good hockey, it's a 2-1 hockey game, playoff style," Islanders captain Anders Lee said. "Just one of those nights, we needed one from the power play" (from "Islanders outplayed by Hurricanes in Game 1 loss", NY POST, 4/17/23).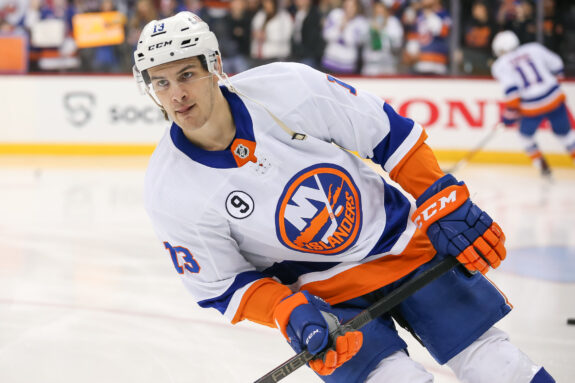 The Islanders were able to generate some chances on their first power-play opportunity, including one by Lee right in front of the net. They finished their last three power-play chances with zero shots and struggled with zone entries.
"It came down a little bit to zone entries at times," Lambert said of the power play. "We know they have a pretty good hard stand. We potentially got a little stubborn at times trying to bring the puck in, but overall I thought we moved it pretty well, certainly early." If the Islanders are going to find a way to get back in this series, they need to convert on their chances, and the Hurricanes won't give them many because of how tight they play.
Sorokin Needs to Be Sorokin
Unfortunately, given their style of play, the Islanders have little margin for error. They rely heavily on their goaltending and defensive play. They need Sorokin, their elite goalie, to be just that. He needs to be locked in and the Islanders' best player for them to win this series. He had a stellar performance in Game 1, stopping 35 of 37 shots, including multiple high-danger chances. The only goals he gave up were on the power play when Sebastian Aho was left wide open on the first goal.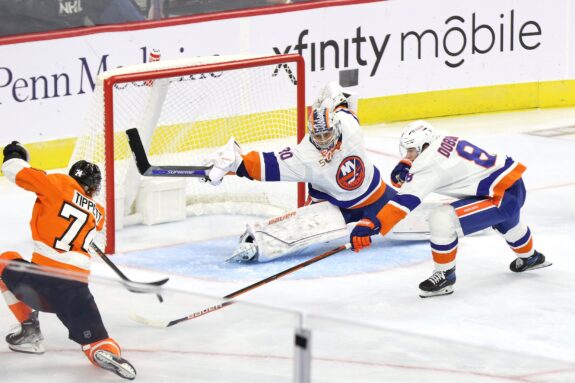 Related: 2023 Stanley Cup Playoffs: Hurricanes vs Islanders Series Preview
Sorokin can steal this series. He proved during the 2021 Playoffs that he could take his game to the next level, posting a 4-1-0 record, .922 save percentage (SV%), and 2.79 goals-against average (GAA) against the Pittsburgh Penguins in their first-round series (from 'Islanders' 5 burning questions that could determine whether they beat the Hurricanes, The Athletic, 4/17/23). If he finds his groove and the defense core is strong in front of him, they can win.
If Game 1 was any indication, it is going to be a long and tight-checking series. Both teams are difficult to play against and will make it hard for the opponent to gain any space. I expect these will all be low-scoring games. The Islanders need to make sure they're converting on their power play opportunities and that Sorokin is playing like the elite goalie that he is, and they will reach the second round.