New York Islanders head coach Barry Trotz was not pleased with his team after they gave up a late third-period goal on Tuesday night against his former team, the Washington Capitals.
"This is a playoff mentality right now," Trotz said. "I'm not sure we have that playoff mentality. And it's pissing me off," (from 'Barry Trotz promises changes after Islanders give one away in Washington' – The Athletic – 01/27/21).
Islanders forward Leo Komarov made his season debut against the Capitals, and it was less than stellar. The veteran winger took a five-minute major at 9:01 in the third period after an ugly boarding incident on Lars Eller, who missed the rest of the game.
Luckily, the Islanders bested the Capitals' "B squad" with a surgical penalty kill that allowed one shot on goal during Komarov's major. Washington's Alex Ovechkin, Evgeny Kuznetsov, Dmitry Orlov and Ilya Samsonov all missed the game due to COVID protocols.
However, Trotz didn't hold him accountable for the major and put Komarov back out on the ice late in the game with J.G. Pageau, and Josh Bailey. "I trust Leo, he's been a good player late in games," Trotz said. "Detailed, committed — I have no regrets at all."
Komarov made an error in coverage, and Capitals defenseman Justin Schultz made him pay, giving his team the lead with 27 seconds left to play. Despite the mishap, the Islanders' issue isn't defence right now, but rather certain players and their lack of effort and scoring ability.
Offensive Struggles
Anthony Beauvillier was injured after the Islanders' last meeting with the New Jersey Devils. Despite just one point in five games, he's a major loss to an offense that doesn't have many reinforcements.
But, with the injury comes opportunity.
Kieffer Bellows slotted in on the second line right-wing, while Josh Bailey – who can play on both sides – shifted to the left-wing. That left Pageau with Komarov and Ross Johnston on his wings; not exactly an offensive threat.
"I felt like we had one line tonight," Trotz said. "It's been that way for a couple games now."
The Islanders' first line continues to be the only one performing well. Even the "Killer B's" line featuring Brock Nelson, Beauvillier, and Bailey hasn't made much of an impact after being arguably their best line in the bubble. Mat Barzal has six points (three goals, three assists) in six games, and it appears he's poised for a big season. However, the bottom-nine is not generating nearly enough scoring chances at five-on-five, which was one of the Islanders' strengths in the 2020 Playoffs.
Trotz promised that he will shake-up his lineup. That could mean a number of things, but the first line will likely stay intact. Bellows played well alongside Nelson and Bailey in his 11:04 of ice time. He intercepted a couple of passes in the defensive zone and skated the puck to the other end of the ice quite well. He even let off a sneaky shot that forced Capitals goaltender Vitek Vanecek to make a good save.
Bellows also filled in for Beauvillier on the power play and didn't look out of place. He showed confidence in his abilities, but, seeing as he was drafted as a sniper, he'll need to continue to get his opportunities to cash in on his chances.
So, what changes to the lineup might be coming up?
For starters, Islanders fans are adamant that Johnston and Komarov shouldn't sniff the lineup with players like Oliver Wahlstrom waiting in the wings. That may finally happen if Trotz shakes up his team.
Bellows has earned his second-line minutes, so he'll likely stick there until Beauvillier returns. This could mean Pageau finally gets a new set of wingers. Dmytro Timashov received some praise from Sportsnet's Steve Dangle when the Islanders acquired him on Dec. 11.
Reports suggest that Timashov suffered from a logjam of forwards on the Toronto Maple Leafs before he ended up with the Detroit Red Wings, who later flipped him to the Islanders for future considerations.
Timashov's Elite Prospects profile describes him as "An agile winger with very good puckhandling skills; his explosiveness opens up space for himself and teammates, giving him the ability to create dangerous chances at top speed. All-in-all, a dangerous player who will wow audiences with his speed and creativity."
The Islanders could use an injection on offense, and playing with Pageau should make up for any defensive deficiencies in Timashov's game. In 44 NHL games, between the Maple Leafs and Red Wings, he has nine points (four goals, five assists), but it'll be worth seeing what the 24-year-old winger can bring to the lineup.
The big question is, when will Wahlstrom get his chance? The 11th overall pick at the 2018 NHL Draft had an NHL-ready shot when he was drafted and was known as a "sensational scoring threat." He played nine games in the 2019-20 season, and although he didn't put up any points, he didn't look out of place. That opportunity came before Pageau was an Islander, so this could be his best chance to succeed with a solidified third-line center.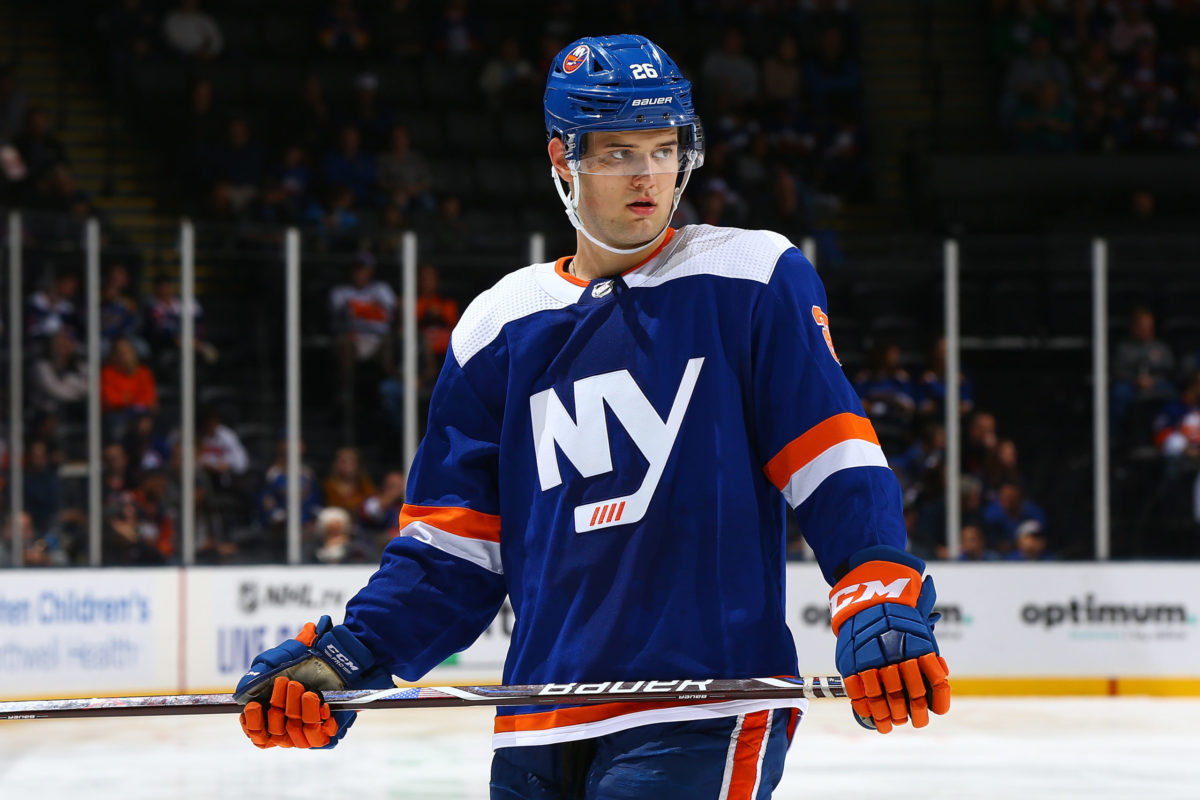 Trotz has been hesitant to play Wahlstrom and Bellows in the same game, but his hand might be forced. In 45 games for the Bridgeport Sound Tigers in 2019-20, Wahlstrom recorded 10 goals, including three on the power play. He's a pure goal-scorer, which the Islanders need desperately, and his natural scoring ability – along with his hunger to stay in the NHL – could make him a valuable every-day NHLer.
The Islanders' offense may need a little more than inserting youth into the lineup, but this is what they have right now, and it could be a start. Bellows has proven he can be trusted, Wahlstrom deserves the opportunity to show he belongs in this league, and Timashov could help boost the offense, even if it's just a little.
If Trotz is going to preach "play by committee," then it's time to hold players accountable. Johnston doesn't serve much purpose on the third line, especially with Matt Martin and Cal Clutterbuck in the lineup. He doesn't provide offense, and his playing style is redundant with the fourth line intact. It would make sense for Pageau to play with more offensive-minded players, even if that means the defense takes a slight hit.
After his performance on Tuesday night, Komarov should watch from the press box in the rematch against the Capitals on Thursday, and Michael Dal Colle should slot into the lineup moving forward if the youngsters are costing the Islanders significantly in their defensive end.
The Islanders need to shake-up the lineup, insert youth and give the power play a new look. Wahlstrom's natural goal-scoring talent and Timashov's playmaking ability should give the man advantage a new style and make it unpredictable. Imagine how many goals Wahlstrom might score with Barzal feeding him the puck? He just needs a chance.
Trotz has the opportunity to see what he has in some of the organization's prospects, and when Beauvillier returns, the hope is Wahlstrom, Bellows and/or Timashov can prove themselves to stick in the lineup to boost the offense.
The Islanders' offense is suffering. It's Barzal or bust, and yet the team has tools waiting to be utilized. The defense-first mindset will remain, however, the deployment of players can make all the difference. If no impact move is on the horizon, it's time to trust the team's youth.
Want more Islanders content? Check out the Nassaumen Hockey Podcast, hosted by The Hockey Writers authors James Nichols and Jon Zella. Follow on Apple Podcasts, Spotify, and Google Podcasts!
---
---