Only two weeks into the season, and already the Edmonton Oilers' Mikko Koskinen has started eight games, two more than any other NHL goalie. Koskinen has been on the ice nearly two hours more than any of his peers. In that time, he's made 242 saves. No other netminder has faced 200 shots.
It's a heavy workload that's unlikely to lighten any time soon, given that veteran Mike Smith is on long-term injured reserve for reasons undisclosed, and the other options – Troy Grosenick, Olivier Rodrigue, Stuart Skinner, and Dylan Wells – have two NHL appearances between them.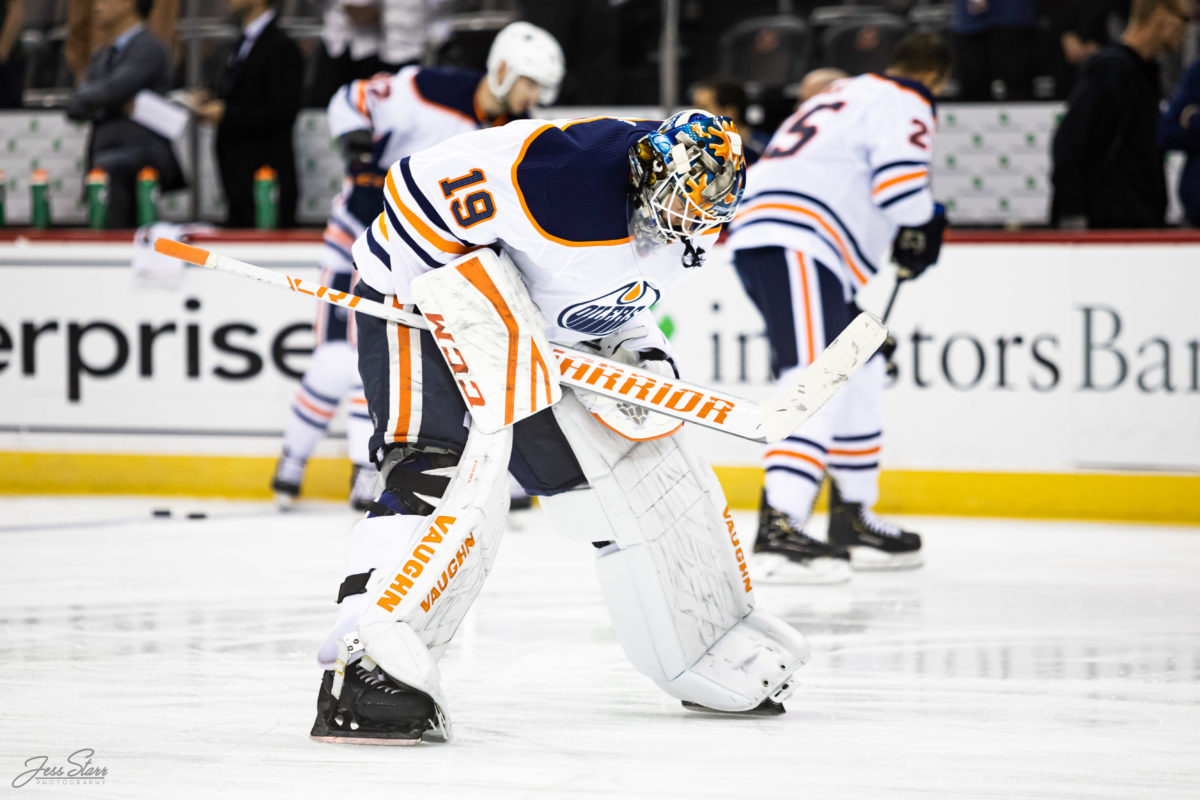 How long can this last? What can the Oilers do about it? Here's a look at the many questions surrounding Edmonton's fraught goaltending situation.
How Did They Get Here?
The Oilers had reasonable success last season with Koskinen and Smith tag-teaming between the pipes. Neither started more than four consecutive games and rarely went more than two games without seeing action.
When the season came to an early end in March, their ice time was nearly identical: Smith appeared in 39 games and played 2,157 minutes, Koskinen totalled 2,117 minutes over 38 appearances. Koskinen had an 18-13-3 record with a 2.75 goals-against average (GAA) and .917 save percentage (SV%), Smith had a 19-12-6 record with a 2.95 GAA and .902 SV%.
Smith started Game 1 of the best-of-five qualifying round series against the Chicago Blackhawks but got the hook early in the second period after giving up 5 goals on 23 shots. Koskinen took over and played the rest of the series, going 1-2 with a 3.16 GAA and .889 SV% as Edmonton was eliminated in four games.
With Smith's contract about to expire and just one year remaining on Koskinen's deal, the Oilers headed into the offseason in need of another goaltender, ideally, a legit No. 1 who could elevate the team to legit contender status.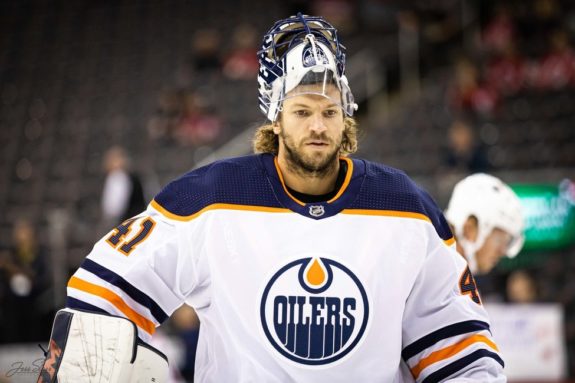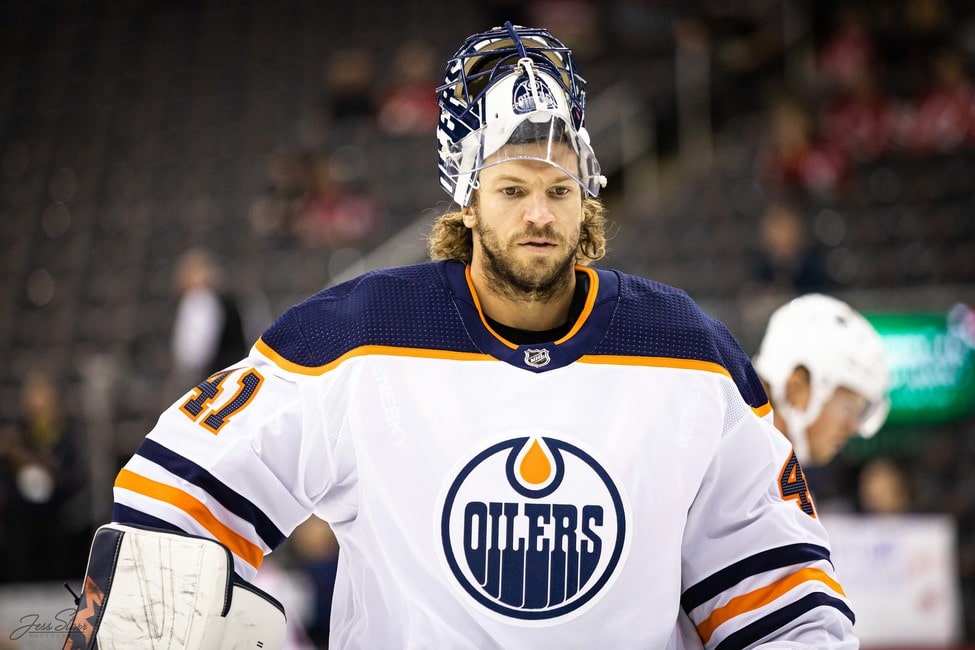 There were many goalies available on the free-agent market, and others thought to be available via trade, but as one domino fell after another – and fell fast – the Oilers were left without a date to the dance.
General manager Ken Holland's backup plan was to bring back the 38-year-old Smith on a one-year deal, a move widely panned. Holland also signed netminder Anton Forsberg, who since 2013-14 had played 48 NHL games and another 185 in the American Hockey League. It looked like this season would again, for better or worse, see the Oilers ride the tag-team of Koskinen and Smith, with Forsberg as the next man up.
As the Oilers readied to open the season with a pair of home games against the Vancouver Canucks on Jan. 13 and 14, everything went haywire. On Jan. 12, the Oilers lost Forsberg to the Carolina Hurricanes who claimed him off waivers. Then, on Jan. 15, Smith, who had mysteriously been declared inactive and missed a planned start the night before, was placed on LTIR.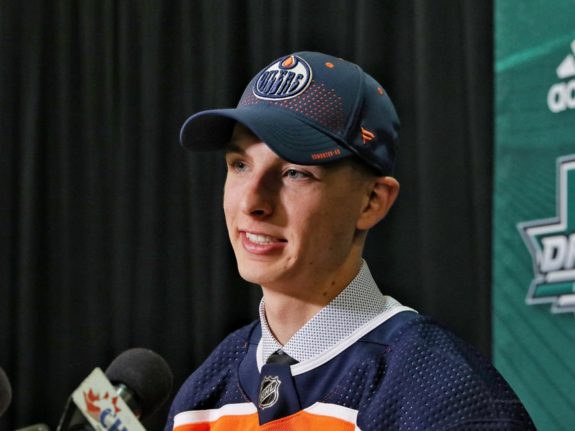 Scrambling, the Oilers made a series of moves: Skinner, 22, was called up from the taxi squad; Rodrigue, who had been playing in Austria, was recalled to the taxi squad, then sent to the minros, swapping places with Wells; and Grosenick was claimed off waivers from the Los Angeles Kings.
What Are the Oilers' Options?
Skinner is backing up Koskinen with the 21-year-old Wells on the taxi squad. Neither has played an NHL game. Rodrigue, 20, is now in Bakersfield, where he'll likely spend the entire season, getting his first taste of the AHL.
Grosenick is on IR as part of COVID-19 protocols until the coming weekend. The 31-year-old, who went 1-1 with the San Jose Sharks in 2014-15, is the only one of the lot with NHL experience.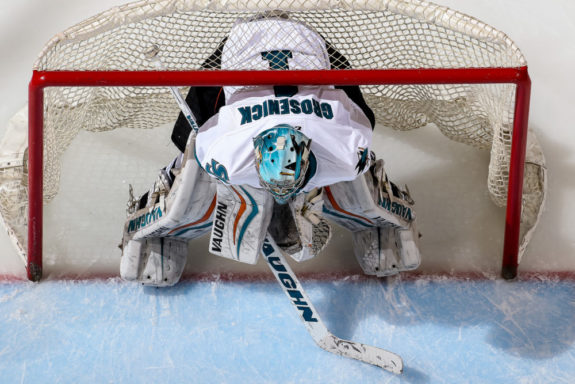 Smith is eligible to return from LTIR against the Calgary Flames on Feb. 6, but with the uncertainty surrounding this injury, who knows if he'll be back then – or anytime soon, for that matter.
There is always the option to acquire another netminder, be it through free-agency, trade, or waivers, but that's easier said than done, particularly given the unique challenges presented by this most unusual season. How willing are teams to part with a goalie, when at any time a positive COVID-19 test or two could leave them playing their stringer? Even if the Oilers acquire a goaltender, the mandatory isolation period would prevent them from being available right away.
Other than a (very) occasional spot start to spell their busy Finnish goalie, the Oilers are likely Koskinen or bust until Smith returns.
Is That Sustainable?
The 2020-21 season is a 56-game schedule over 116 days, a rate of one game every 2.07 days. The last complete regular season, 2018-19, had 82 games played over 186 days, a rate of one every 2.27 days.
The compact schedule, plus the fact teams hit the ground running without the benefit of exhibition games, has much to do with why even the league's most talented and robust goalies have already been given a game or two off.
Koskinen is 32, but he doesn't have a huge amount of wear on his tires: before joining the Oilers in the 2018 offseason, he had only played more than 30 games in a season four times in his pro career. The six-foot-seven netminder did make 55 appearances for the Oilers in 2018-19, and at one point, started 24 of 25 games, going 10-10-4 in that stretch, so he's shown to be capable of doing the heavy lifting, at least for a while.
But Has Koskinen Been Good Enough?
With a 3-5 record, a 3.24 GAA and .900 SV%, Koskinen's stats aren't great on the surface. But Edmonton's blueliners have, at times, let their goalie down, and Koskinen has only allowed a goal or two that he should have had. He's more or less playing at the level that he has from the outset of his Oilers tenure, which is nearing 100 starts.
The dominant storyline in Edmonton during the offseason was that the Oilers needed to upgrade their goaltending if they wanted to join the league's elite. Eight games into the new season and zero significant goaltending additions later, that has not changed.
---
---