The '12 Days of Christmas' is a classic holiday song first published in its current form in 1908. In a nod to the classic carol, join The Hockey Writers as we count down the 12 Days of Hockeymas. Each day, we will provide you with a piece of hockey history as we eagerly await the start of the 2020-21 NHL season. Today, we celebrate Denis Potvin's amazing feat of being the first NHL defenseman to collect 700 career assists, among other records.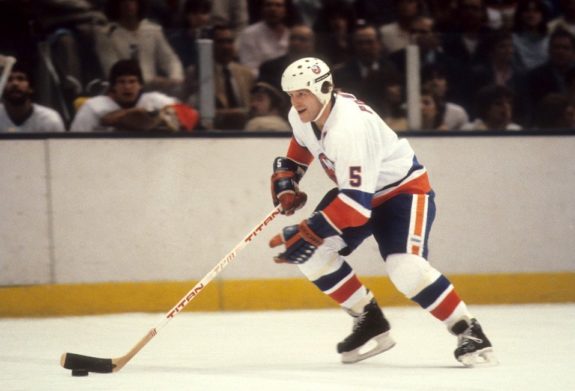 When you think of the New York Islanders, especially before the 1990s, one of the first players you think of is Potvin. He's a household name for generations of Islander fans, though his greatness is often overlooked in place of guys like Bobby Orr, Nicklas Lidstrom, or Paul Coffey by fans of other teams and even the media.
While they all accomplished amazing things as NHL defenseman, especially on the offensive side of the puck, there can only be one first. Potvin was known as a tough player with a knack for consistency, and it's that steady-as-she-goes style of play that allowed him to rack up 700 career assists in less than 13 seasons.
Legendary Status
His record-setting didn't stop there. Potvin also became the first defenseman to score 1,000 points in his career and is still only one of eight defensemen in history to do so. Potvin also ranks fifth all-time in goals by a defender and was the first to hit the 300 goal mark, doing so in a Jan. 1988 game against the Quebec Nordiques.
When he retired following the 1987-88 season, he did so as the league-leading player in all three scoring categories, cementing himself as one of the NHL's greatest players. He recalled the moment he chose to retire in an interview in 2005.
"That was a time that I chose, which was always very important to me and to most athletes. I was blessed with the talent to play in the league for fifteen years and had the opportunity to say, 'I've had enough,' The Islanders had offered me a new deal to continue to play but I just didn't want to at that point. I felt it was time for me to move on. I had prepared for my after-hockey life and having worked in the summers prior to 1988, was prepared for the new lifestyle and I was ready to leave. 1987-88, my last season, had to be one of the most enjoyable seasons I had had since the early years. I knew I was going to hang them up and I had made the announcement that it was going to be my last year and all of that made it great. Memories of that last year are terrific."

From "One on One with Denis Potvin," HHOF 4/15/2005
In 1991, he entered the Hockey Hall of Fame, and it took a moment for him to understand just how important it was. "When I went in 1991, there were fewer than two hundred people who were in the Hall of Fame," Potvin said. "And I started to realize the magnitude of being chosen."
Even as more talent is flooding the NHL every season, Potvin will always be remembered as the one the greats who could do it all on the ice and set the mark for defenseman to meet.
Want more Islanders content? Check out the Nassaumen Hockey Podcast, hosted by The Hockey Writers authors James Nichols and Jon Zella. Follow on Apple Podcasts, Spotify, and Google Podcasts, and Twitter @Nassaumenhockey.
---
---