With fewer than 30 games remaining, the New York Islanders are tied with the Philadelphia Flyers for the second wild-card spot. Both teams have 57 points, but the Flyers have one game in hand. The Islanders are right in the thick of things, and getting better goaltending from Jaroslav Halak. There's just one problem, though. It's how they're playing in front of him.
Bleeding Shots Against
Halak's save percentage is up to .910 this season, and he has a save percentage of over .920 in four of his last five games. His play has helped the Islanders rebound with a 5-4-1 record in their last 10 outings. Yet, the way they're playing isn't reflective of their recent stretch.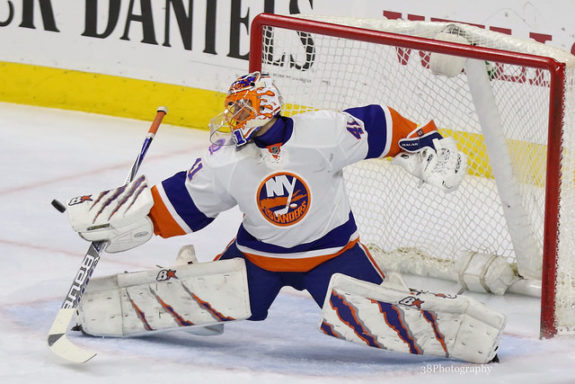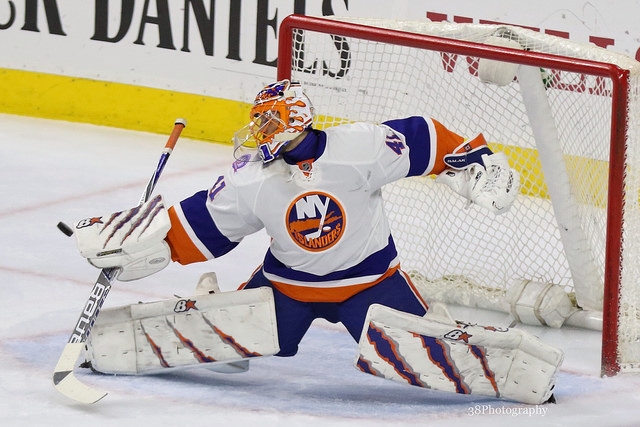 Just last night, the Columbus Blue Jackets erupted for 26 shots on goal in the first period against the Islanders. That was a Blue Jackets franchise record for most shots in a single period. After two periods it rose to 40 shots against, and Columbus would finish the game with a whopping 49 shots despite losing 4-3.
A few weeks ago, Thomas Greiss faced 56 shots in a 5-4 win against the Montreal Canadiens on Jan. 15. This isn't a new issue. The Islanders are last in the league in shots on goal differential, registering a minus-214 in shots for and shots allowed. They also have the highest goals against average in the NHL, with an average of 3.56.
No Help for Halak
The goals against issue is nothing new, but it's clear the Islanders aren't doing enough to help their goaltenders. Halak has become the starting goaltender as his strong start to this calendar year has continued. But, he's the only goalie in the NHL to face over 400 shots in 2018. These aren't just shots from the outside that would be considered low-danger shots to some NHL coaches. Not only are the Islanders giving up a high volume of shots, but they're also allowing shots from high quality areas.
That's a lot of shots against for the Islanders recently. I wonder where those shots come from. Answer: not the right point. pic.twitter.com/ZR5bqpk5gK

— Micah Blake McCurdy (@IneffectiveMath) February 1, 2018
As you can see, the Islanders aren't giving up harmless shots from the left or right points. The blue area represents areas they don't typically allow many shots. The red area signifies the excess of shots per hour, and it's all in the middle. If you see the light blue line at the top of the graph, that represents the goal line. Now, look at all the red right in front of the goal line. Unfortunately, Halak has had to face way too many "Grade A" chances.
In 35 games played, Halak has faced a total of 1,171 shots. To put this in perspective, New York Rangers goaltender Henrik Lundqvist, who is on a team that ranks 27th in the league in shot differential, has faced 1,356 shots in 44 games played. That's only 185 more shots, and Lundqvist has played in nine more games. The question is, are injuries to blame? Or is it on the coaching staff?
The Isles Problem & Possible Solution
The Islanders have been without two of their better defensemen for most of the season. Calvin de Haan is out for the season after undergoing season-ending shoulder surgery, and Johnny Boychuk is still on injured reserve with a lower-body injury. But, it's easy to blame injuries as the reason the Islanders have this problem. The truth is, the Islanders have never looked solid defensively, even when they are fully healthy.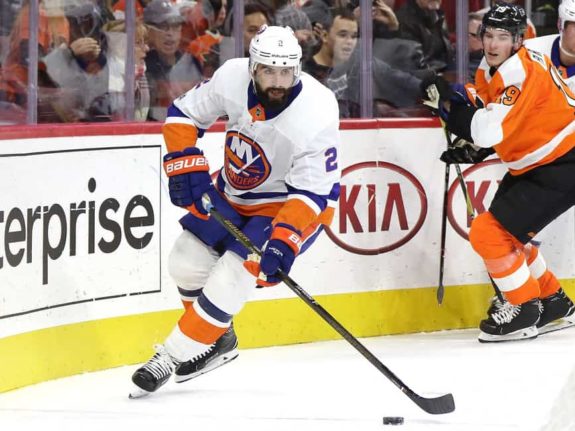 Nick Leddy is regarded as the team's best defenseman, and even he has struggled. His plus/minus is a staggering minus-27. His Corsi-For (CF%) is a 47.7, well below his career average of 54.5. When even your best defenseman isn't playing well, perhaps it relates to a bigger issue.
One possible solution is to make a trade for a defenseman at the deadline. One of the top defensemen on the market will be 32 year-old Mike Green from the Detroit Red Wings. The veteran is known as a good puck mover, and is a solid right-handed shot. Another option would be to change the coach, and that is very unlikely.
Head coach Doug Weight has a problem that isn't going away. Adjustments must be made, either with coaching philosophy or personnel. If not, the shots will keep on coming, and end up in the Islanders' net. Now, that won't make impending free agent John Tavares very happy.
John Cavanagh is a Journalism major in his third year at St. John's University in Queens. He's an aspiring sports journalist, and writes for his school paper called "The Torch". He also covers the New York Rangers for Blue Line Station, and now the New York Islanders for The Hockey Writers.